Winter Season Preview 2020
Keep Your Hands Off Eizouken! swept into the 2020 Winter Season like a fresh breath of cold, clean air, reminding viewers how fresh and exciting anime can be when a really creative bunch of animators get together to make a series. Not that favourite shows can't also evoke strong feelings in their fans too as Haikyu!! has made its long-awaited comeback. And – what's this? A spin-off series from the title that changed the world of magic girl anime forever: Magia Record: Puella Magi Madoka Magica Side Story. A variety of new shows for the new year, with something to appeal to every taste, then? The writers at Anime UK News have been sampling a little of what's on offer and are here to share their first thoughts…
Demelza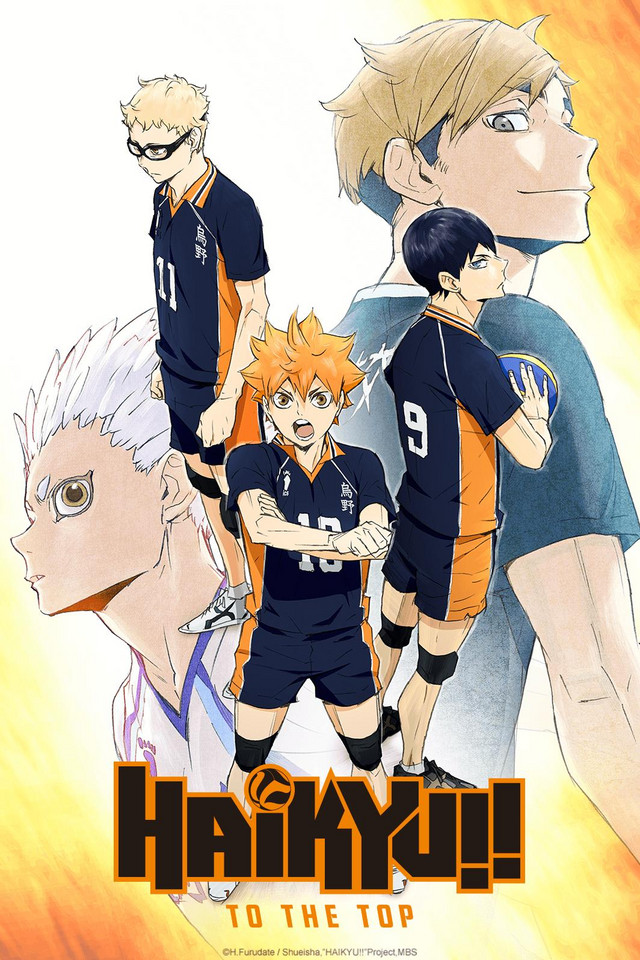 The first season of a new year is perhaps always the most exciting. This one brings with it a whole lot of new shows to be excited about, but also some returning champions like Isekai Quartet, the continuing from last season My Hero Academia and the highly anticipated fourth season of Haikyu!!. With that in mind I'd like to talk about Haikyu!! and a new series that has caught my eye this Winter…
At this point Haikyu!! has been off our screens for 3 and a half years. The manga has been on-going and an English release has meant fans could read the source material for the series, but nothing quite compares to seeing the Karasuno team running about in anime form.
Having overcome Shiratorizawa Academy in Season 3 to earn themselves a spot in the national tournament, team Karasuno are now putting their all into training for the up-coming matches. After such a significant break between seasons, it's certainly nice to come back to Haikyu!! and be reintroduced slowly rather than being thrown straight into another tournament match. Already it seems there is some big character development in store for Kageyama, Hinata and Tsukishima as they're selected for special training camps (well, Hinata crashes Tsukishima's after becoming jealous!), which is certainly exciting! One thing I was mildly concerned about before the show's return was news that the character designs would be changing. The designs are now closer to Haruichi Furudate's style for the manga and thankfully it hasn't been too jarring a transition for the anime.
Overall I'm happy to see Haikyu!! return to our screens and can't wait to see what this season has in store for us.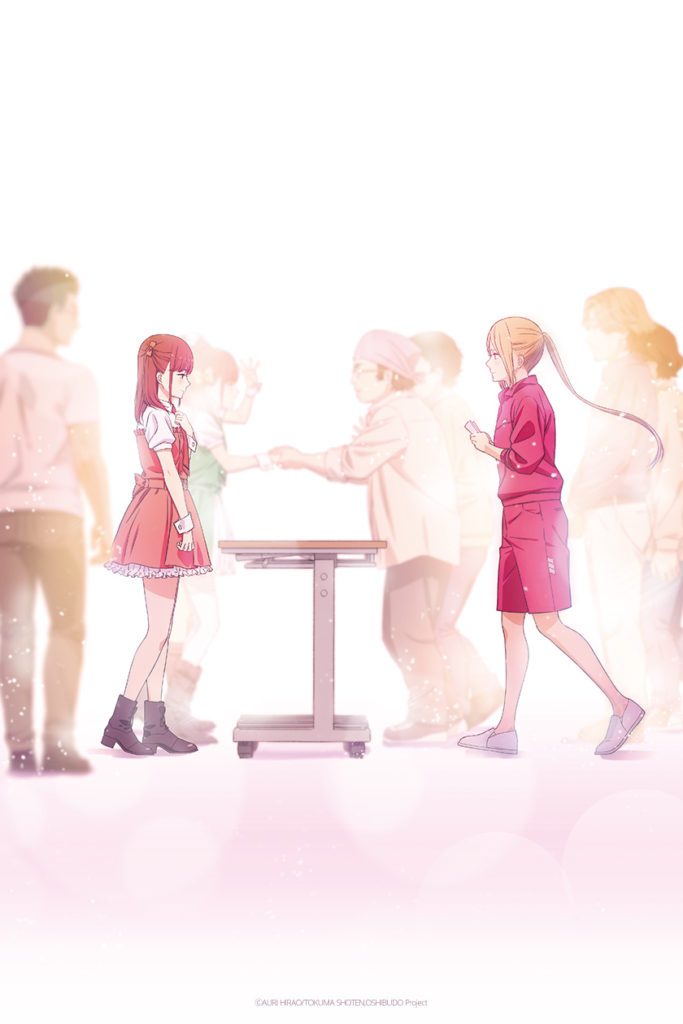 My second pick for this season is newcomer If My Favourite Pop Idol Made it to the Budokan, I Would Die which followers protagonist Eripiyo who has fallen in love with Maina Ichii, a member of underground pop group ChamJam. Eiphiyo's dream is to see ChamJam become popular enough to perform at the Budokan (a famous Japanese venue), so she'll do everything she can to support her favourite idol and help the group gain fame and fortune.
Based on an on-going manga, this anime adaption comes to us thanks to studio 8-Bit (Stars Align, That Time I Got Reincarnated as a Slime) who have done a wonderful job so far. The colours are bright and eye-catching, while character designs are cute but not overly so. The studio excel at presenting a nice contrast between the comedic scenes and the more serious, heartwarming ones.
From the three episodes that have aired so far, I'm left wondering if there is romance in the air between Eiphiyo and Maina. Although Maina acts cold toward Eiphiyo, it's clear that she values her support a lot and wants to talk to her more than the fleeting moments they have through meet and greets. Eiphiyo is just one big fan girl, but she's incredibly sweet and there isn't anything to suggest she doesn't have feelings for Maina at this point (perhaps she's just not aware of them yet). It'll be interesting to see if the show makes any real progress in that department as it continues or if it'll simply keep itself busy with the idol antics.
If you're looking for something a bit different this season or just want an entertaining and wholesome show, then I highly recommend checking this one out!
Haikyu!! is streaming on Crunchyroll while If My Favourite Pop Idol Made it to the Budokan, I Would Die is available on FunimationNow.
HWR
Another season, another segment where I give the spotlight to some titles that may go under the radar.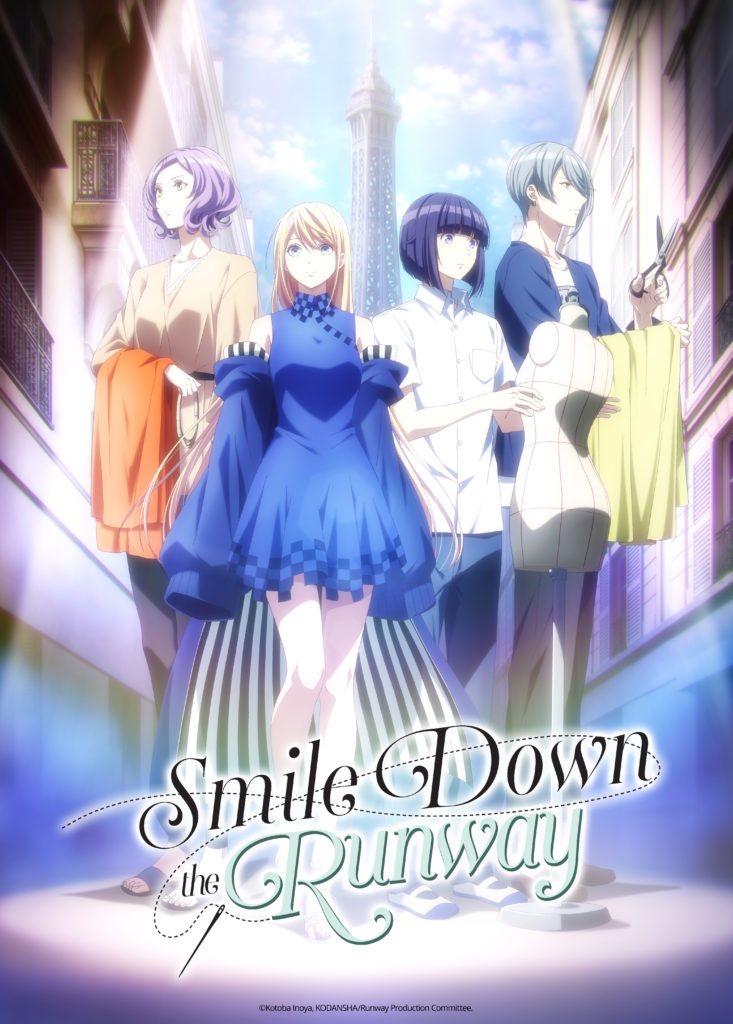 My first pick goes to Smile Down the Runway, an anime focusing on the hectic and unforgiving world of fashion modelling where only the top can strut the catwalk. What interests me about this series is that it stands out – I'm not sure how many anime based on the fashion industry have been made.
Intriguingly the story follows dual protagonists in Chiyuki, an aspiring model whose height has prevented her from becoming a professional until now and Ikuto who dreams of becoming a fashion designer. Together they strive to find their place in an industry full of potential talent.

I'm looking forward to seeing where this story progresses and am also curious as to how studio Ezóla, relative newcomers to the animation industry, can handle the visual storytelling associated with the series.
My other choice is Seton Academy, Join the Pack!, a series I had no idea would be as fun as it is. The humour is also on-point with a rather likeable set of outcasts forming their own "pack" in a school full of different anthropomorphic animal classes, some of whom frequently clash to be top of the Animal Kingdom (or school at least).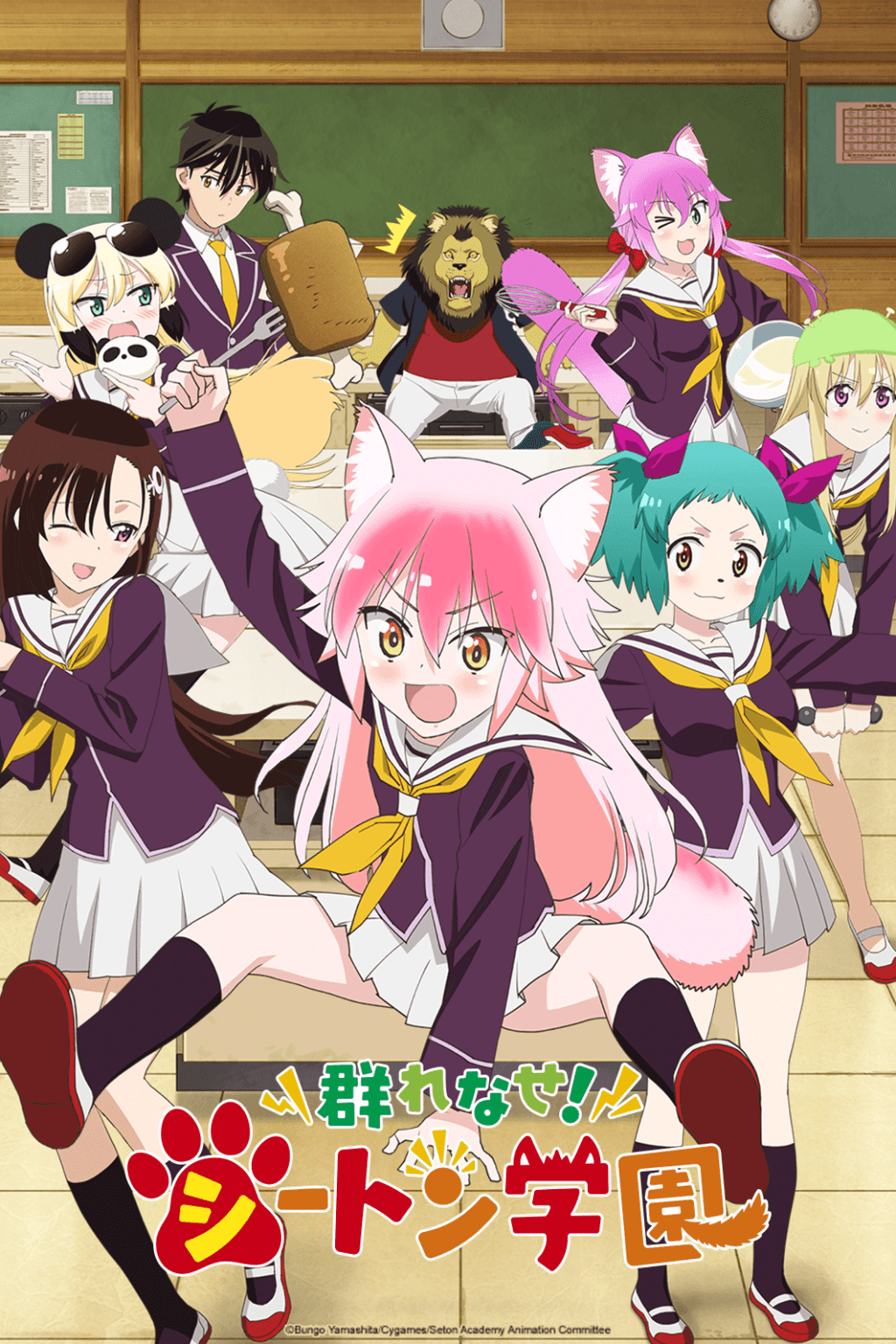 Lead character Ranka, a wolf. is a ball of energy who quickly gravitates to Jin, a human who just wants to keep their head down, and makes friends with Hitomi, the sole other human at the school.

Other characters include food enthusiast Yukari, a Koala Bear, slow-moving and frequently "dying" Sloth Miyubi and sly cat Kurumi. I can see this being a comedic highlight of the season if it continues to impress as it has so far. 
Smile Down the Runway is available to watch on Funimation Now, whilst Seton Academy, Join the Pack! Is available to watch on Crunchyroll.
Onosume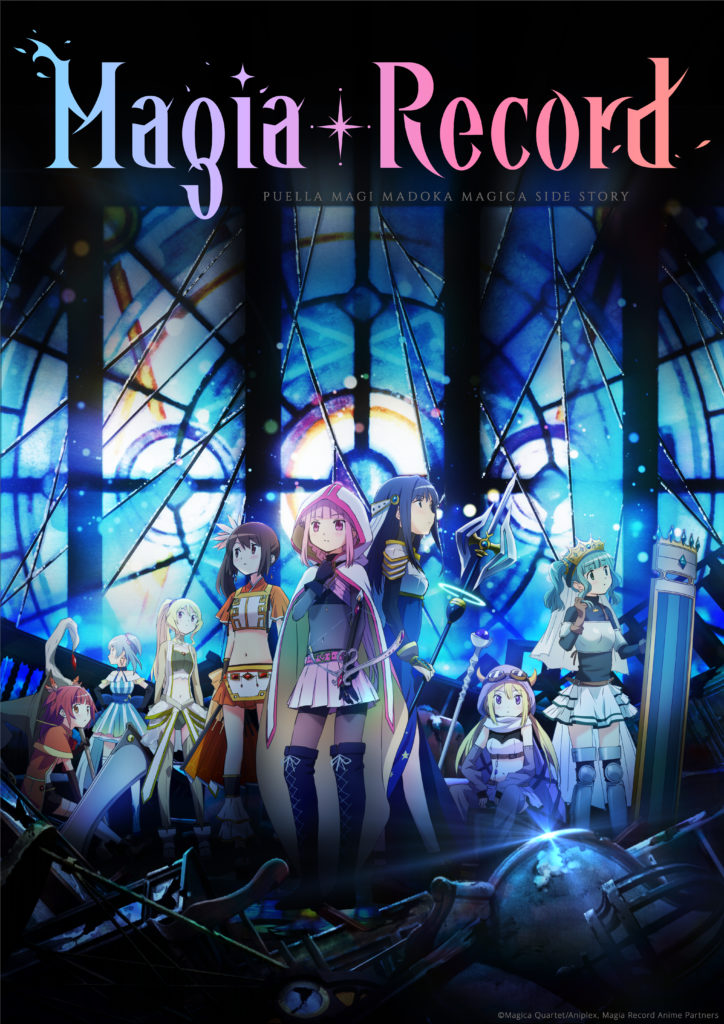 When the anime adaptation of the Madoka Magica mobile game, Magia Record: Puella Magi Madoka Magica Side Story, was first announced, I was both excited and intrigued as to how it would turn out. While it wasn't the realisation of that ballet-style sequel to Rebellion that they made for the Madogatari exhibition several years ago, I was still happy that we were getting another entry in one of my favourite anime franchises.
After watching the first few episodes, I can confirm this is still the Madoka Magica we all know and love, just with a different set of characters and a new story. Iroha Tamaki knows that she made a wish with Kyubey, becoming a magical girl in the process, but she can't remember what that wish was. All she knows is that it had something to do with her younger sister, who has seemingly vanished from the face of the earth, leaving no memory or trace in photographs, and a dejectedly empty space in Iroha's bedroom. After hearing a rumour that magical girls can be saved if they go to Kamihama City, Iroha heads over there to search for her sister.
It's going to be very difficult for a mobile game adaptation to live up to the original series, but it is proving itself to be very mysterious, raising a lot of questions early on. I'm already feverishly theorising what they could mean in the grander scope of things and how they fit into the wider Madoka universe, so its story has definitely captured me so far. The characters, however, I am still warming up to and I am a little unsure of, particularly in how they feel very similar to the original cast – Iroha is your Madoka, Yachiyo is your Homura, Tsuruno is similar to Kyoko, and Momoko has similarities to Sayaka – but they still carry Ume Aoki's strong character designs, so I'm hoping they will become more distinct as the story progresses.
The action so far has been rather understated, with the battles against the witches and their familiars being over rather quickly, with them being quite easy to defeat. While it keeps the pace hot, you don't feel that the girls are in peril as you did with the original series, and it doesn't give enough credit to Gekidan Inu Curry's bizarre and bewildering designs for them and their labyrinths, which I absolutely adore. Fans of the original series will also recognise some of the music, as it combines some pieces from Yuki Kajiura's original work, melding in nicely to the new score composed by Takumi Ozawa (who, incidentally, seems a safe bet, having previously scored .hack//Quantum, part of another franchise Kajiura was involved in).
The series has had a good start then, and I'm hoping it keeps that up going forward, while addressing my concerns with the characters and the weight of the action. If you've been craving more Madoka Magica anime since Rebellion dropped us with that cliffhanger, then I'd say this definitely fits the bill.
Magia Record: Puella Magi Madoka Magica Side Story is available for streaming on Funimation Now
Sarah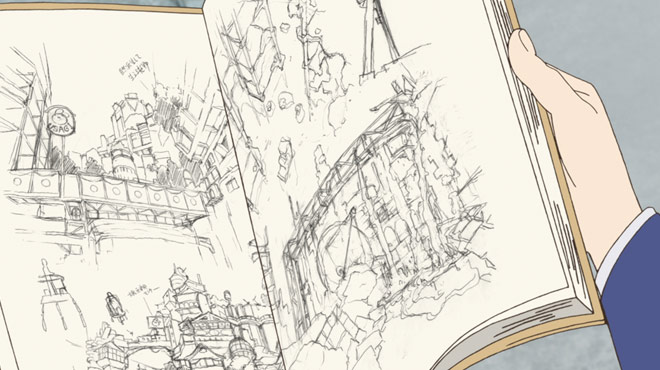 In many recent seasons, finding a firm favourite anime to watch hasn't proved a problem for me…until this winter. There are plenty of interesting shows, true (which is great) but I've been surprised at how few have appealed – really appealed – to me. You know, that special thrill of anticipation as you look forward to the day when the next episode of your series is due to air? But then, amidst the many, there's Keep Your Hands Off Eizouken! which is so different and special that it's completely in its own category. The story is deceptively simple. Midori Asakusa, high schooler, is obsessed with anime and fills notebook after notebook with ideas. Then she meets Sayaka Kanamori who seems to have the organizing skills to make Asakusa's dreams bear fruit. The arrival of another anime-obsessed classmate, Tsubame Mizusaki, leads to the creation of an animation club – even though their high school (teaching staff and student council alike) seems determined to put as many obstacles in their way as possible.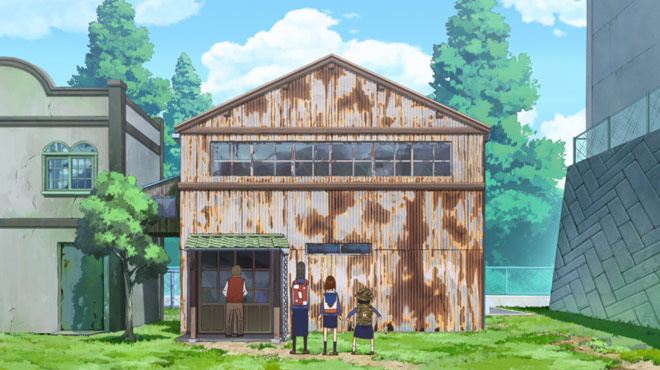 "Well, of course it's special, it's directed by Masaaki Yuasa from Science SARU!" you're probably shouting at the screen by now and yes, it is. Viewers have every right to expect something different, challenging, inspiring from the team that created DEVILMAN crybaby and Lu Over the Wall and it's hard not to drawn in when so much of every minute is filled with amazing animation and homages to the talents of other animators. You don't have to know any of this background, however, to enjoy it. From the (already iconic) OP 'Easy Breezy', it makes for compelling viewing. At a basic level, Eizouken! can be enjoyed as the story of three high school students getting together to make an animation. The hazards and impediments they meet: lack of funding, hostility from the higher-ups, lack of time etc. will all ring true with anyone who's set out to put together a film, play or other work of entertainment which involves co-operating and collaborating with team members and getting funding. But this is a story about making anime by a team of animators – and the choices, artistic decisions thrashed out and techniques used by the three students mean that the series can be also viewed as a critique (and a celebration) of the whole animation business and the problems encountered by the crew when working on a project. The boundless enthusiasm of the three (well, mostly Asakusa and Mizusaki; Kanamori is the grounded, practical one, trying to keep the other two in check and on-target) is utterly infectious. Each episode repays repeated viewings as there's so much to marvel at visually or be amused by, given the show's sly humour or the wisdom imparted (with such a light, infectious touch) about the problems and joys of making anime.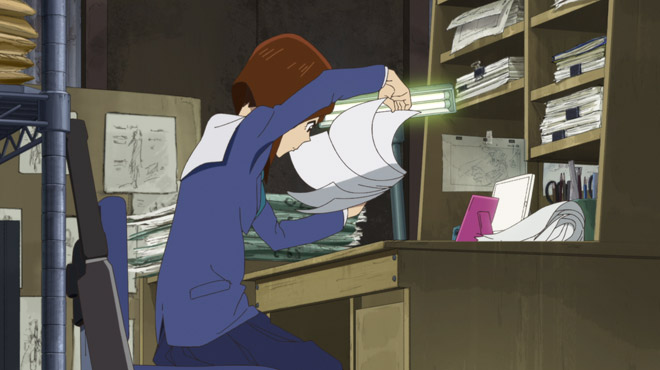 A side issue this Winter Season – but one that I'm finding distractingly irritating – is the increasing and intrusive overuse of background music/soundtrack. (My rant doesn't apply to Eizouken!) This is the kind of music where – I'm guessing – time was short before release date and so the composer's solution was to improvise on a keyboard along with the footage and then go back to tweak it, adding the odd percussion here and there: a 21st century version of the old silent movie accompanist playing 'Hearts and Flowers' in a cinema. Thus far I've been intensely irritated by the jolly, loud and totally irrelevant piano accompaniment to rugby anime number 24 – and the remorselessly busy and upbeat keyboard/jazz ensemble playing alongside the action (almost as if there was a live combo in the corner of the lab) in the otherwise enjoyable rom-com Science Fell in Love, So I Tried to Prove It. The link between a specially-composed soundtrack and animation is one of the reasons I love anime but I hope this trend is not on the up again (we've been here before). Anyone else notice this?
number 24 is streaming on FUNimation Now and Science Fell in Love etc. is streaming on Crunchyroll.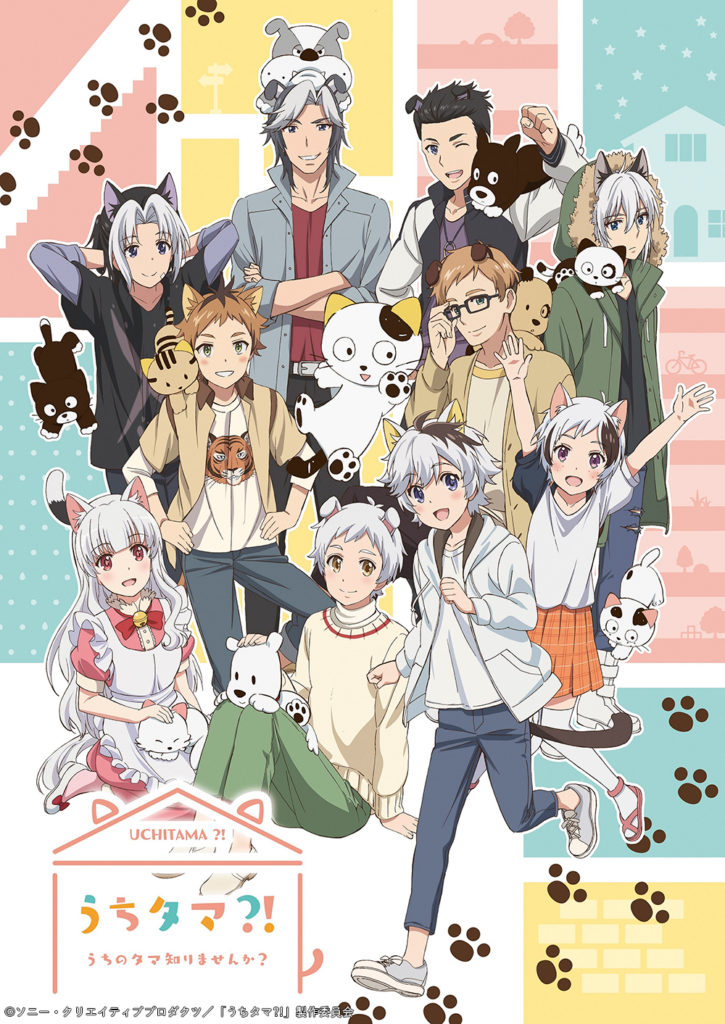 Uchi-Tama?! Where's my Tama? is the ideal series if you're feeling in need of cheering up and love dogs and cats. The day-to-day kawaii adventures of this group of anthropomorphized pets is a wonderful tonic for gloomy winter days. Tama is the cat who likes to wander off and Pochi is the dog next door who usually accompanies him on these excursions – when they often get lost. Each episode is made up of three or four shorter sequences and, as we get to know the neighbourhood (Third Street) through Tama and Pochi's eyes, we also meet the humans who own the pets. This is just fluff but enjoyable and restful fluff. And everyone needs a little of that in their lives from time to time. It's also (thus far) a series that would be perfect to share with children.
We've also been enjoying In/Spectre, Toilet-Bound Hanako-Kun and Somali and the Forest Spirit so expect reports on these in our next streaming review!
Keep Your Hands Off Eizouken! is streaming on Crunchyroll. Uchi Tama?! is streaming on FUNimation Now.