Announcing the Anime UK News Readers' Choice Awards 2019 Winners!
After an incredible response last year, we at Anime UK News continued our Readers' Choice Awards for the third year, offering anime fans like you the chance to let the world know what you enjoyed most over the year. Over two weeks you let us know with your votes, which have been counted, and your winners awarded below!
2019 was a difficult year, and before we celebrate its joys we must also remember when the world was united by pain. On 18 July 2019, thirty-six people were killed in an arson attack on Kyoto Animation. The victims included established veterans and budding newcomers alike, including Mikiko Watanabe, whose sublime art direction on Violet Evergarden won the series our Best Animation award last year, and Futoshi Nishiya, who designed our 2017 Best New Female and Best New Male Characters winners Shoko Nishimiya and Shoya Ishida from A Silent Voice. The worldwide response was breathtaking, and would have been this industry's shining moment were it not caused by unspeakable tragedy and evil. We would like to thank everyone who donated to Sentai Filmworks' GoFundMe and shared their memories of the studio's many wonderful works. Kyoto Animation have been a staple of our awards since the start, and their absence this year has not gone unnoticed. We hope that those who lost their lives are able to rest in peace, and that the studio returns to our awards soon. Thank you, Kyoto Animation.
Ultimately, these awards are about offering our thanks to the creators who have touched us this past year with their talents and stories. So now, we present you with the winners of the Anime UK News Readers' Choice Awards 2019, as chosen by you:
---
ANIME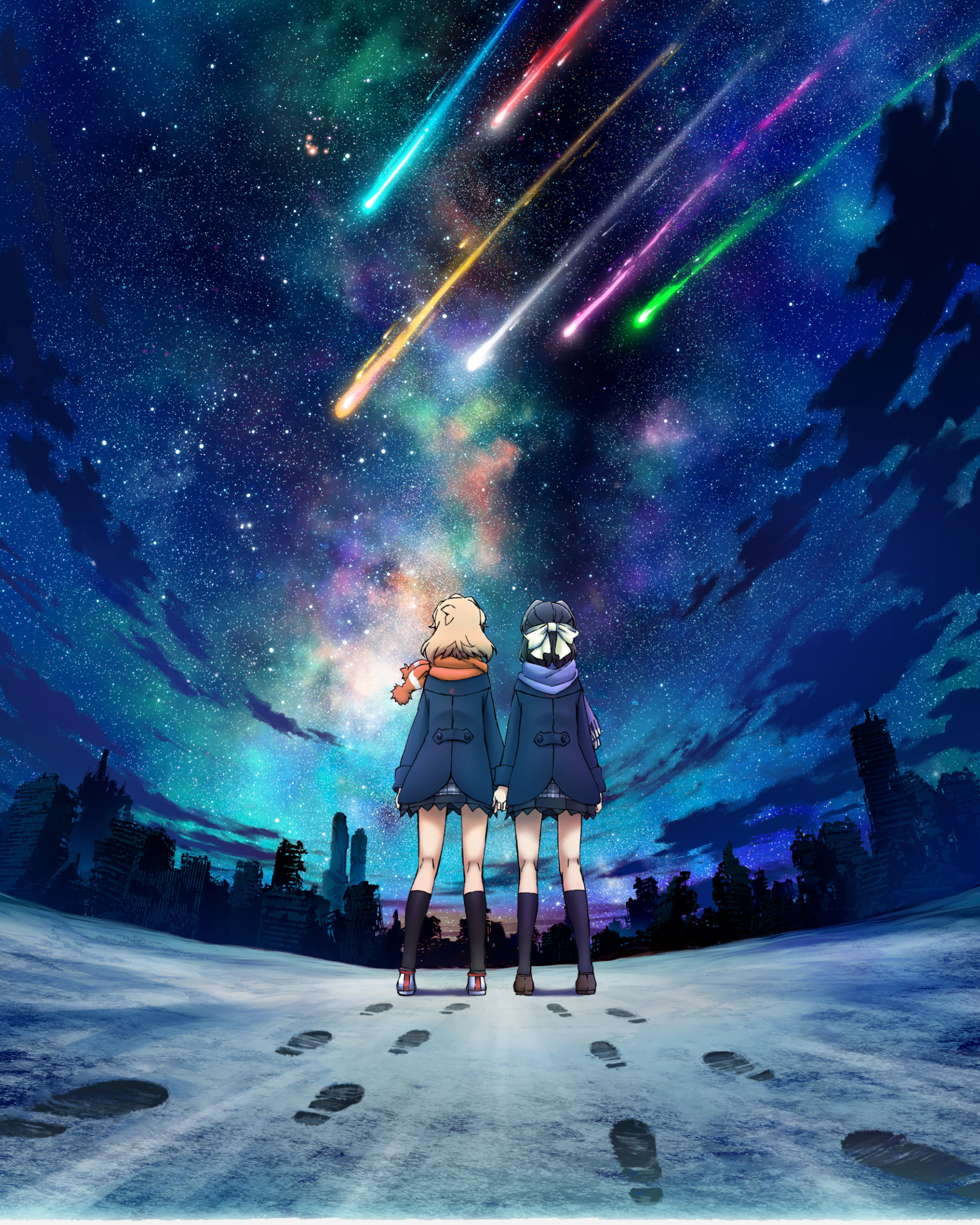 BEST TV ANIME
SYMPHOGEAR XV
RUNNER UP: THE PROMISED NEVERLAND
Satelight's J-Pop-powered magical girl franchise has always had a rough time with international licensing, and it's unbelievable that this fifth and final season is the only one to have been simulcast in its entirety since the first, way back during Funimation's ill-fated venture with Nico Nico in 2012, and the fourth season Symphogear AXZ wasn't even fully available when this season launched! Symphogear XV really embodied the spirit of protagonist Hibiki Tachibana however, when in spite of these overwhelming obstacles, it punched through to deliver an exciting Climax Song whose tune was so infectious among fans that it raised all-new awareness and appreciation for the franchise as a whole. As well as delivering a delightfully bonkers sci-fi story, Symphogear XV also finally told the story fans had been waiting to be told: that of Hibiki Tachibana and her closest confidant, Miku Kohinata. Even as Hibiki faced the threat of a literal god, those feelings were always at the forefront – which is what the franchise has always been about, really.
Bringing an end to a story eight years in the making, it was an absolute thrill to watch Symphogear XV weekly with its surprise character appearances, and long-teased plot threads finally put under the spotlight. The series really felt like the franchise's Avengers: Endgame, and with what it's achieved, not just for existing fans but the franchise as a whole, there's arguably no more deserving winner than Symphogear XV.
Symphogear XV is available to stream on Crunchyroll.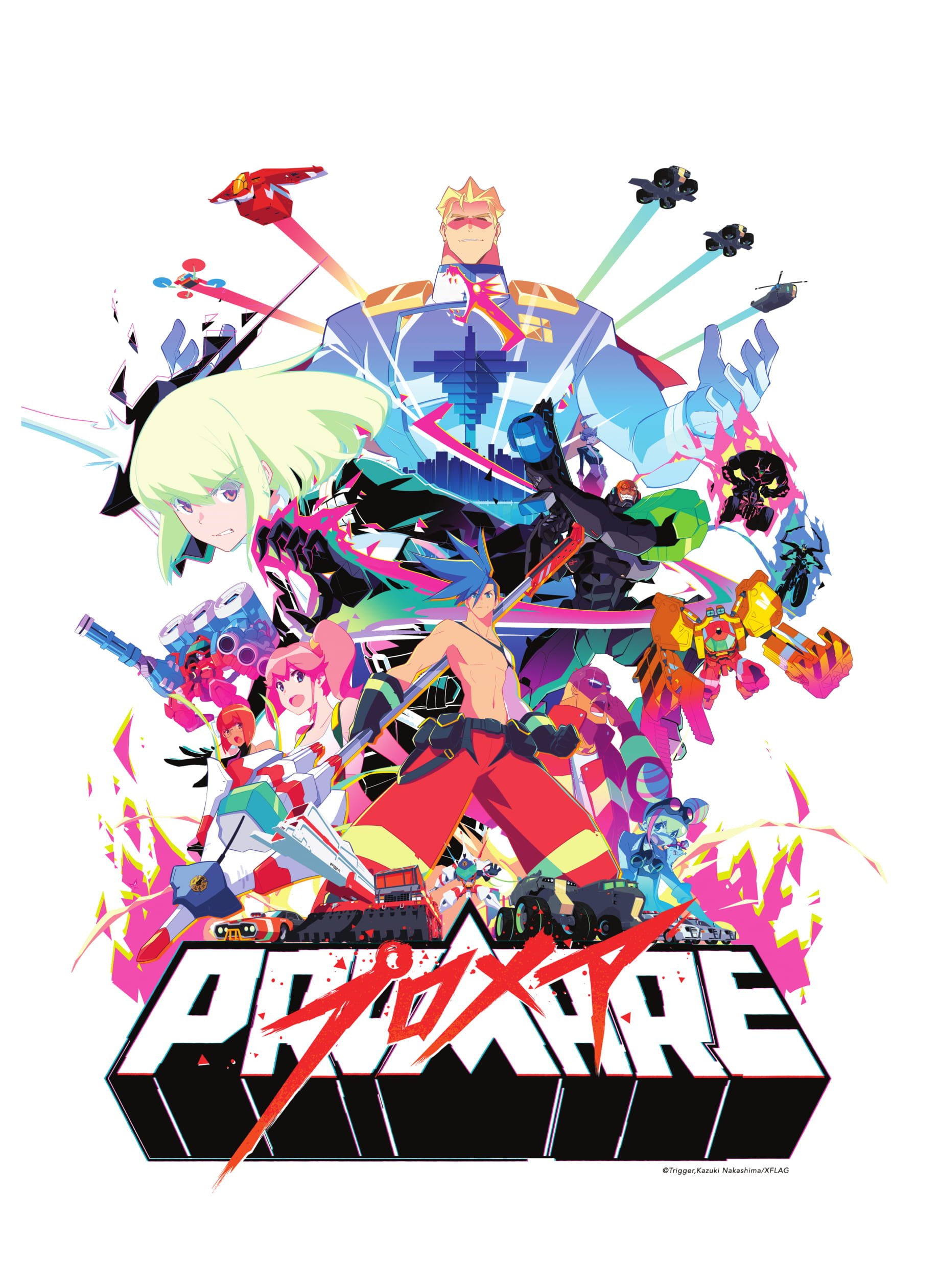 BEST ANIME FILM
PROMARE
RUNNER UP: WEATHERING WITH YOU
Over the past decade, we've been in a fantastic place to see more and more anime on the big screen, thanks to events such as Scotland Loves Anime, MCM and more. 2019 once again set a new high for what we was available to view, so with new outings from Makoto Shinkai and Masaaki Yuasa, to new films from massive shonen series, it was always going to be a tough choice for Best Anime Film.
Promare is Trigger's first feature-length original movie where they could really show off what they can do as a studio. The story puts us on Earth after a massive calamity called the Great World Blaze, where humans all over the planet spontaneously combusted, and many gained pyro-like abilities, later known as the Burnish. The story revolves around Galo, a firefighter in a group called Burning Rescue, who takes on a terrorist sect called Mad Burnish, and attempts to save the city from their attacks by their leader, Lio.
Promare stands as a fantastic outing for anyone to enjoy. It brings stylistic choices and ideas from previous Trigger showings, and others that the director Hiroyuki Imaishi and more have worked on, into one action-packed package, and never lets off the engine. There are clear references to Kill La Kill, Gurren Lagann and more, and the animation is gorgeous. It makes it extremely clear which side is which with vibrant colour choices and geometrical shapes, has amazing mecha design and a soundtrack done by the amazing Hiroyuki Sawano (Attack on Titan, Kill La Kill) to add to it. It's no wonder that this takes our Best Anime film award for last year.
PROMARE will be available on DVD and Blu-ray from 1st June 2020, courtesy of Anime Limited.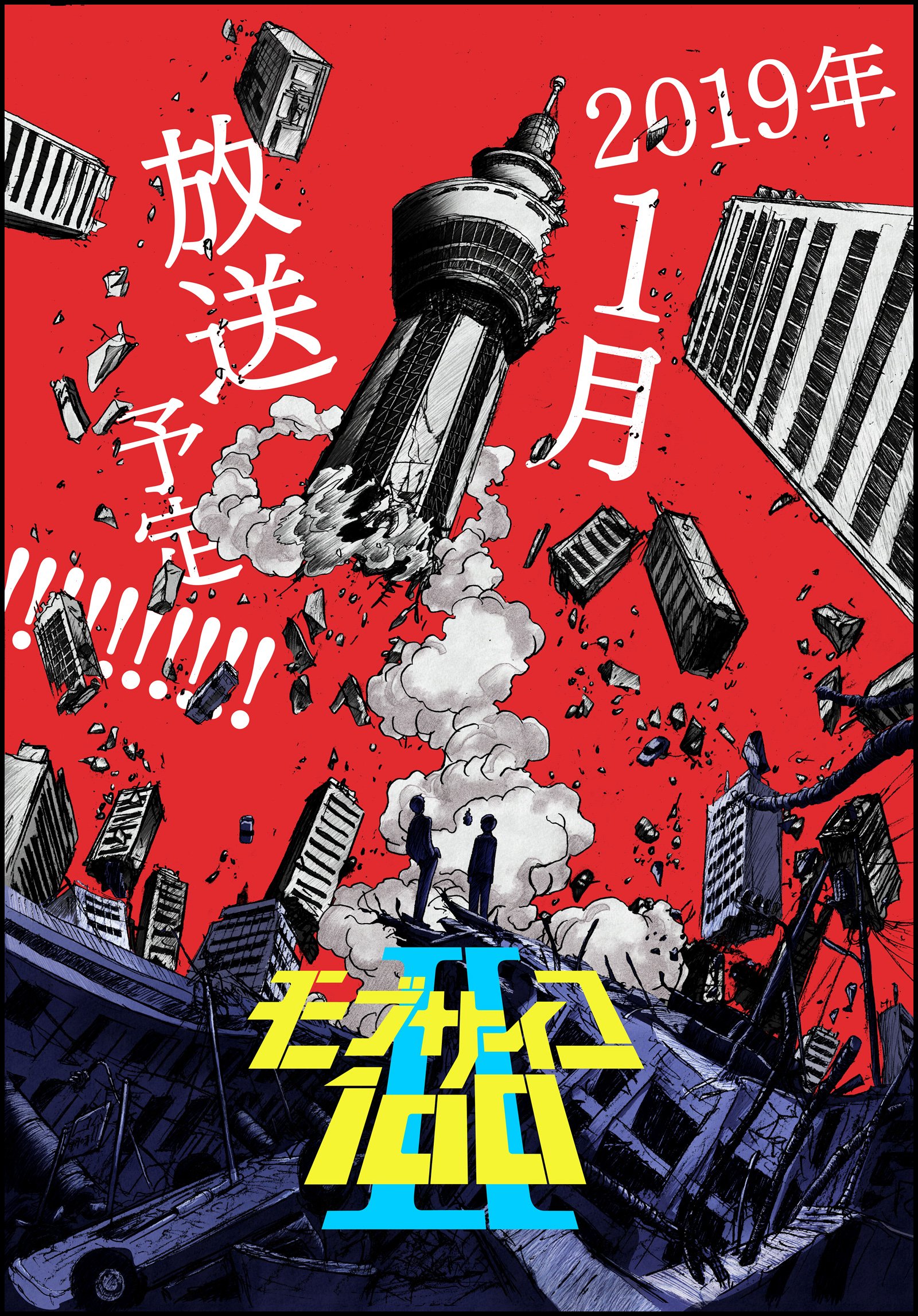 BEST ANIMATION
MOB PSYCHO 100 II
DEMON SLAYER: KIMETSU NO YAIBA
The animation we see in series and films has evolved a lot over the years, and last year we saw an amazing display of all those varying styles competing for our award of Best Animation. Be it CG, hand- drawn, 3D, it's clear that we got to see some of the best of all aspects in 2019.
Mob Psycho 100 II stood at the top, however, with its hand-drawn aesthetic, very much keeping to what it did so amazingly well in its first season. However this time round, the stakes were higher, and the animators were ready to maintain that level of jaw-dropping quality once again. With Mob's many different sides and emotions, capturing all of them individually as he explodes is not an easy task, but every side has a new style to them, from how kinetic it feels during his fight scenes, to coming to terms with who he is, not a single frame is wasted in showing you what is going on. Not only that, it's never confusing to follow, never feels overbearing, instead it gets your blood pumping, it makes you want more; that's exactly what Mob Psycho does. Whatever you may say regarding its story, this is an absolute joy to bear witness to, and extremely deserving of our Best Animation award for last year.
Mob Psycho 100 II is available to stream on Crunchyroll.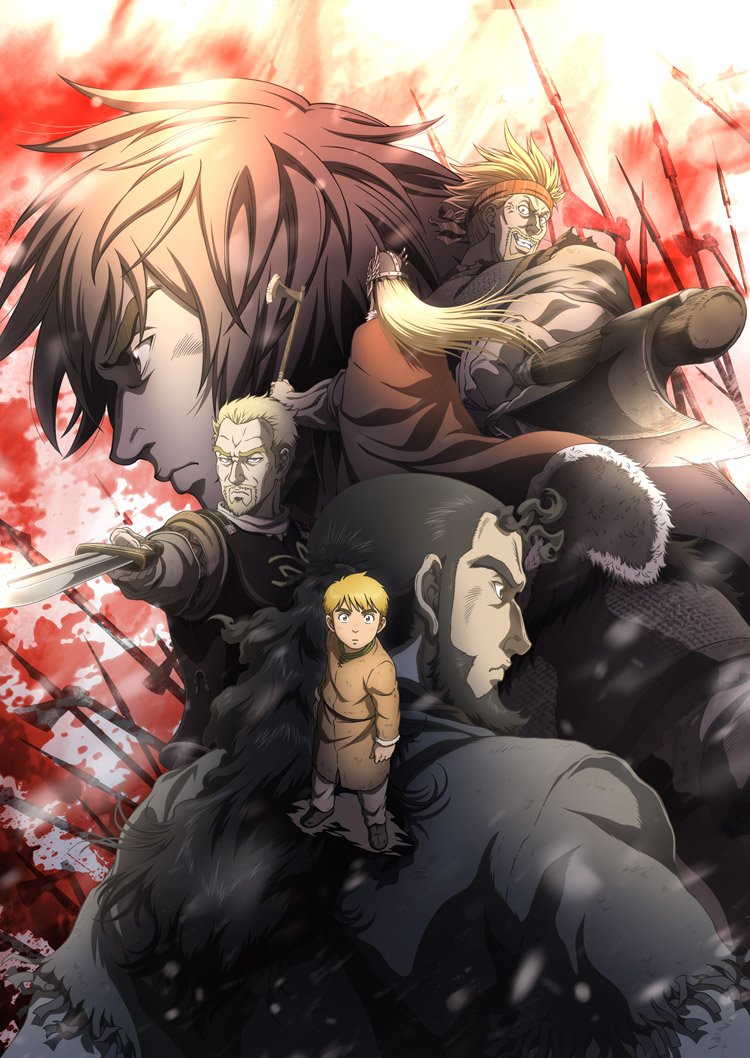 BEST WRITING
VINLAND SAGA
RUNNER UP: O MAIDENS IN YOUR SAVAGE SEASON
The early 11th century is historically both a fascinating and turbulent time, so placing a series in the era of the Viking invasions of England was certainly an inspired choice by Vinland Saga's original author, Makoto Yukimura (also known for Planetes). While the series is only loosely based on the period, the anime adaptation does a really good job at bringing it to life with its well-written, multi-faceted characters. Seeing Thorfinn go from an innocent young boy to being a warrior hellbent on revenge was both fascinating and harrowing, making the series a real journey as we followed him from snowy Iceland to the blood-soaked plains of England, culminating in a tense and cathartic finale that resonated strongly with viewers and at least earned the final episode a nomination for best single episode, even if it didn't win in that category. Filled with gripping action and tense drama, this is one worthy winner.
Mari Okada's O Maidens in Your Savage Season takes the runner-up spot with its rather frank exploration of the sexual awakening of a group of teens as they struggle to understand and find what both sex and love means to each of them. With some superb moments such as the Train-Train scene (the song by The Blue Hearts will surely never be the same to listen to again) and some fraught romantic drama it's no surprise that O Maidens attracted our readers' attention.
Vinland Saga is available to stream on Amazon Prime Video, and O Maidens in Your Savage Season is available on HI-DIVE.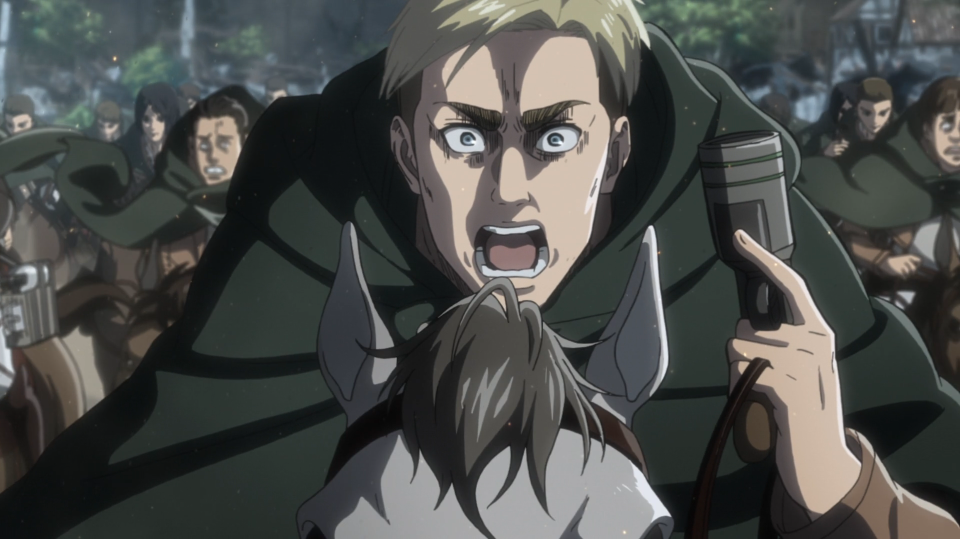 BEST SINGLE EPISODE
ATTACK ON TITAN SEASON 3 EP 16 "PERFECT GAME"
RUNNER UP: SYMPHOGEAR XV EPISODE 13 "LET'S MAKE A HISTORY WITH A LIGHT THAT EVEN THE GODS DON'T KNOW"
Attack on Titan is a show that reached its peak popularity a few years ago, and while still popular, isn't as featured in the spotlight as much as it once was. Despite all of this though, the anime team haven't faltered in their adaptation, and Season 3 Episode 16 "Perfect Game" shows once again what a great series it can be. Though a good chunk of the episode focuses on the rather deadly place our lead trio of Erin, Mikasa and Armin find themselves in, stuck in direct combat with the Colossal Titan, a lot of the episode switches to the other side of the battlefield, where Erwin, Levi and some unfortunate rookies are being handily killed by the Beast Titan.
This leads to Erwin, a man who has pretty much only been shown as a generic, calculating and brave heroic leader type, breaking down and revealing his true feelings about his actions, his motivations and the guilt he carries. It's brilliantly written and acted, hauntingly believable, and leads to a bleakly beautiful final scene of the episode. While this was a fiercely competitive category decided by a single vote, the feeling you have, long after the end credits have finished scrolling, tells us that "Perfect Game" is a worthy winner.
Attack on Titan Season 3 is available to stream on Crunchyroll and Funimation Now.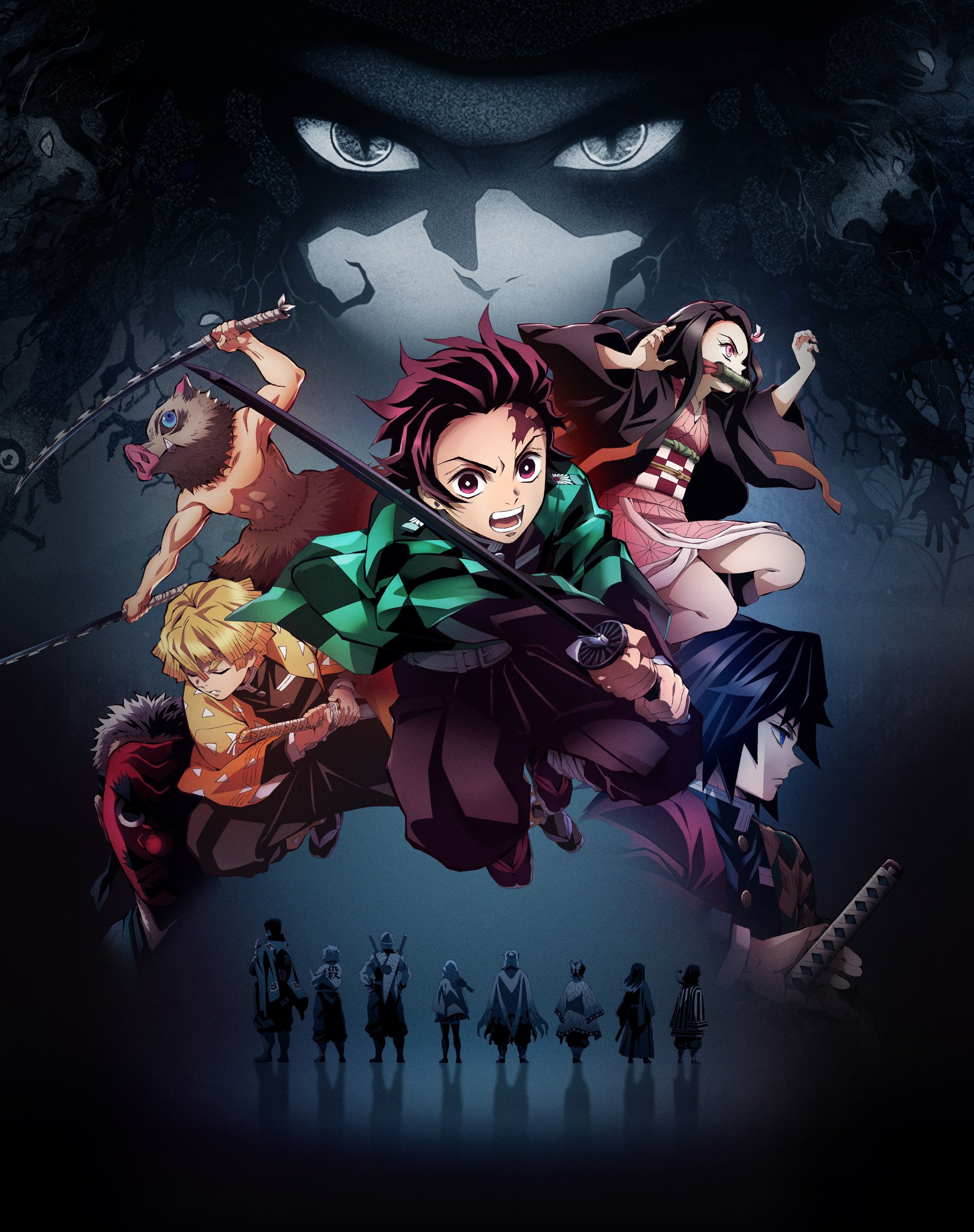 BEST OPENING SONG
DEMON SLAYER: KIMETSU NO YAIBA – "GURENGE" BY LiSA
RUNNER UP: DOMESTIC GIRLFRIEND – "KAWAKI WO AMEKU" BY MINAMI
In the world of anime songs in 2019, it's hard to argue it was anything other than LiSA's year. Gurenge proved extremely popular with fans worldwide, becoming one of the bestselling songs of the year for a female Japanese artist and was certified platinum by the Japan Record Association in September, while just recently it secured top spot on Billboard Japan's "JAPAN Hot Animation" chart for 9 weeks running.
It's not particularly hard to see why the song has become so popular either: putting LiSA's extremely strong vocals to an easy-to-listen-to and catchy melody, while there's strong guitar riffs, a banging beat and a distinct Asian feel that helps it fit in with the anime's Taisho period setting. Pair that with an opening animation that is cut to the song very well and showcases Ufotable's bold and colourful work, then you have a perfect recipe for success.
Our runner-up this year is also very much deserved, with Minami being a relative newcomer to the anime song world. Although she has been active since 2015, Kawaki wo Ameku was her break-in hit to the scene, with her vocals really putting in a great visual image of the emotions involved in the kinds of forbidden love explored by the series itself.
Demon Slayer: Kimetsu no Yaiba is available to stream on Crunchyroll. Domestic Girlfriend is streaming on both Crunchyroll and HI-DIVE.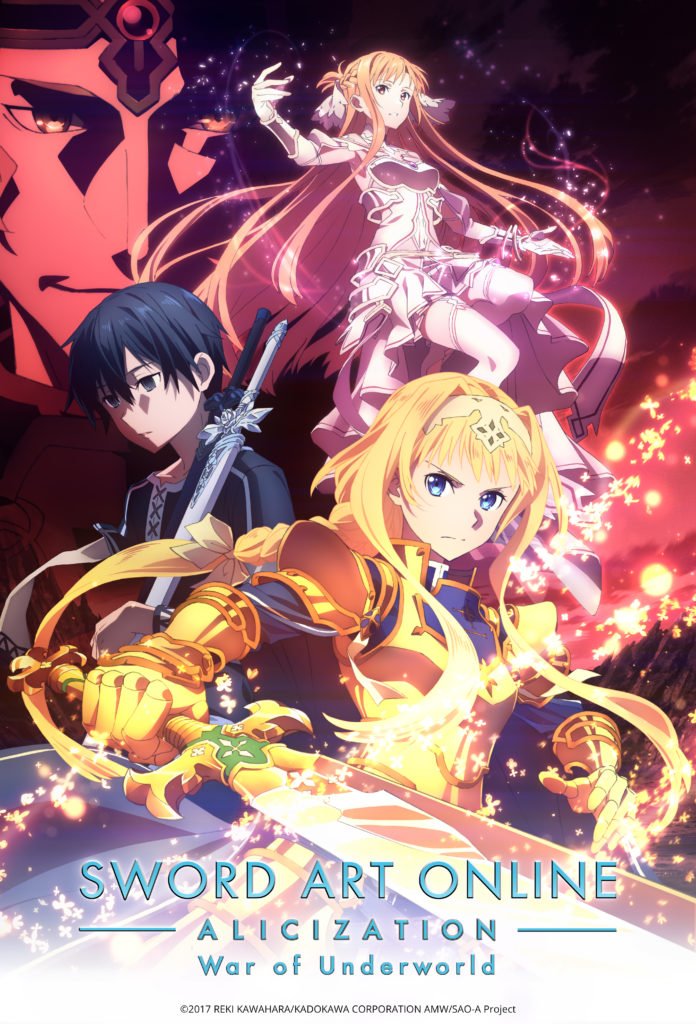 BEST ENDING SONG
SWORD ART ONLINE ALICIZATION: WAR OF UNDERWORLD – "unlasting" by LiSA
RUNNER UP: PROMARE – "KORI NI TOJIKOMETE" by SUPERFLY
In contrast to the strength and energy of Gurenge, unlasting gives us a bittersweet love song for the second part of Sword Art Online Alicization. The dark and melancholic tone definitely fits that of the series as the gates of hell literally open; while the lyrics, telling the story of someone pining for their lost love could probably be placed upon Alice now she's joined the harem that Kirito seems to have going on at this point. It is, however, a very powerful song and a great choice for this award. It has an extremely well put-together music video too, so that is worth checking out if you like the song.
Superfly's Kori ni Tokikomete takes runner-up in this category, with an upbeat and jazzy ending to Promare that tops off its already incredible soundtrack.
Sword Art Online Alicization: War of Underworld is available to stream on Crunchyroll.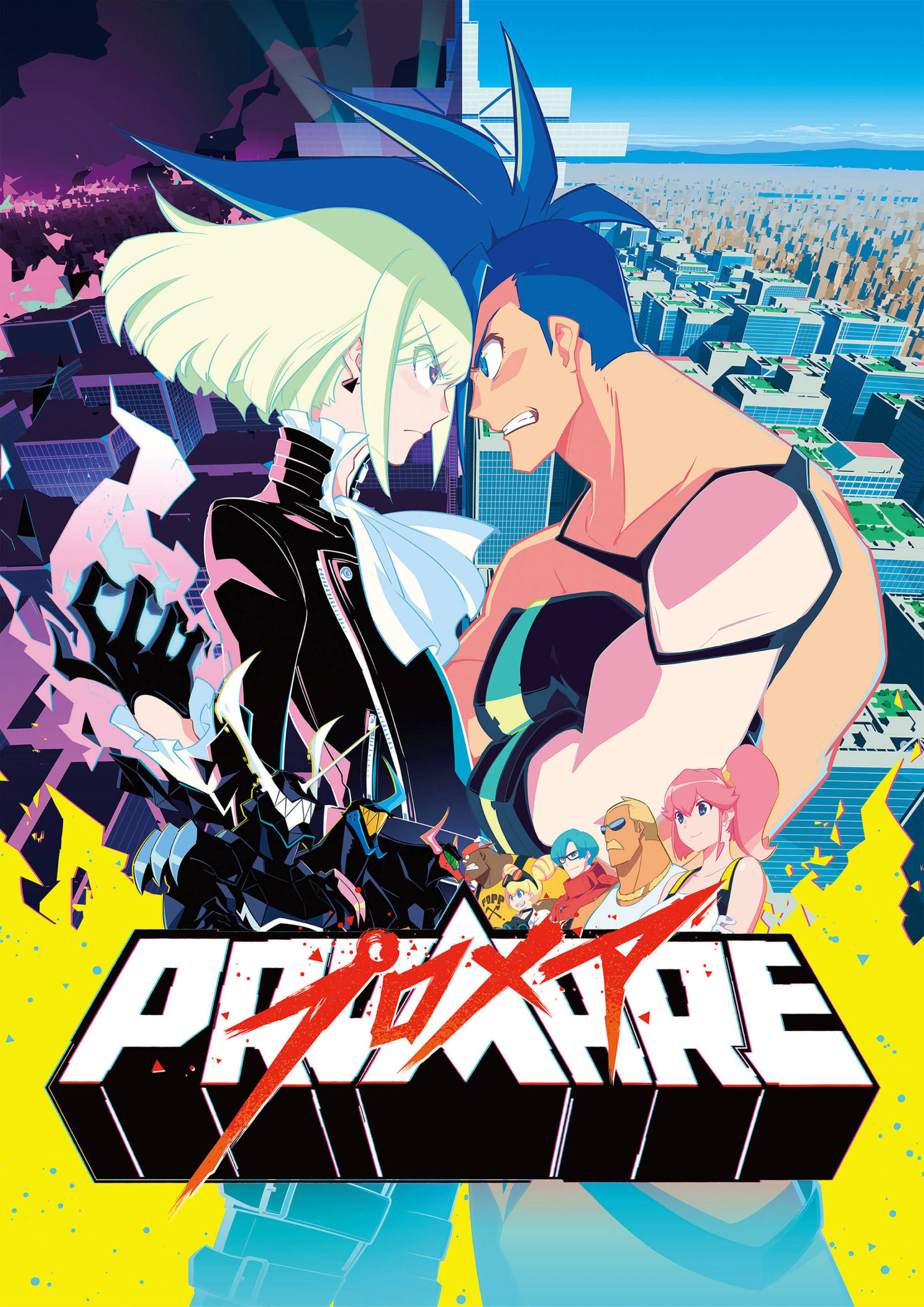 BEST SCORE
PROMARE by HIROYUKI SAWANO
RUNNER UP: DEMON SLAYER: KIMETSU NO YAIBA by YUKI KAJIURA & GO SHIINA
Having already worked with Studio Trigger on Kill la Kill, it was certainly a great decision by them to ask the man known for his "Sawano drops" to come back for Promare, as he certainly delivers. While the score has some really strong themes that reflect each of its main characters, from Galo and Burning Rescue, to Kray Foresight and Lio and the Burnish, it's probably the songs that elevate this to god-tier status, from the insanely catchy and pumped up Inferno, to the solemn and emotional Ashes, and to the heroic climax in The Gallant Ones. This is definitely one of Sawano's strongest works, putting it up there with the likes of Kill la Kill and Attack on Titan, and very much deserving of this award.
Runner-up in this category goes to Yuki Kajiura and Go Shiina's fantastic score for Demon Slayer. While Kajiura is a household name these days, Shiina is more well known in the world of video games, working on soundtracks for Bandai Namco games such as Tales of Zestiria, the Tekken series, and THE iDOLM@STER. This, then, is a pleasing collaboration which combines Kajiura's epic scores and Shiina's more modern sensibilities, crafting pieces that fit well with both the themes and the setting of the anime.

BEST UK ANIME DISTRIBUTOR
ANIME LIMITED
RUNNER UP: MANGA ENTERTAINMENT
I'm sure the winner of this award will come as no surprise to any of you as Anime Limited return to claim the top spot for a third year running. Although the company still suffer with what can seem like endless delays in releasing some products, it's hard to argue that they're not worth the wait. Having brought anime like Silver Spoon, Maquia: When the Promised Flower Blooms and Sword Art Online Alternative: Gun Gale Online to the market with top quality Collector's Editions, they've continued to have something for everyone. Whatever you may think of the company at times, it's clear that fans love the Collector's Editions and series that Anime Limited bring to the UK.
By a close margin, our runner-up this year is Manga Entertainment, who have continued to deliver some of the more high profile shows throughout the year. With their original co-production Cannon Busters launching on Netflix earlier this year, and their acquisition by Funimation and Sony announced last summer, the company is now offering an even wider variety than ever before, and we're certainly looking forward to seeing what they deliver throughout 2020!

BEST STREAMING PLATFORM
CRUNCHYROLL
RUNNER UP: NETFLIX
Perhaps it should also come as no surprise that Crunchyroll reigns supreme for a third year running, given that they can comfortably lay claim to having the largest cultural footprint of all anime streaming sites, with the exception of the giants to whom the medium isn't their main focus. Crunchyroll was home to most of 2019's biggest hits, with every winner here barring Vinland Saga (Amazon Prime Video) and the feature film PROMARE being in their vast catalogue. Basically, if you're an anime fan considering which service to subscribe to, there's a solid chance that Crunchyroll will be your go-to first choice.
Netflix returns again as the award's runner-up following another year of being a great entry point to the medium. With most people these days having access to a Netflix subscription, even those who sign up for their live-action content will eventually succumb to the will of the algorithm and may find themselves introduced to the medium either by the classics, or new titles the service has exclusively licensed. 2019 even saw a little of both, with the company rescuing the iconic Neon Genesis Evangelion from licensing horror stories, and continuing into 2020 with the streaming debut of the Studio Ghibli catalogue! Even though their hold-back-and-binge strategy still attracts ire from fans (hence Beastars being ineligible this year), Netflix has now more than established themselves as a major player in anime streaming.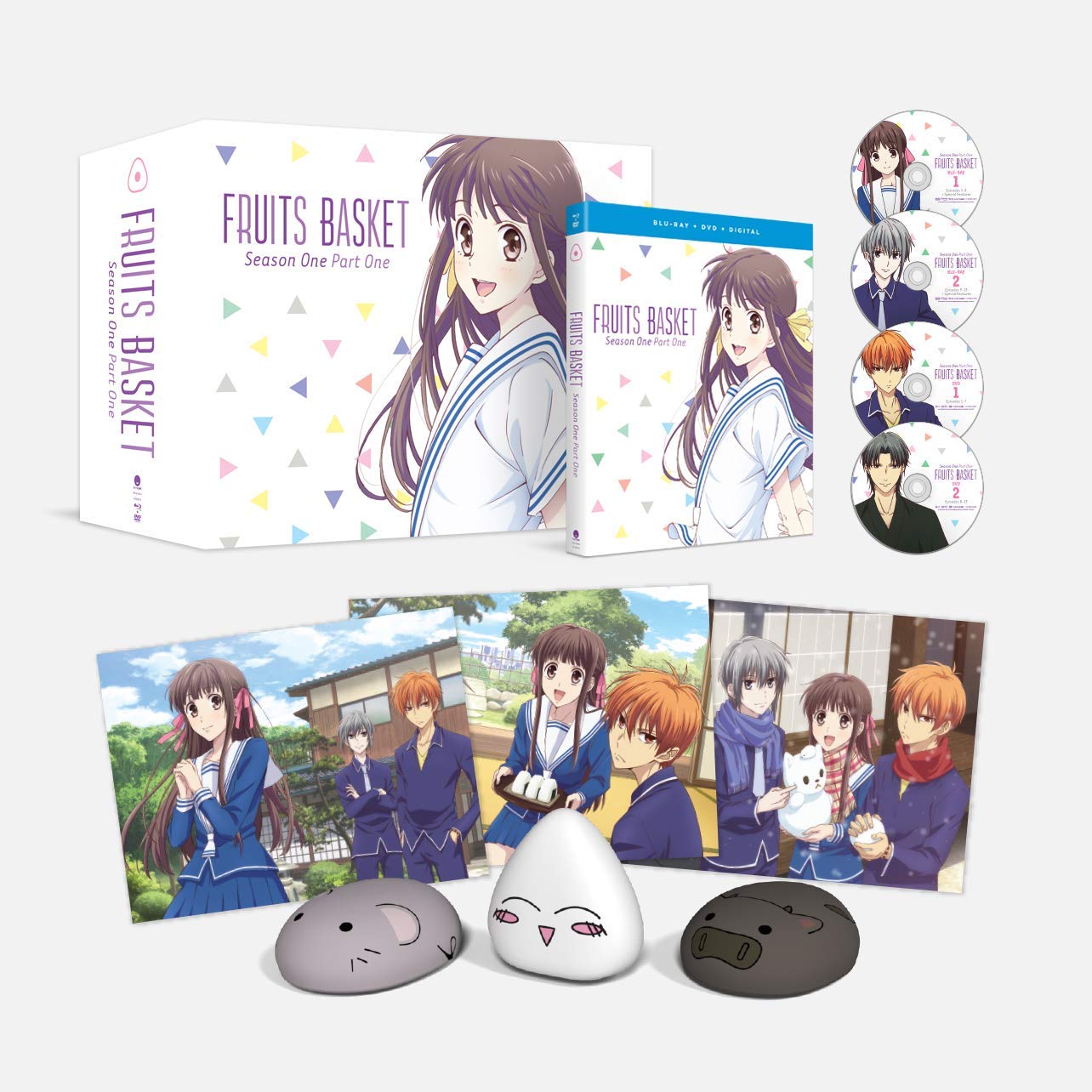 BEST HOME VIDEO RELEASE
FRUITS BASKET SEASON ONE PART ONE LIMITED EDITION (MANGA ENTERTAINMENT)
RUNNER UP: MAQUIA: WHEN THE PROMISED FLOWER BLOOMS COLLECTOR'S EDITION (ANIME LIMITED)
There have been some very attractive Limited and Collectors' Editions from Anime Limited and Manga UK in the past year, with art cards, art books, etc. Kudos to Manga Entertainment for bringing us the first part of 2019's Fruits Basket in the same year it was streamed – and for such an attractive Limited Edition where each part will include three of the little zodiac animals. Just like the ones Tohru the heroine first sees at Shigure Soma's house before her life takes such a dramatic turn! Those who ordered Anime Limited's Collector's Edition of Maquia: When the Promised Flower Blooms had a longer wait after the cinema release but were rewarded with a handsome edition, including an art book.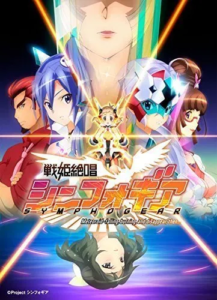 MOST WANTED ANIME LICENSE
SYMPHOGEAR
RUNNER UP: THE PROMISED NEVERLAND
As mentioned earlier, 2019 really was Symphogear's year. The final season bowed out to cheers from its fanbase, and even the tie-in Symphogear XD Unlimited mobile game had a surprise localisation announcement! [Ed. Note: it released in Feb 2020, but at time of writing is unavailable in the UK]. What's more is, after having been left in limbo since Funimation licensed the series back in 2012, the North American distributor Discotek Media announced a North American release of Symphogear Season 1 to come later this year!
While suggestions of releasing the series in the UK and Ireland have often been met with concerns about its niche status and commercial viability, perhaps it's no surprise that this resurgence has led to increased interest in a local home video release! We just hope that any Western home video release doesn't miss out on the character song singles that many of the Japanese releases have been graced with.
Symphogear is available to stream on Crunchyroll.
---
MANGA AND LIGHT NOVELS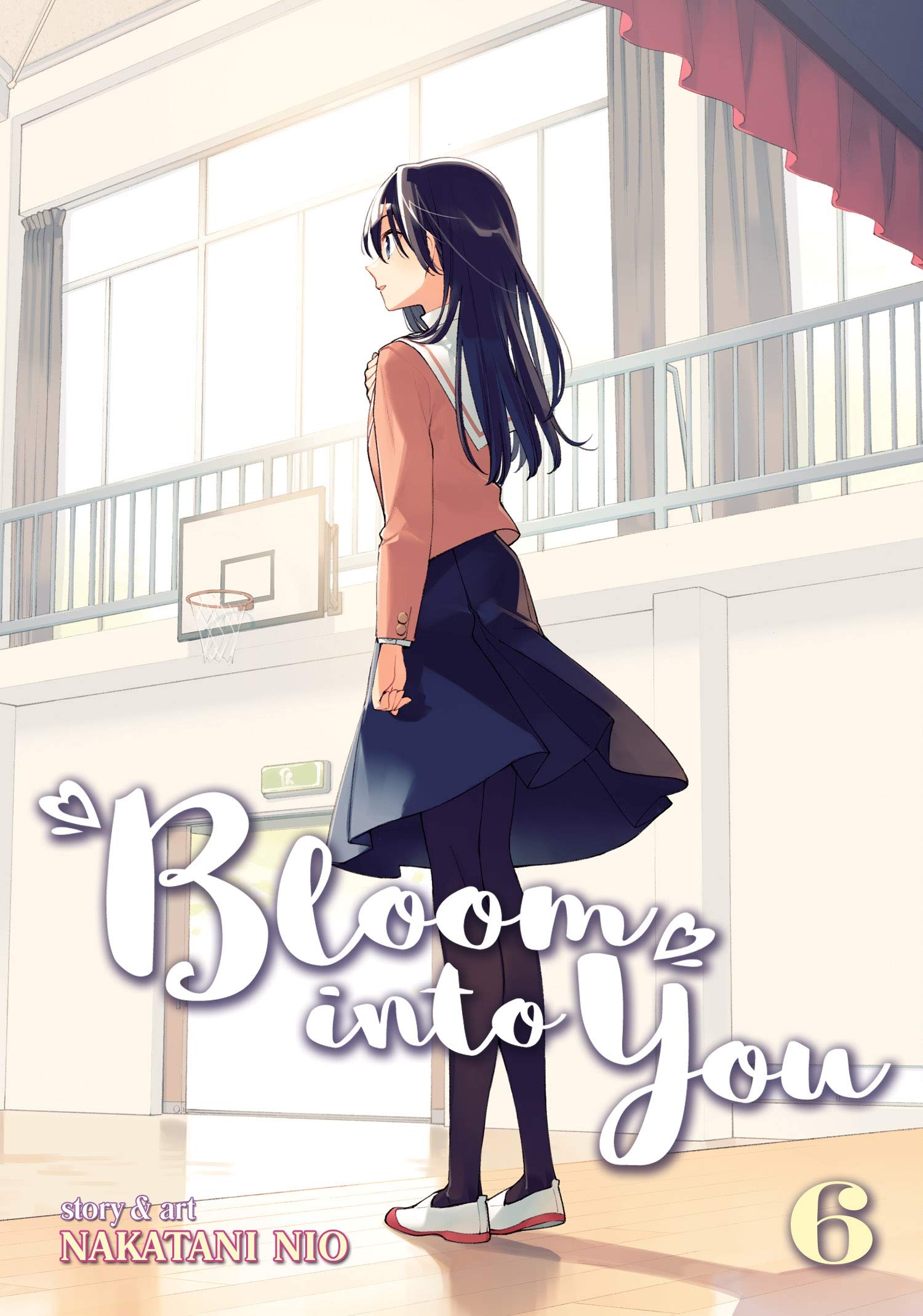 BEST MANGA
BLOOM INTO YOU
RUNNER UP: TOKYO GHOUL: RE
BEST MANGA ILLUSTRATION
BLOOM INTO YOU
RUNNER UP: TOKYO GHOUL: RE
It's nice to see Nakatani Nio's charmingly drawn, heartfelt yuri romance from Seven Seas' Bloom into You garner so many votes for best series and best illustrations (not to mention Runner-Up for the Best Manga of the Decade accolade). LGBTQ+ titles have been on the increase and Seven Seas has probably been the most assiduous and enterprising of the US manga publishers in bringing us a wide range of diverse stories (followed by Kodansha). Tokyo Ghoul: re – which will reach its final volume from Viz Media this year – was our winner of Best Manga 2018. Sui Ishida's urban ghouls have captured the imaginations of many readers (and viewers) – and whether you read the work as a straightforward horror story or read more into it as a metaphor for contemporary life, the striking artwork has attracted much admiration
However… with both our winner and runner-up being ongoing titles rather than new debuts, while there's certainly nothing wrong with that, perhaps that's something to take into consideration for future awards, as our manga reviewers strive to try and draw readers' attentions to the new, exciting but unfamiliar titles coming out, so they don't shrivel and die before they attract enough sales to keep them in print (or at least available digitally!).
Bloom into You is published in English by Seven Seas Entertainment, and Tokyo Ghoul: re is published by Viz Media.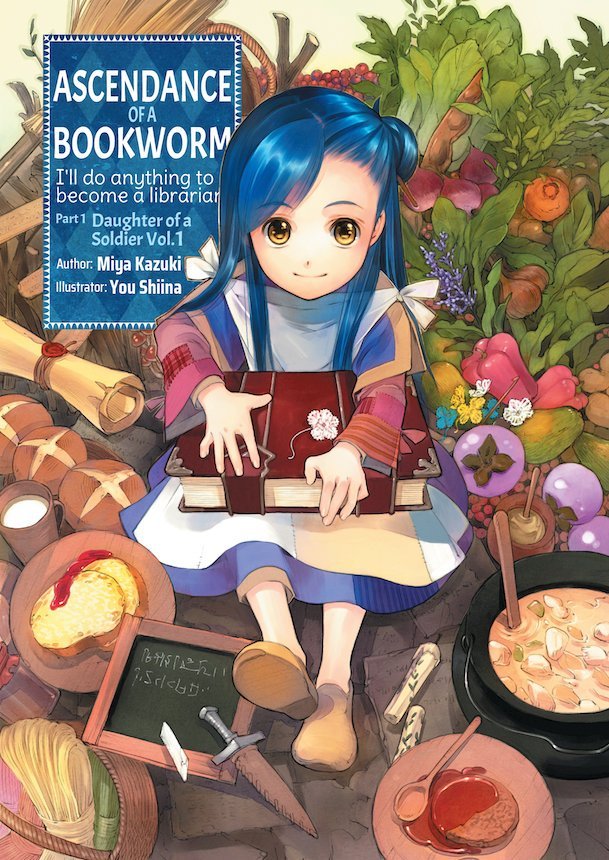 BEST LIGHT NOVEL SERIES
ASCENDANCE OF A BOOKWORM
RUNNER UP: SEXILED: MY SEXIST PARTY LEADER KICKED ME OUT, SO I TEAMED UP WITH A MYTHICAL SORCERESS!
While your typical isekai story sees a human reincarnated (or summoned) from Japan into a fantasy world to become a hero, Ascendance of a Bookworm took the market by storm with a fresh approach to the genre. Instead of journeying to vanquish a great evil, protagonist Myne just wants to read books – but first she has to make them! The series (on-going in Japan since 2015) is unlike anything else on the market and with its heartfelt story and captivating world-building, it's no surprise that it has come out on top to claim the title of best light novel series for 2019.
Runner up in this category is relative newcomer Sexiled, which has been a surprise hit both in Japan and here in the West. The series challenged gender stereotypes while setting out to both entertain and educate the reader on not judging a book by its cover. It's unusual to see a fairly unknown title take the Western market by storm, which speaks volumes to the quality of it and proves this award is well deserved.
Ascendance of a Bookworm and Sexiled: My Sexist Party Leader Kicked Me Out, So I Teamed Up With a Mythical Sorceress! are both published by J-Novel Club.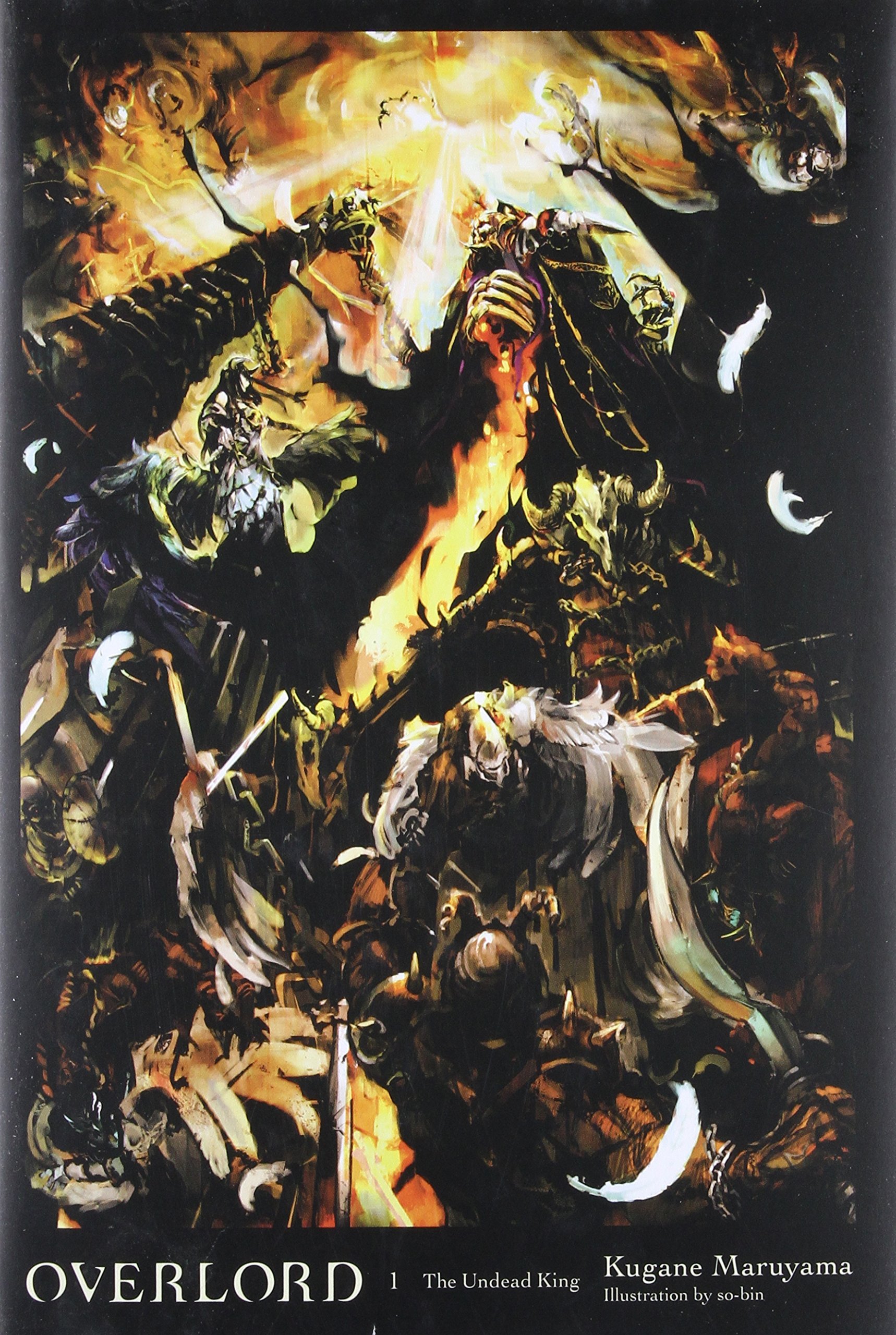 BEST LIGHT NOVEL ILLUSTRATIONS
OVERLORD
RUNNER UP: ALTINA THE SWORD PRINCESS
When it comes to best light novel illustrations we have returning champion Overlord, who also came away with the award last year. With such a unique style of artwork from illustration so-bin perhaps it comes as no surprise that the long-running series has yet to be toppled. Maybe next year…?
Our runner up in this category is Altina the Sword Princess, which features illustrations from himesuz (who also illustrated some of The Magic in this Other World is Too Far Behind!). The illustrator's style is perfectly suited to the fantasy world of Altina which spends its days following the antics of a bookworm and the Sword Princess he works for. It's certainly nice to see one of the newer series to the Western market come in to claim second place!
Overlord is published by Yen Press, and Altina the Sword Princess is available digitally from J-Novel Club.
BEST MANGA/LIGHT NOVEL DISTRIBUTOR
VIZ MEDIA
RUNNER UP: YEN PRESS
VIZ Media – home of many shonen classics in translation, such as Dragon Ball Z, Naruto, One Piece and more recent hot favourites such as Dr Slump, Demon Slayer and Beastars – has long dominated the shelves in UK bookstores, making their manga available in outlets such as W.H. Smiths, thereby achieving a much wider coverage than any other US manga publisher. So, they're probably the most well-known imprint down to their ubiquity as well as their popular Jump titles. However, they also offer other imprints including the VIZ Signature label, which boasts an excellent range of seinen titles including Golden Kamuy, The Drifting Classroom and Ran and the Gray World – and, of course, Shojo Beat, famous for bringing us shojo titles as varied as Banana Fish, Ouran High School Host Club, Vampire Knight and currently offering Snow White of the Red Hair and Takane & Hana. So no wonder VIZ took top billing!
However, when it comes to light novels, VIZ's output tends to be related to existing series such as Naruto or My Hero Academia – which is where Yen Press comes in. Yen Press has brought out a wide range of manga in all genres but has also excelled in light novels, whether anime-linked like Baccano! and Bungo Stray Dogs, or independent titles such as 86 – Eighty-Six, there's something for every taste here.
MOST WANTED MANGA LICENSE
MARCH COMES IN LIKE A LION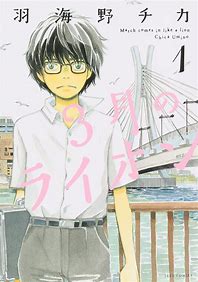 RUNNERS UP: SYMPHOGEAR
Last year I wrote 'I'm genuinely surprised that no US publisher has yet picked up the licence for March Comes In Like a Lion (3-gatsu no Lion) Chica Umino's ongoing award-winning slice-of-life manga, especially as the anime TV series has proved such a hit in the West.' And here we are again. At 15 + volumes, it's still the 'most wanted' in our 2019 Anime UK News poll but no US publisher has licensed it. The longer this goes on, the less likely we are to get a print licence (US editors frequently remind us that taking on a long series can prove too much of a gamble) – although a digital-only release would be very acceptable. Perhaps in 2020…? The runner-up Senki Zesshou Symphogear (2011 – 3 volumes) was originally published in Newtype Ace but, given the nine year gap, is probably unlikely to find a US publisher now.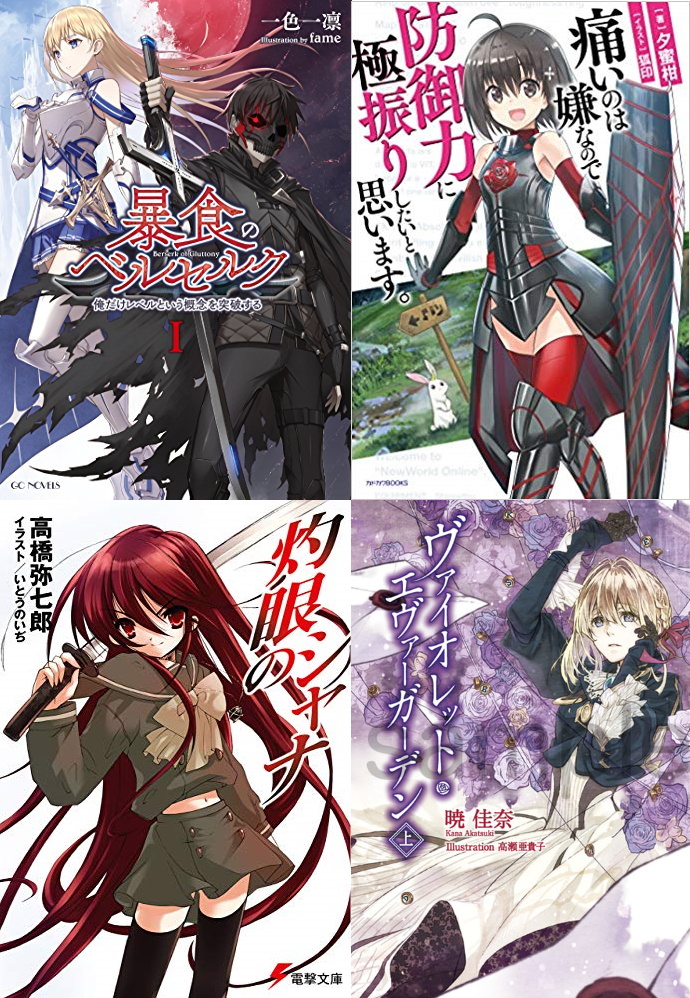 MOST WANTED LIGHT NOVEL LICENSE
WINNERS: BERSERK OF GLUTTONY, BOFURI, SHAKUGAN NO SHANA & VIOLET EVERGARDEN
With a four-way tie between our winners for this award, it's clear the light novel market still has a lot of growing to do before it offers everything our readers want. Shakugan no Shana and Violet Evergarden (a returning mention from last year) will come as no surprise with their popular anime adaptions. With recent efforts to release older series (like Full Metal Panic!), we can only hope Shana receives similar treatment eventually. It would be nice to see any of Kyoto Animation's books make it outside of Japan too!
Also included in our tie are Berserk of Gluttony and Bofuri, the latter of which has a currently airing anime. Presumably with that in mind, a licence won't be far behind! Berserk of Gluttony is ongoing at four volumes in Japan and comes from the same label as Reincarnated as a Sword and That Time I Got Reincarnated as a Slime (although doesn't appear to be an isekai like these), so it's certainly easy to see how it won its votes.
---
CHARACTERS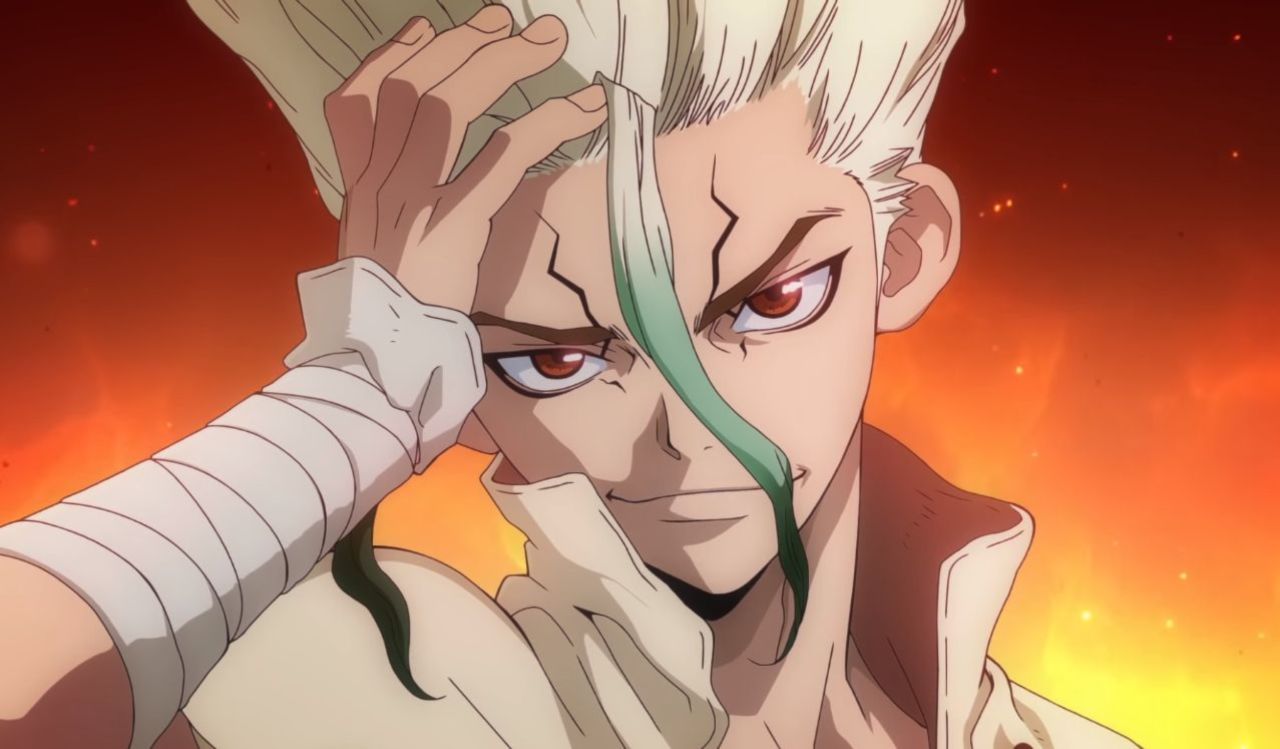 BEST MAIN CHARACTER
SENKU ISHIGAMI (DR. STONE)
RUNNER UP: ASKELADD (VINLAND SAGA)
In the ever over-crowded world of anime lead characters, especially from shonen properties, Senku Ishigami stands himself apart by being extremely different from his peers. While most stories from the shonen subgenre of manga/anime has protagonists that are rather excitable, eat a lot and aren't the brightest bulb in the box, Senku IS the brightest bulb, probably because he managed to make the bulb using stone age mechanisms! A lover of science and very calm, cool and somewhat arrogant, Senku has all the makings of a villain, if it weren't for his belief in his friends and humanity in general.
He's different, and thankfully his Japanese voice actor, Yusuke Kobayashi, does a great job of coming across as likable while giving out lectures about how to create various modern day conveniences by using only stone and wood – something that could have sounded preachy or boring in the hands of a less capable actor. From that debut poster of Senku holding a flask while breaking away from his Stone prison, you just knew he'd be something special and interesting, and thankfully he was, and a worthy winner of this award.
Dr. STONE is available to stream on Crunchyroll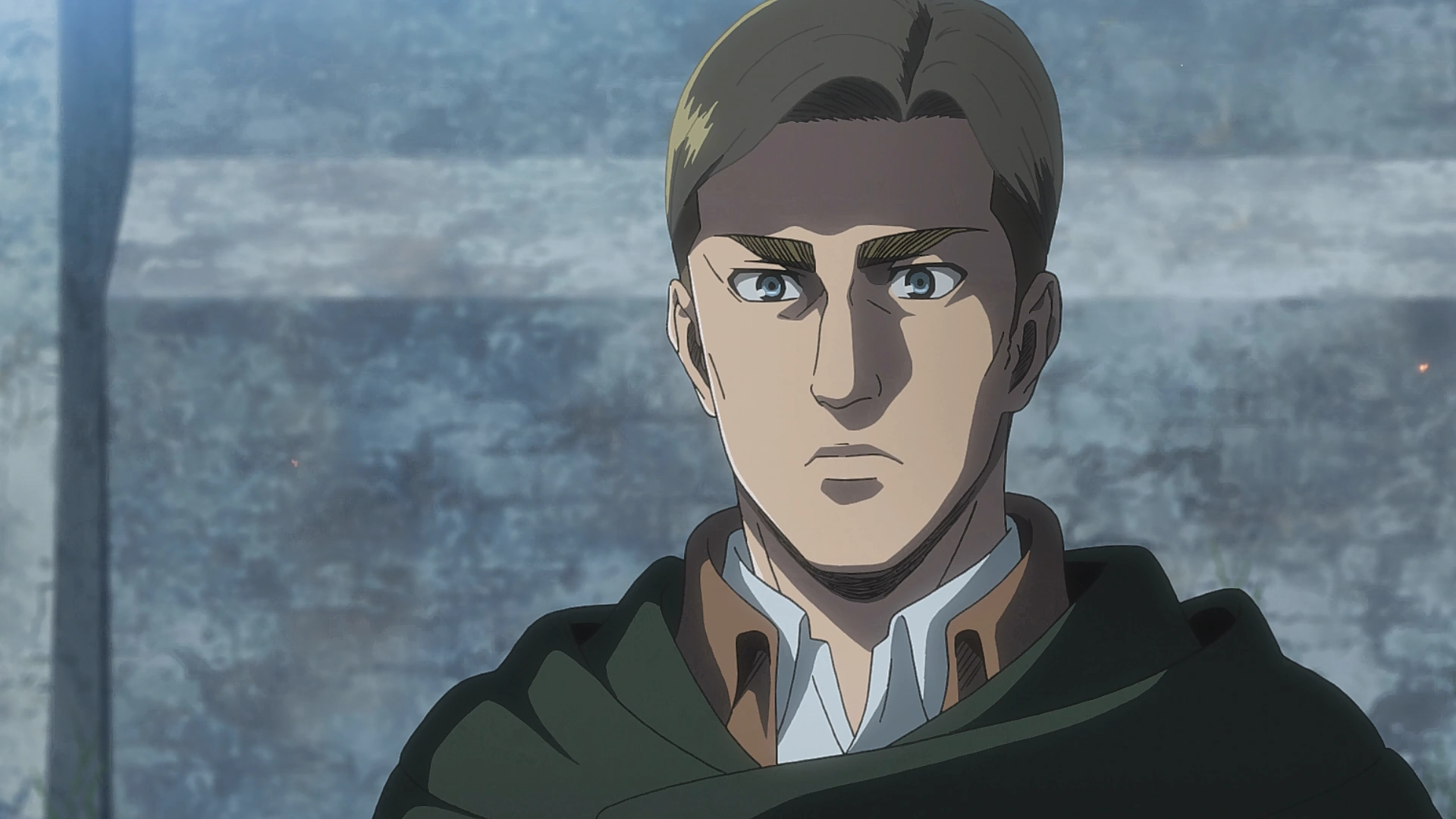 BEST SUPPORTING CHARACTER
ERWIN SMITH (ATTACK ON TITAN)
RUNNER UP: INOSUKE HASHIBIRA (DEMON SLAYER: KIMETSU NO YAIBA)
The commander of the Scout Regiment who risk facing hell each day in hopes of advancing humanity's counterattack, Erwin Smith has always been an admirable yet imposing enigma. Despite being a figure of authority since the first season, he's always been hard to figure out – with the trust of fan-favourite Levi perhaps being our only real clue that we too should place our faith in this calculating commander. He's always had a surprising fan following since the beginning though, including Garrison Girl author Rachel Aaron, who told us that her favourite character even appeared in an earlier draft, until Kodansha pointed out that it wouldn't fit the manga continuity.
Erwin taking the spot with a comfortable margin over the feral hog of the hour no doubt stems from his actions in our Best Single Episode winner, where he's confronted with the harsh reality of having to entrust his life's dream to another, and delivers a rousing yet harrowing speech to a frightened regiment about to charge towards their deaths. It's often said that people reveal their true nature as they face their final moments, and if that's so, Erwin Smith shows us why he's a leader deserving of this award.
Attack on Titan Season 3 is available to stream on Crunchyroll and Funimation Now.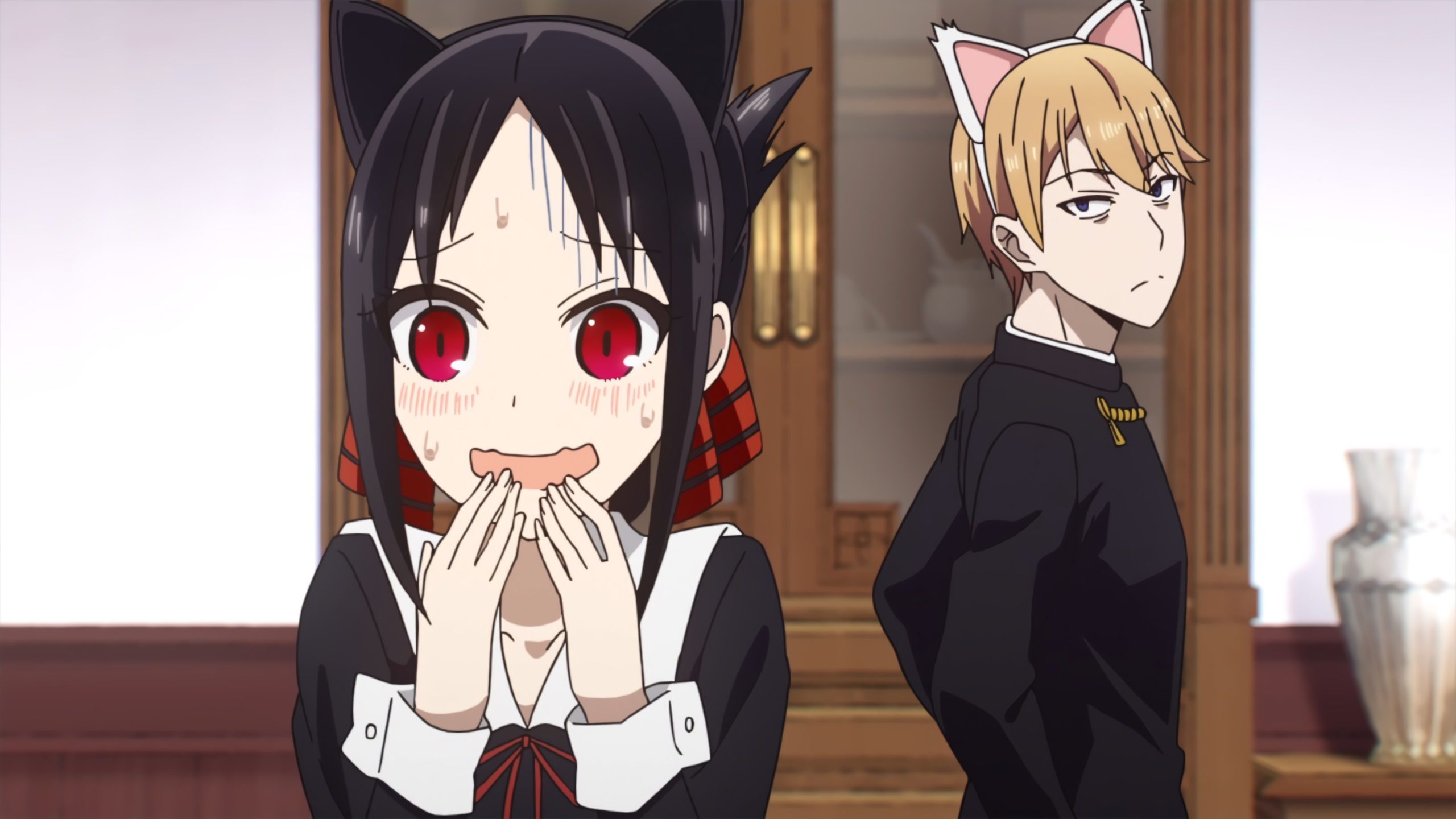 BEST COUPLE
KAGUYA & MIYUKI (KAGUYA-SAMA: LOVE IS WAR)
RUNNER UP: HIBIKI & MIKU (SYMPHOGEAR XV)
This is the first time our awards have given a prize for "Best Couple", and while some may be disappointed that the inaugural winners in a year of growing LGBTQ+ representation are heterosexual, the bizarre relationship between Kaguya Shinomiya and Miyuki Shirogame still makes them worthy winners.
For those not familiar with the series, the two lead characters run the student council of an elite school, and unwittingly engage each other in a bizarre power-play as they desperately try to force the other to confess their feelings first. Council president, workaholic and top student Miyuki has paranoid fantasies that just about anything he does might end up with Kaguya's ridiculing response of: "How cute." Meanwhile, vice-president and privileged beauty Kaguya has her own problems. Namely, coming from such a elite family means that she is unfamiliar with things most people consider normal, like social media and smartphones, as well as being so sheltered that simply having to walk to school rather than go by chauffeur-driven car is an adventure. The supporting cast of fellow council members, clueless romantic secretary Chika and gloomy paranoid treasurer Yu, all add to the delightful stew of this awkward romantic comedy, which returns for a second season this April.
In second place, is a couple who for many fans was a long time coming. Since the dawn of Symphogear, Miku has been Hibiki's closest confidant, her rock, and her sunshine. Their bond was the one thing keeping Hibiki grounded in a world where the unexpected was expected, but it was certainly put to the test in 2019, with the final season Symphogear XV. Miku being thrown into the supernatural world on an unprecedented scale was a dilemma like no other for Hibiki, but her loud declaration that her wanting to save Miku was not for the world but for herself was a bigger testament to her love than any on-screen kiss could have been. Who says Hibiki's feelings for Miku are worth less than 2,000 years of curses? Not our readers, who voted the girls into a comfortable second place.
Kaguya-sama: Love is War and Symphogear XV are both available to stream on Crunchyroll.
---
BEST OF THE DECADE (2010 – 2019)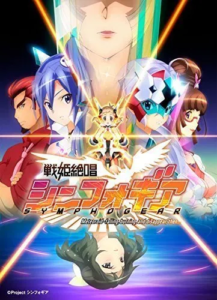 ANIME OF THE DECADE
SYMPHOGEAR
RUNNER UP: ATTACK ON TITAN
It could be argued that Symphogear is like indie Marmite – you either love it, or haven't heard of it. The series' complicated licensing situation mentioned earlier largely confined the series to obscurity, yet it has still managed to attract an online fandom who are so passionate about the series that they remember it more fondly than even the mega hits with colossal cultural footprints like runner-up Attack on Titan.
It's not hard to see what Symphogear's fans love about the series. Its story balances tragic backstories that encourage us to empathise with heroes and villains alike, with crazy spectacles of pure dumb fun like Hibiki punching through a mountain. It would take an absolute heart of stone to not be charmed by its cast, like villain-turned-cinnamon-bun Chris Yukine, who can be launching a barrage of missiles one minute, then get spaghetti all over her face in the next. To top off the great characters and a story involving everything from aliens to illuminati alchemists, the cherry on the cake is the J-Pop character song soundtrack sung by the likes of Aoi Yuki, Nana Mizuki and Ai Kiyano.
Symphogear is by no means the conventional first thought for what is sure to be the most discussed award, and even fans may be surprised to see it here, but there's no doubting that the people who love Symphogear really do.
Symphogear is available to stream on Crunchyroll.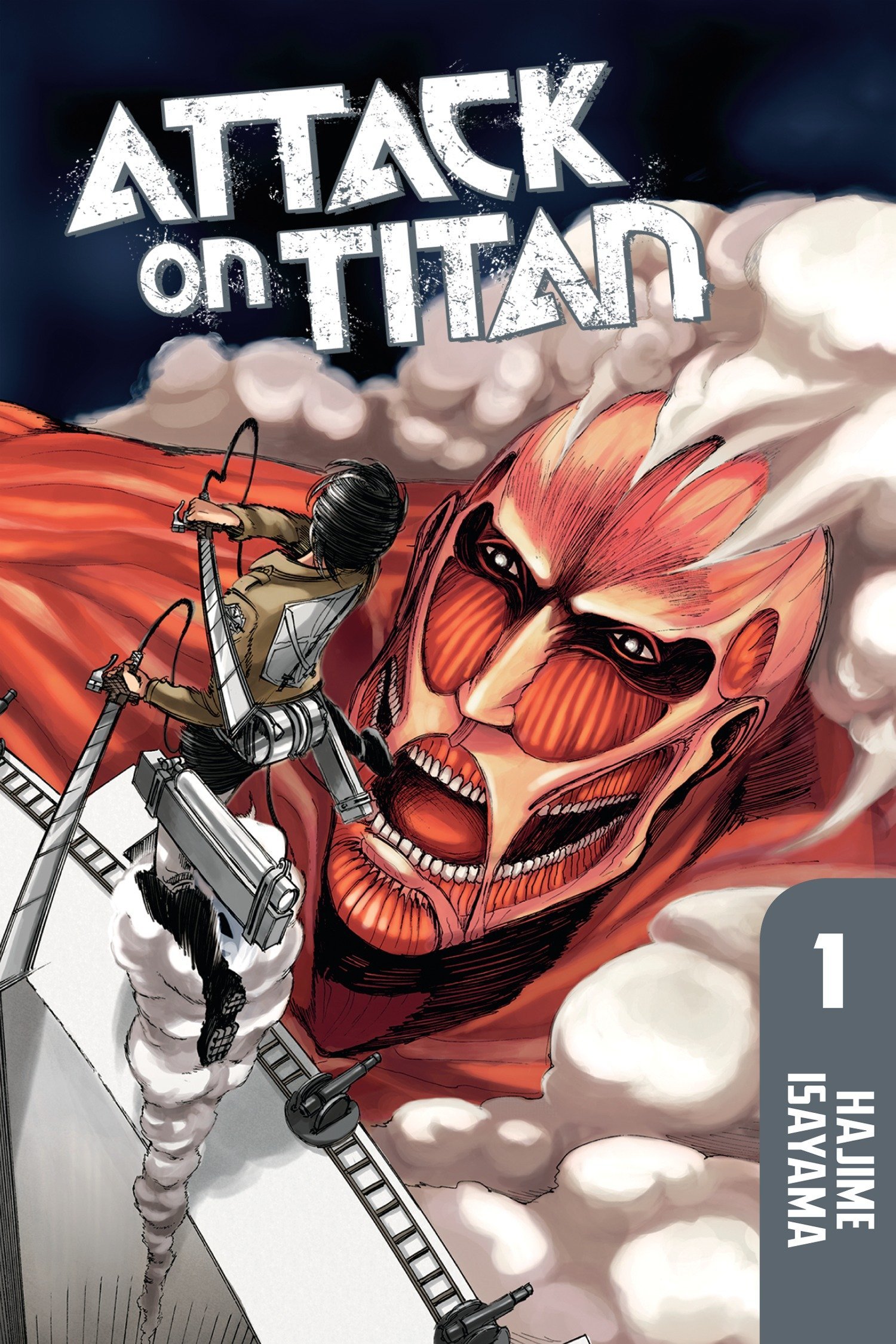 MANGA OF THE DECADE
ATTACK ON TITAN
RUNNER UP: BLOOM INTO YOU
It would be really hard to argue with the choice of this award-winning manga as its influence has spread far and wide (anime series, live action films, spin-offs, merch, cosplay, etc.) since it was first published (US edition Kodansha 2012 +). Hajime Isayama produced a truly compelling and grimdark scenario that's kept readers gripped for 31+ volumes – although there's no doubt that the TV anime series, with its rousing choral OPs, has drawn more readers to the manga, rather than the other way round.
Attack on Titan is published in English by Kodansha Comics.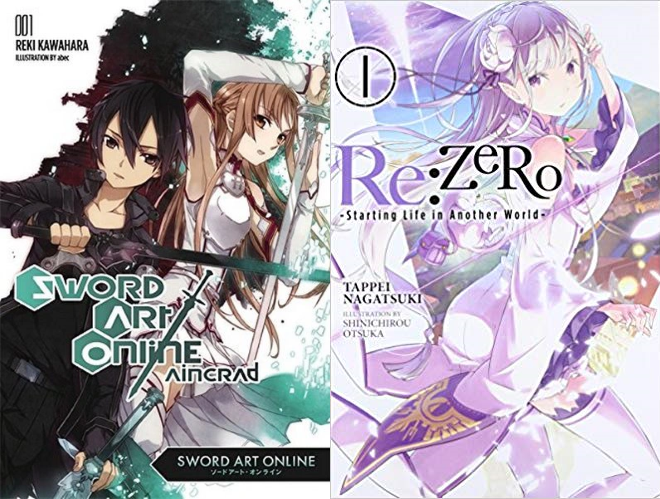 LIGHT NOVEL OF THE DECADE
WINNERS: SWORD ART ONLINE & RE:ZERO -STARTING LIFE IN ANOTHER WORLD-
With its responsibility for beginning the light novel boom in English back in 2014 I'm sure it comes as no surprise to any of you that Sword Art Online is one of the winners for this award. Re:Zero too has done a lot to help shape the market thanks to the popular anime adaption driving sales for the source material. Both series are gripping fantasy adventures that leave their readers counting down the days to the next volumes to find out what happens. If nothing else, it's not hard to argue that when you think of the Western light novel market, these will be the two titles that first spring to mind!
Both Sword Art Online and Re:ZERO -Starting Life in Another World- are published by Yen Press.
---
And that's it! These are the esteemed winners of the Anime UK News Reader's Choice Awards 2019! Did your vote lead to a winner? Let us know what you think of the winners on the forum, or on Twitter!