Manga Entertainment Reveals Dragon Ball Super Collection & Dragon Ball Z Seasonal Anime Blu-rays for UK & Ireland
UK distributor Manga Entertainment has announced some more anime releases coming to the United Kingdom and Ireland territories for the fourth quarter of 2020.
As mentioned in our previous write-ups on the line-up (which you can view here, here, here and here), the on-going situation with the world is still affecting production for the UK anime distributors, including Manga Entertainment, so the release dates below are currently tentative and may change at the last second beyond the distributor's control.
Today's news is focused on the Dragon Ball franchise by Toei Animation and creator Akira Toriyama.
Previously, Manga Entertainment released a 30th anniversary collector's edition box set which featured all 291 episodes of the 1989 anime series Dragon Ball Z. We can confirm that the distributor will be re-releasing the 30th anniversary Blu-ray transfer as individual season sets. The 30th anniversary release presents the series in a 4:3 ratio format in contrast to the 16:9 cropped ratio format presented in the "Orange Bricks" DVD releases.
There will be two editions available; a steelbook and a standard regular release. You can view the artwork for the steelbooks below, which will be the same as the Funimation releases and will also be available exclusively through Amazon.
This slideshow requires JavaScript.
The standard edition releases (SRP £39.99 each) will also include a slipcase, poster and 4 art cards. The first season in both standard and steelbook will be available starting 9th November 2020, followed by the second season on 23rd November 2020, and the third season on 21st December 2020. Seasons 4 to 9 will all be available throughout 2020.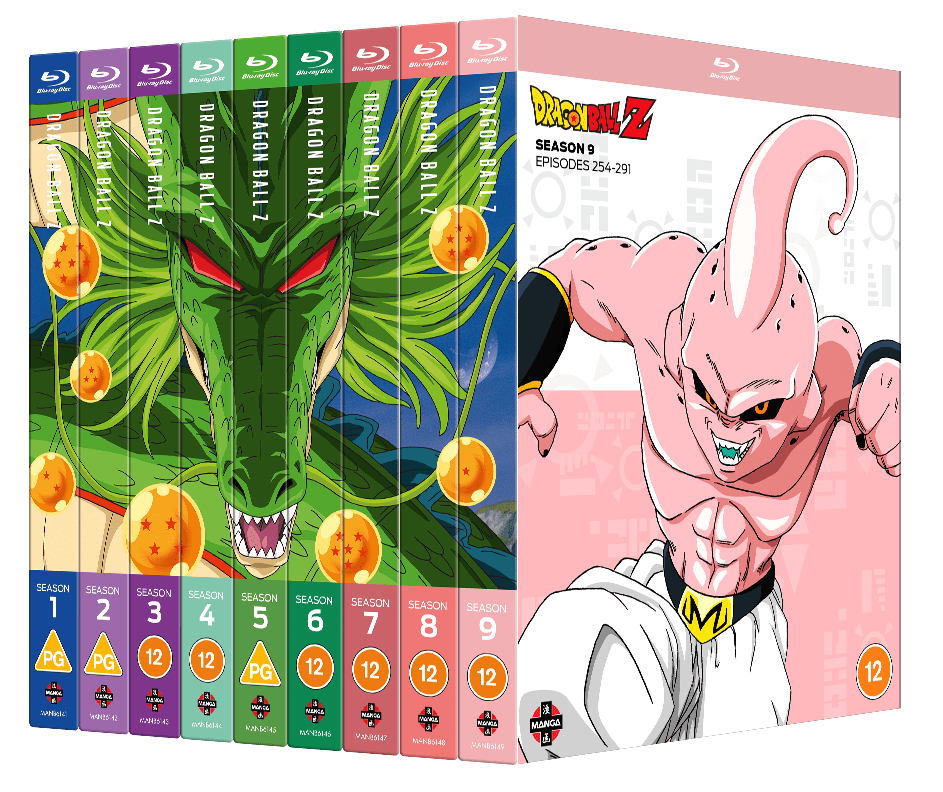 "The Saiyans are coming! These ruthless villains carved a path of destruction across the galaxy, and now they're headed for Earth! The evil warlord Vegeta will not rest until he's seized the wish-granting powers of the Dragon Balls for himself!"
In addition to the Dragon Ball Z re-release, the 2015 anime series Dragon Ball Super will be re-released in a super collector's edition box set covering all 131 episodes of the series released so far.
This slideshow requires JavaScript.
The box set includes a rigid box housing three digipacks with 20 Blu-ray discs covering all of the Super sagas; Battle of Gods, Resurrection F, Champa, Future Trunks and Universe Survival. Also included is a 52-page booklet, a carton holding 5 art cards and a sticker sheet, and a poster. SRP is £179.99 and will be available starting 2nd November 2020.
A regular complete collection will also be available on both Blu-ray (SRP £129.99) and DVD (SRP £99.99). Both formats will be presented as a rigid box with the same digipacks mentioned above, and scheduled for 2nd November 2020.
This slideshow requires JavaScript.
"Goku has taken a completely new role as a…radish farmer?! With Earth at peace, our heroes have settled into normal lives. But they can't get too comfortable. Far away, a powerful god awakens to a prophecy revealing his demise at the hands of a formidable being. When his search for the Saiyan God brings him to Earth, can Goku and his friends take on their strongest foe yet?"
---
Source: Manga Entertainment