Third Window Films Release Award-Winning Hitman Film "Melancholic" on September 7th, 2020
Third Window Films are going to issue a dual format DVD/Blu-ray release of the indie film Melancholic tomorrow, September 7th.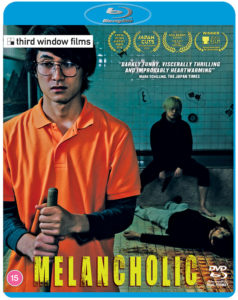 Japan / 2018 /  In Japanese with English subtitles / Colour / 114 minutes
Synopsis: Despite having graduated from the prestigious Tokyo University, Kazuhiko is unemployed and living with his parents without any plans for the future. Everything changes, however, when he takes up a job at a local bathhouse and discovers that it is used by the yakuza as a convenient place for executions and corpse disposal. Winner of the Best Director Award at the 2018 Tokyo International Film Festival: Japanese Cinema Splash, this auspicious debut from writer/director Seiji Tanaka features an ingenious script full of unexpected shifts in genre and tone, effortlessly swinging between black comedy, coming-of-age romance and crime thriller.
Extra features:
Dual Format (Both DVD and Blu-ray included)
Behind the Scenes
Q&A with director and cast
Melancholic Short Film
Trailer
Based on an original screenplay from writer/director Seiji Tanaka, this film is a surprise-a-minute crime thriller that changes tones and genres by throwing a character experiencing all of the angst and maturation of a coming-of-age tale into a gritty hitman setting and laying out some workplace comedy and a sweet romance. Since winning a share of the Best Director Award for the Japanese Cinema Splash section of the 2018 edition of the Tokyo International Film Festival, the film has won over audiences across the world to net itself a series of awards including:
Winner – Best Director, Tokyo International Film Festival
Winner – Best Debut Feature, Udine Far East Film Festival
Winner – Audience Award, Japan Cuts Film Festival
Winner – Audience Award, Nippon Connection
Winner – Audience Award, Asian Pop-Up Cinema
Winner – Jury Award, Camera Japan