Speculation growing over forthcoming news from CLAMP
Ian Wolf
•
News of a forthcoming announcement by all-woman manga group CLAMP is attracting excitement from fans.
Yesterday, the official CLAMP fans website posted a link to a forthcoming YouTube video. The message reads: "—7 more days" and a graphic of the number 7, the word "START" and the years 1990-2020. The years are significant as CLAMP are celebrating their 30th anniversary. Today, the link was reposted with the message: "—6 more days", with the graphic on the YouTube channel changing to the number 6 and the word "PAIR". The video is due to debut at 15.00 on 25th October UK time.
As to what the video will be about, fans on Twitter have pointed out that the words "START" and "PAIR" are names of chapters in the respectively numbered tankobon volumes to one of CLAMP's early manga series, Tokyo Babylon.
CLAMPデビューは1989年で1990年はBabylon連載開始年 pic.twitter.com/vItSvEpKfH

— らあだ (@clamp_rada) October 20, 2020
Running between 1990 and 1993, Tokyo Babylon (published in English by Dark Horse) follows Subaru Sumeragi, a 16-year-old onmyoji. Onmyoji were formerly civil servants specialising in divination and magic. In the series, Subaru solves various supernatural and occult occurrences in Tokyo. He is joined by his twin sister Hokuto and his gay love interest Seishiro Sakurazuka, a 25-year-old vet whom the reader learns has a murderous dark side. Subaru and Seishiro would later become central figures in CLAMP's next major work X, aka X/1999 (VIZ Media), in which the duo fight on opposite sides in a battle to either stop or bring about the apocalypse in the year 1999. X ran from 1992-2003, when the series ended up being put on hiatus and never returned to. Fans have been hoping for many years that CLAMP will conclude the series properly at some point.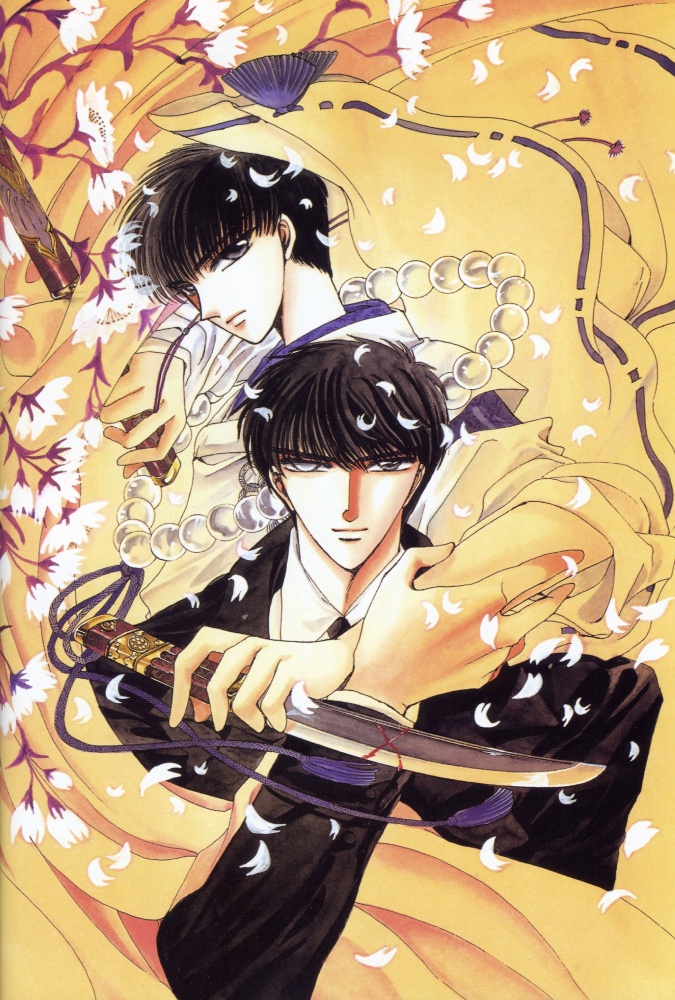 As well as the forthcoming video, since the start of October new artwork of past CLAMP characters has been posted by the CLAMP fans website, featuring their creations dressed in clockwork/steampunk type clothing. The style appears to connect with CLAMP's only currently running series, Cardcaptor Sakura: Clear Card (Kodansha), in which one of the characters, Yuna D. Kaito, is a controller of powerful magic that can stop and reverse time. New artwork appears to go up at 12 noon UK time. So far, characters depicted in the artwork are (in order of when they were posted):
Sakura and Syaoran from Cardcaptor Sakura & Cardcaptor Sakura: Clear Card. (Kodansha)
Hikaru, Umi and Fuu from Magic Knight Rayearth. (Kodansha)
Kimihiro and Yuko from xxxHolic. (Kodansha)
Kurogane, Fai and Syaoran from Tsubasa: Reservoir Chronicle. (Kodansha)
Chi from Chobits. (Kodansha)
Su from Clover. (Kodansha)
Akiho, Cerberus (aka Kero), Spinel Sun, and Momo from Cardcaptor Sakura (except Akiho and Momo) & Cardcaptor Sakura: Clear Card. (Kodansha)
Mokona from Tsubasa: Reservoir Chronicle. (Kodansha)
Mokona Modoki from xxxHolic. (Kodansha)
Ashura from RG Veda. (Dark Horse)
Kamui and Fuma from X. (VIZ Media)
Akira from Man of Many Faces and CLAMP School Detectives. (VIZ Media)
Nokoru from CLAMP School Detectives. (VIZ Media)