Looking Back at the Autumn Season 2020 – Our Favourite Shows
No one will have been sad to bid farewell to 2020 – a year truly like no other! So it was a relief and an inspiration to turn to the new shows streaming this past autumn for entertainment and distraction from the news, even if only for a little while. And now the writers at Anime UK News have sharpened their pens, ready to share with you the anime that really caught their attention this season, the must-watches – and, maybe, scratch their heads over the one or two shows that didn't live up to expectations. Were there any surprise hits to be found? Read on…
Onosume
Looking back at the shows that have aired during this year's Autumn Season, I've been pleasantly surprised by how good a lot of them have been. While I said in our season preview it looked like it was a bit quantity over quality, it actually turned out that the quantity had enough quality to make it a season full of surprising hits rather than misses. While I don't have enough space here to cover everything in depth, here are some honourable mentions before I go into my favourites.
First, Golden Kamuy, whose third season has been a delight and really takes things to the next level for the series with some big revelations coming out of the wilds of Russia. Meanwhile, Kuma Kuma Kuma Bear proved to be a fun isekai adventure with a fantastic concept of having the main character stuck in a bear onesie. Iwakakeru: Sport Climbing Girls showed itself to be a pretty thrilling and competent sports anime, and Is the Order a Rabbit? BLOOM poured itself out a load of cute and furry café antics with Cocoa and the gang.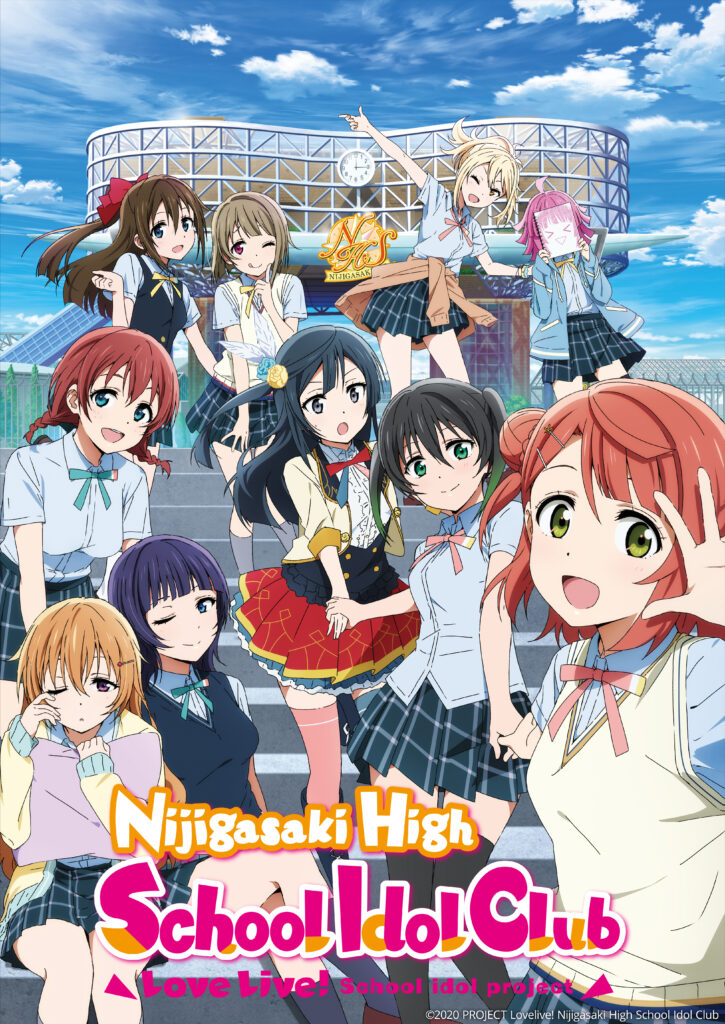 And with those out of the way, let's move onto my big three, starting with Love Live! Nijigasaki High School Idol Club. This a series that I did really like, but it's also one that has quite a few flaws that are hard to ignore, with the main one being the overall composition of the series. While it starts really well and has a clear goal of reforming the school idol club, this central plot point that you would have expected to carry itself through the series is actually resolved very early on. With nothing to really replace it as a central motivation, the middle chunk of the series feels rather unfocussed and whimsical, as it essentially becomes an idol-centred take on a slice-of-life series. To be fair to it, this was fine in the grand scheme of things, as the way it tried to firmly introduce each character in a 'problem of the week' format at least meant everyone got a fair dose of screen time and I left feeling that I actually knew all of the members well. Yet, compared to the original series and Sunshine!!, it does lack that real driving force that made following the girls' roads to idol stardom truly compelling.
That said, it did really come together in the last two or three episodes as they threw together the actual School Idol Festival. As the main turning point unfolded, I realised that I actually liked this show and its cast a lot more than I thought I did at first, and even though it sometimes felt like filler in-between the franchise's main entries, I think it stands out on its own as a breath of fresh air, with a great cast of characters, fantastic musical numbers and a whole lot of heartfelt moments. If you're a Love Live! fan tired of the 'save the school from closing' mantra, or just want a cool idol anime, this is one I'd highly recommend.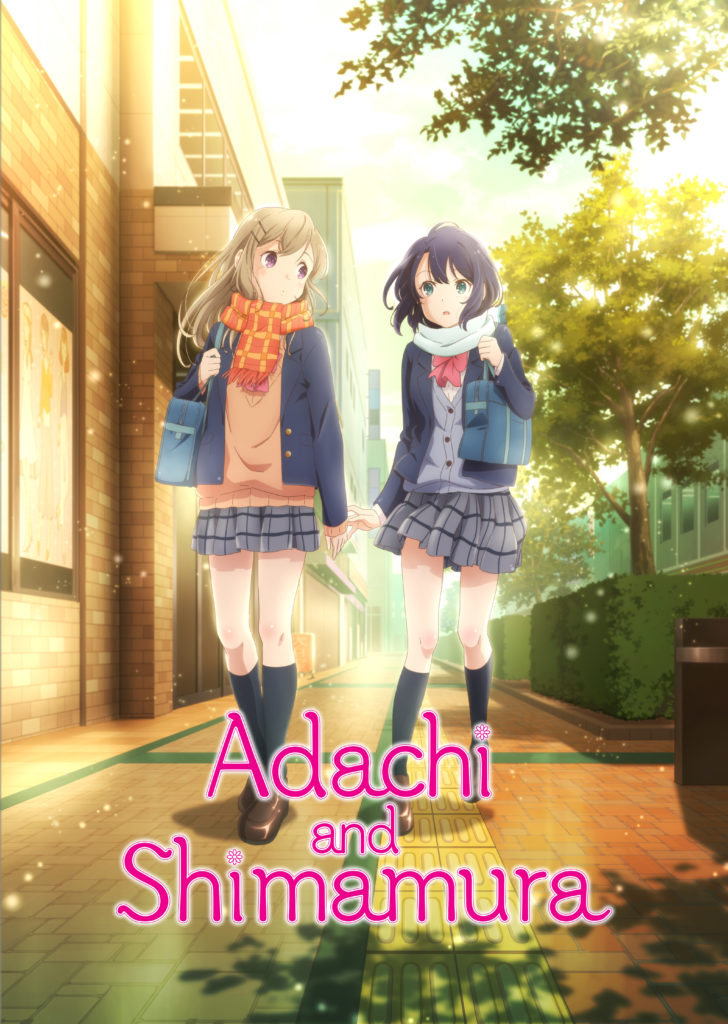 Putting Adachi and Shimamura on this list feels a bit weird considering how close I was to dropping it after its excruciatingly slow first episode, yet, after digging into it properly, I completely fell for its whimsical charm and adoringly dumb cast. Let me give you a fair warning – if you come into this expecting an impactful yuri series then you're going to be very disappointed – but if you're up for a couple of high school girls being complete idiots and forever missing the obvious, then I guarantee you'll leave with a smile on your face. While the dumb antics Adachi, Shimamura and the rest of the cast get up to are a big part of why I enjoyed this, it was also because it was very easy to connect with the characters and feel what they were going through. It was just really heart-warming to see their friendship develop and the pair edge closer together over the course of the series and I ended up really liking what it was going for with this, rather than being a more on-the-nose romance.
The original light novel series is written by Hitomi Iruma, so if you enjoyed his other work in Ground Control to Psychoelectric Girl, then it's definitely worth watching out for some references back to that series, as they are both set in the same universe, and feature little alien girls in spacesuits. So, if you were wondering what the deal was with Chikama Yashiro in this series, then that's where she comes from (although it's made clear she is a different character to Psychoelectric Girl's Hoshimiya Yashiro).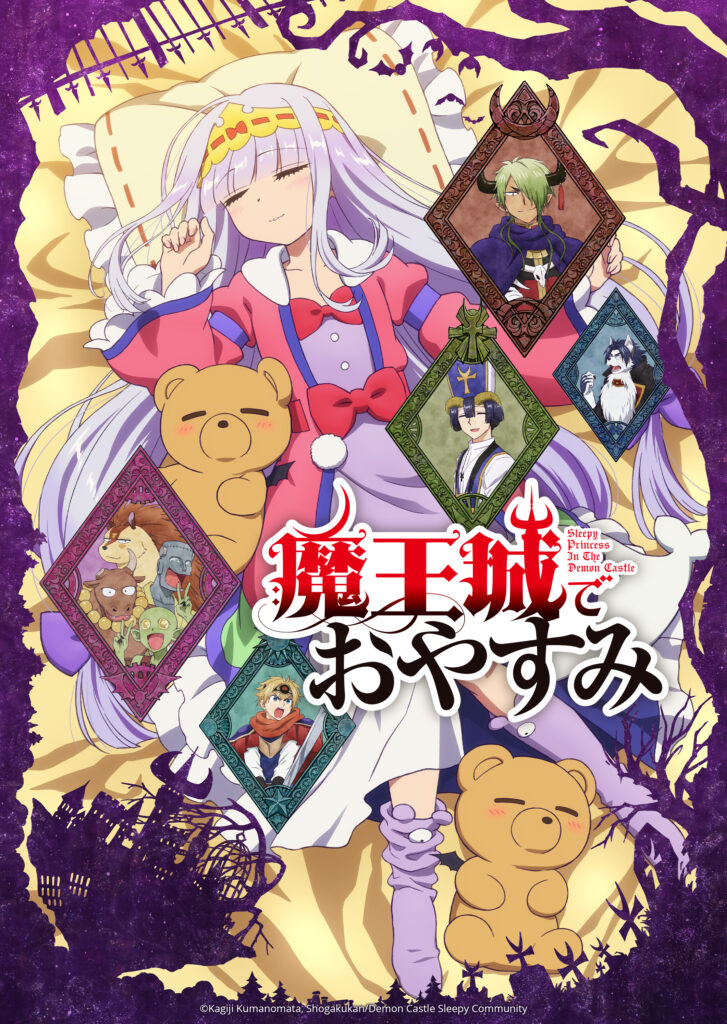 Finally, my third favourite and perhaps the best of the entire season is… Sleepy Princess in the Demon Castle. While I've known about this series in its manga form for a while thanks to a friend's recommendation, I had never gotten around to picking it up, and I was clearly missing out, as in anime form this series proved to be an absolute hoot of a comedy.
After being kidnapped by the demon lord and locked up in the demon castle, the titular princess spends her new life terrorising the demons as she searches for new ways of getting a comfortable night's sleep. That's the entire gist of it, and like several others I have consistently been impressed by how it has been able to carry this forward every episode and not become tired or boring by repeating the same gag all of the time. It's really hard to pin down what exactly makes it good, but I think personally I just enjoyed the absurdness of it all and the utter sass that the princess has as a character, not really caring for her predicament and, as a result, becoming like a close friend or family member to the demons around her. The demons themselves have some great character designs, all ready to be exploited by the princess, whether that's making new sheets from the cloth ghost or pinching the porcupine-like one's quills; and the way they react to the various goings-on is absolutely hilarious. I shouldn't forget to mention the hero of the tale either, who is continuously being mislead by the demon lord so he and his party falls into the demons' various traps, and while he never seems to get closer to rescuing the princess, it's still funny watching him fail at the job. All in all, this is a fantastic series and one I got lots of laughs out of. If you're looking for a fun, cute comedy, then you can't really go wrong with this one.
Love Live! Nijigasaki High School Idol Club is available to stream on Crunchyroll, while both Adachi and Shimamura and Sleepy Princess in the Demon Castle are available on Funimation.
Sarah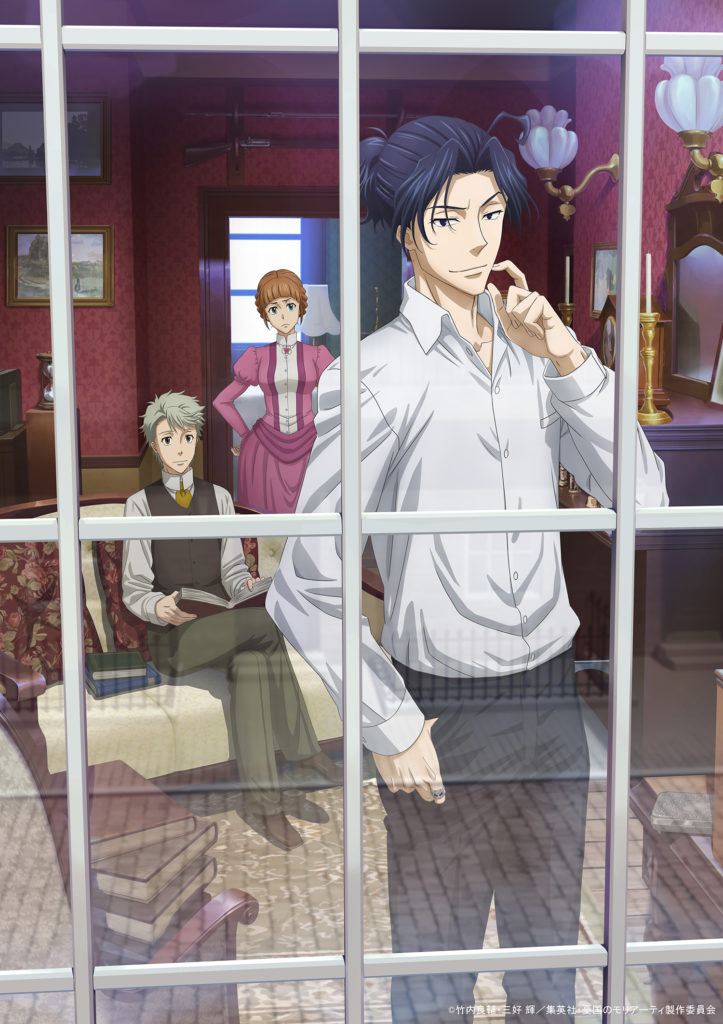 And so, with the appearance of Sherlock Holmes (and Dr Watson and a young, pretty Miss Hudson) Moriarty the Patriot delivers what innumerable fans had been waiting for: the first encounter between the two great minds, one criminal, the other…merely addicted to solving mysteries, and both masters of deduction. This first face-to-face meeting involves a murder on the maiden voyage of a luxurious passenger ship, the Noahtic – and, unbeknown to the great detective in the making, the crime is part of an elaborate trap to expose a sadistic nobleman and landowner, masterminded by none other than Robin Hood/William James Moriarty and his team. But now that the two geniuses have met, it's not long before another case brings them together again – coincidentally, it seems – caught up, as passengers, in a murder on the York to London train.
The anime continues to impress in ways that the manga on which it's based does not; so far, it's skipped over some of the more clunky bits (such as Albert Moriarty being named as 'M', head of the new secret MI6) and the addition of good voice acting, a sweeping orchestral score and a dramatic use of colours (red) have enhanced the atmosphere of Victorian melodrama in a diverting way. If you can excuse the fact that this vision of Victorian Britain is very clean (I guess it's not so easy to do 'grimy and smoky') then it all adds up to an entertaining watch. Just don't ask any awkward questions about historical accuracy or suchlike and sit back to watch the sparks fly between the two rivals. With a second cour to come in the spring, the rivalry is about to become much more intense…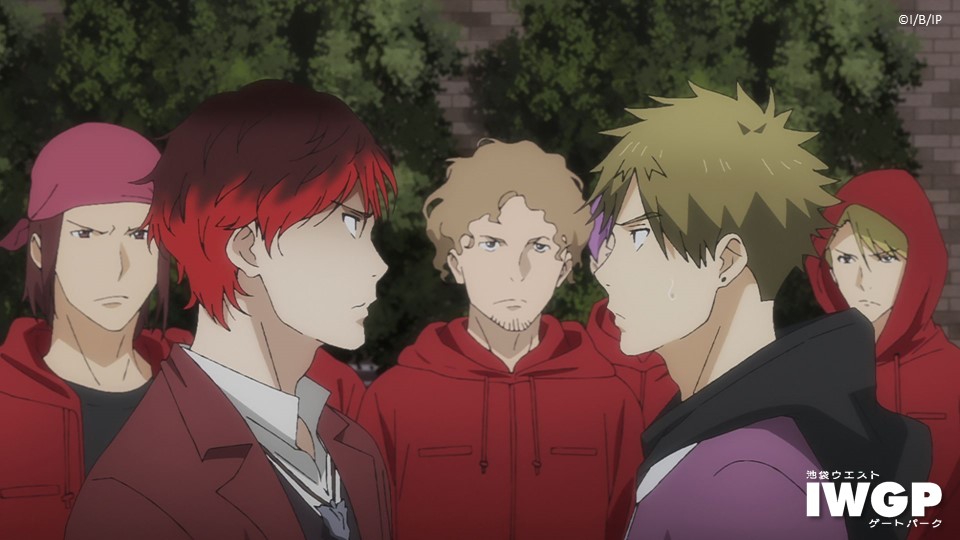 IWGP/Ikebukuro West Gate Park (Funimation) covers much of the same territory as Durarara!! even to the extent of following a territory battle that develops during the course of the series between the G- Boys (dressed in blue) led by Takashi/King and the Red Angels, led by charismatic street dancer Kyoichi. There are superficial similarities with Durarara!! but this is much more a slice-of-life story about Makoto, a personable young man who helps his mother to run her greengrocer's shop, and as an old friend of King's, is the friendly go-to guy who helps other people. Until, that is, someone starts to stir up trouble between the gangs, leading to bloodshed and an ugly atmosphere of escalating violence. Makoto has to run for his life – and even with all his street-smart skills, he may not be able to survive this deadly coup d'état. Attractive character designs make this series good to look at and the OP "Needle Knot" by THE PINBALLS has all the urban grunge needed to set the scene for a gritty showdown. However, it never quite delivers the dark drama it promises at the start, partly because for a long while it seems to be doing a 'dilemma of the week' without building the necessary tension. When everything goes badly wrong for Makoto, it seems too little, too late – even though there are some truly tense moments. If the series could have worked harder to establish the chemistry between the characters, the episode when everything falls apart would have been really impactful. But there's a strange sense of detachment that lingers in every encounter
It's not a weak series, far from it, and it's an interesting watch – in the end, it just wasn't quite involving enough to make me care as much as it should have done. Also, framing the gang war as being between 'the kidz'  feels oddly dated and over-simplistic (and yes, 'adults' are, of course, involved 'behind the scenes').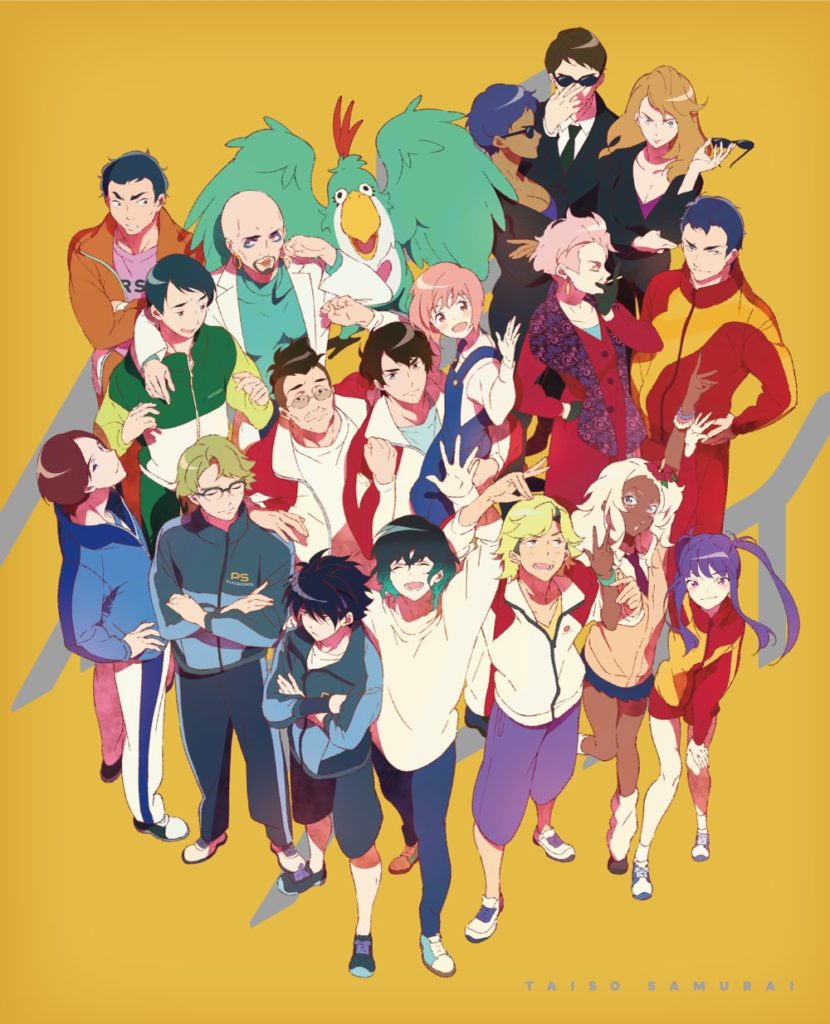 My surprise hit of the season is The Gymnastics Samurai (Funimation) which maybe didn't get off to the best of starts and then, like many MAPPA shows, settled into its stride and became compelling viewing. The story is set in 2002* (which seems like only yesterday to us older ones but to younger viewers, must make it feel really antique) and has some similarities with Kakushigoto in that its main protagonist is the Gymnastics Samurai, Jotaro, who lost his wife at the height of his promising career and has been bringing up their daughter, Rei, on his own while hoping to make a comeback. Supported by Coach Amakusa, Jotaro and Rei gain an unexpected ally and houseguest in Leo, a self-declared ninja, who speaks as if he's in an historical drama and comes to stay with them indefinitely. The fourth member of the household is Big Bird, the character I had the most problems with, as it talks and seems to be sentient/intelligent – but if it were, that would negate the rest of the story, taking it into fantasy realms. So, if you can somehow ignore Big Bird, and concentrate on Jotaro's return to the world of competitive gymnastics, his main rival Minamino, an arrogant young rising star – and how Leo becomes important to Jotaro and Rei, in ways that they couldn't possibly have imagined. Charming and sometimes touching, but never dull, with some wonderful little surprising elements, not to mention a stylish OP and a catchy ED, this is one autumn series that deserves greater attention. (The OP "Shanghai Honey" is sung by the three main voice actors: Daisuke Namikawa, Kensho Ono & Yuuki Kaji.) Visit the website to learn about all the 'period' touches and references that the creative team lovingly put in for historical accuracy/nostalgia. SPECIAL | TVアニメ「体操ザムライ」公式サイト (taiso-samurai.com) And – eventually – the gymnastics sequences are really well animated for the final episodes, where it really counts. A sports anime with a difference.
Moriarty the Patriot, IWGP/Ikebukuro West Gate Park and The Gymnastics Samurai are streaming on Funimation.
HWR
The autumn season saw some solid anime titles, both continuing and new. Golden Kamuy Season 3 offered more of the winning combination of historical action, drama and off-the-wall comedy, whilst Is the Order a Rabbit? BLOOM provided possibly the strongest season yet.
Two of the seasonal highlights for me were the comedy-fantasy Sleepy Princess in the Demon Castle, and the fantasy slice of life/isekai By the Grace of the Gods. Both of these worked well for different reasons.
Sleepy Princess sees the familiar premise of a princess, who has been kidnapped by sinister forces, in this instance the Demon King Tasogare who has her locked up and kept under close surveillance (which usually turns out poorly for him). The twist here is that the princess is more concerned about finding somewhere comfy to sleep than her unfortunate predicament, with each episode following shorter stories, or quests, as she attempts to find the best materials of locale for her slumbers. Through this set-up, we get to explore the kingdom and meet the inhabitants of the castle, most of whom are given the runaround as the princess frequently evades their capture. Some of them even warm to their prisoner, much to the chagrin of Tasogare who is trying to use her as a bargaining chip.
Sleepy Princess is both funny and charming and also cleverly written in such a way that the series doesn't become repetitive. Each week was a lot of fun and I never tired of the OP, which was quite the earworm.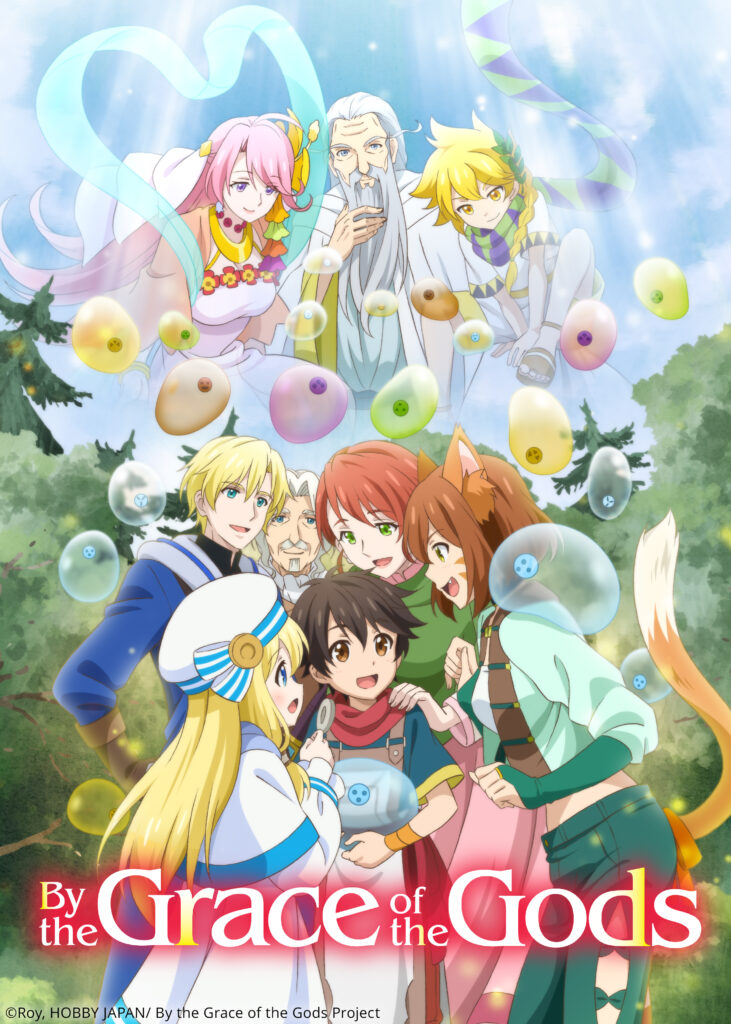 By the Grace of the Gods, meanwhile, ended up being both comfy and fascinating as Ryouma Takebayashi, a 39-year-old man who has led a life of misfortune, is given a second chance by a trio of deities to relive his life in a fantasy realm. With this second chance, Ryouma is reincarnated as a child, and after living in the woods alone and studying the properties of slimes for several years, is taken in by a kind family who show him more of the outside world. Through his knowledge of slimes, Ryouma utilises their abilities to help those around him, like developing a laundry service to help the villagers and gradually employing more people in the process.
It's one of those calming storylines that lends well to allowing a viewer to just unwind a bit – something sorely needed after working through 2020.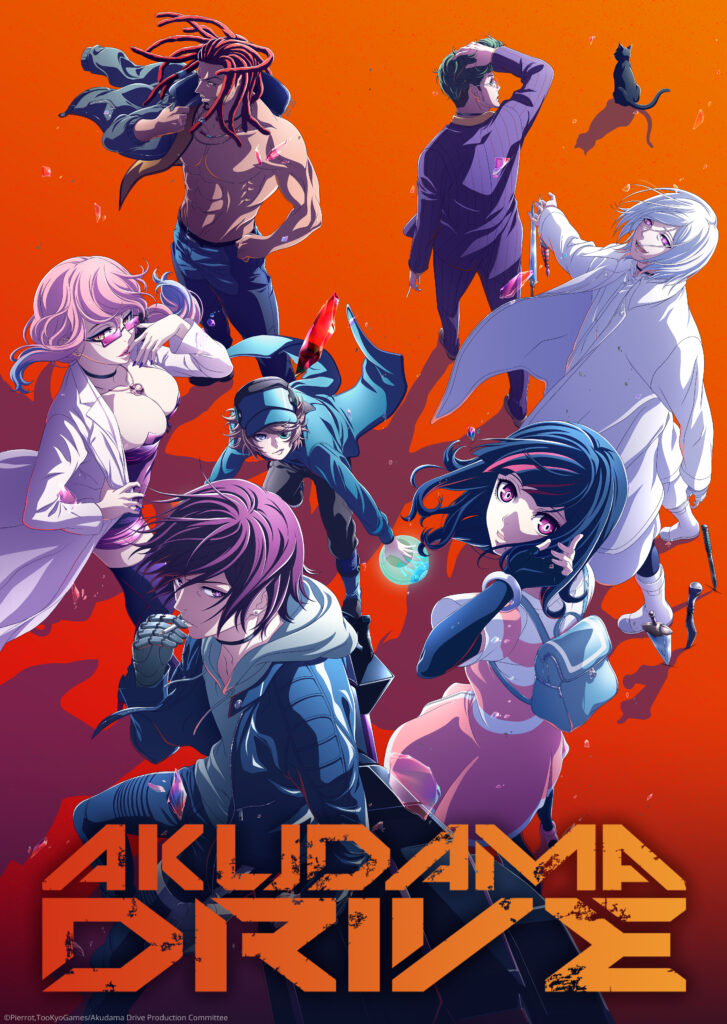 I will also give Akudama Drive a shout-out as it offers an engaging storyline with a likeable central lead in Swindler. Set in a Cyberpunk futuristic version of Kansai, this tells the story of a group of criminals known as Akudama. Each member has their own quirks, backstories and bonds and they make for an eclectic but enjoyable cast, whose real names are never given but are instead labelled with code names that fit their personalities and skill-set – like the brawny Brawler or the technologically-gifted Hacker. Swindler, our main protagonist, is thrown into the lot after a series of misfortunes leads her to impersonate an Akudama, also butting heads with her team members in humorous fashion. The group find themselves the target of the Kansai police and The Executioners, who are hellbent on their public execution; more secrets are uncovered as Swindler becomes a sort of surrogate mother to mysterious siblings.
The narrative feels cohesive and isn't afraid to take risks with its cast either, providing a satisfying if bittersweet conclusion by the series end. I'd say this was the science fiction anime highlight of the year alongside ID: INVADED. 
Akudama Drive, By the Grace of the Gods and Sleepy Princess in the Demon Castle are streaming on Funimation.
Cold Cobra
Another enjoyable Autumn Season has ended, and although it feels strange to look back on the two series I'm talking about because both are actually only halfway done, let's get to it!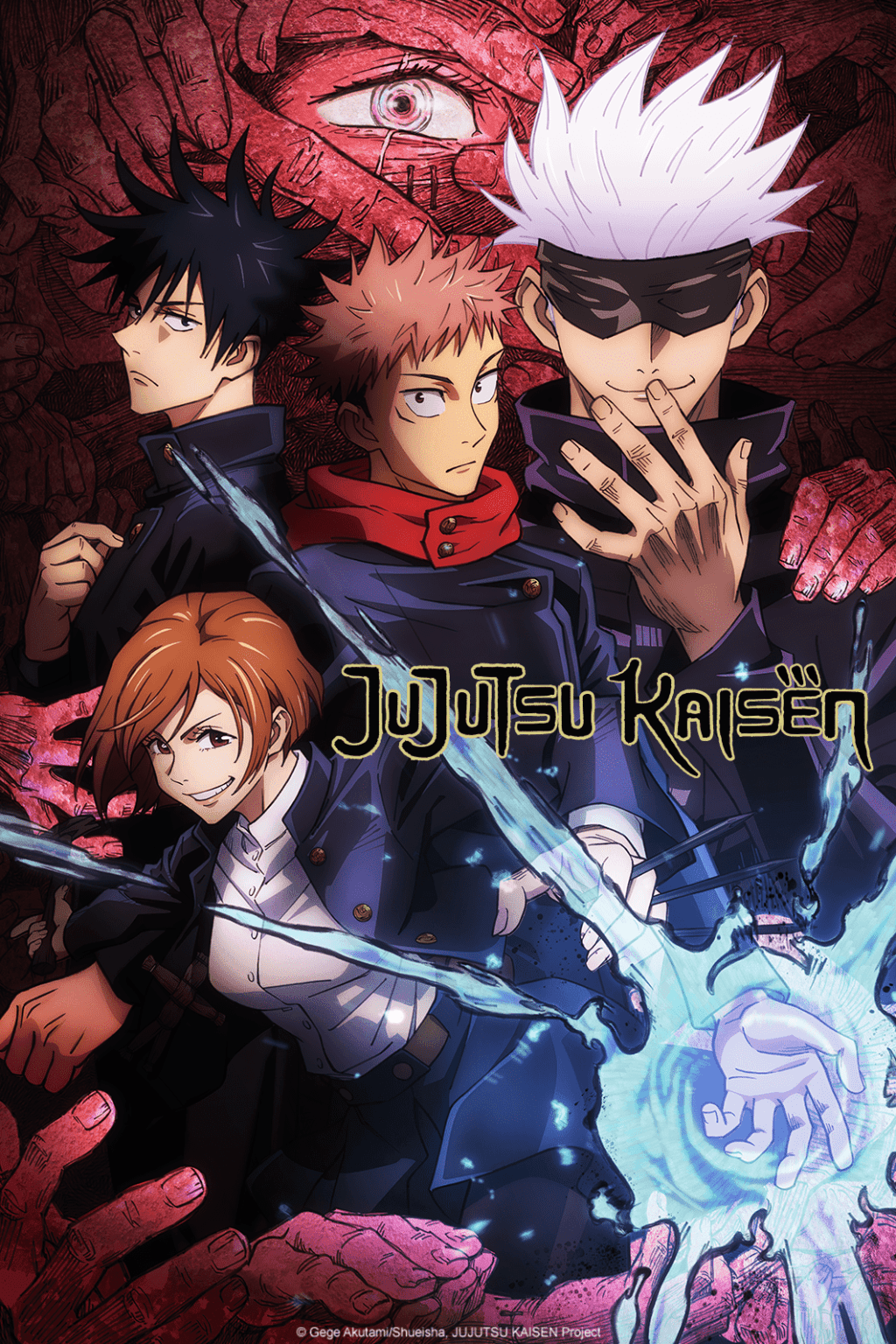 Jujutsu Kaisen's first thirteen episodes ended up quite a bit different than I was expecting as we rocketed through several smaller story arcs one after another. Our lead protagonist Yuji Itadori had been tasked by his dying grandfather to save people, and to that end he became embroiled in the world of Jujutsu Sorcerers, enrolling in the "Tokyo Metropolitan Magic Technical College" and meeting two fellow 1st year students in Megumi Fushiguro and Nobara Kugisaki, who have the no-nonsense quiet guy stereotype and the "quick to anger, no time for fooling around unless it's something they like" female stereotype, respectively. The series doesn't mess about in terms of how long it takes for the trio to be put in deadly danger together, I can tell you that without spoiling anything…
While a lot of these episodes are distinctly different mini-arcs, they do all reveal a larger mastermind behind the scenes, specifically an enigmatic man named Suguru Geto and the several Curses (the series' word for monsters) that follow him. The two most notable are Jogo, who has a volcano for a head and was really only around so "cool and aloof Master who is revealed to be extremely powerful" Satoru Gojo could look… well, extremely powerful; and Mahito, who resembles a human with stiches all over his body, but he can actually transform his body into any shape. The latter plays the role of lead antagonist during the latter half of this chunk of episodes, both fighting Jujutsu Sorcerer Kento Nanami (whose character of 9-5 office worker who generally gives off the vibe that being a Sorcerer is a pain in the arse genuinely entertained me every time he was on screen) and Yuji himself in a story that included a rather tragic tale of a young high schooler named Junpei, who was always bullied at school and is easily manipulated…
Overall the series has continued its high quality animation, especially during some of the faster moving fight sequences, and stories have been fun. While our lead protagonist doesn't eat 100lbs of food per second or constantly claim to be the insert title or goal here he does still have a few shonen cliché habits, and his struggle with a literal inner demon is becoming old hat in the pages of Jump! now, but overall the show does feel a lot fresher than some series from the famous weekly publication… well, ignoring that the next chunk of the story will be a tournament arc anyway…
Speaking of shows based on a story featured in Shonen Jump!...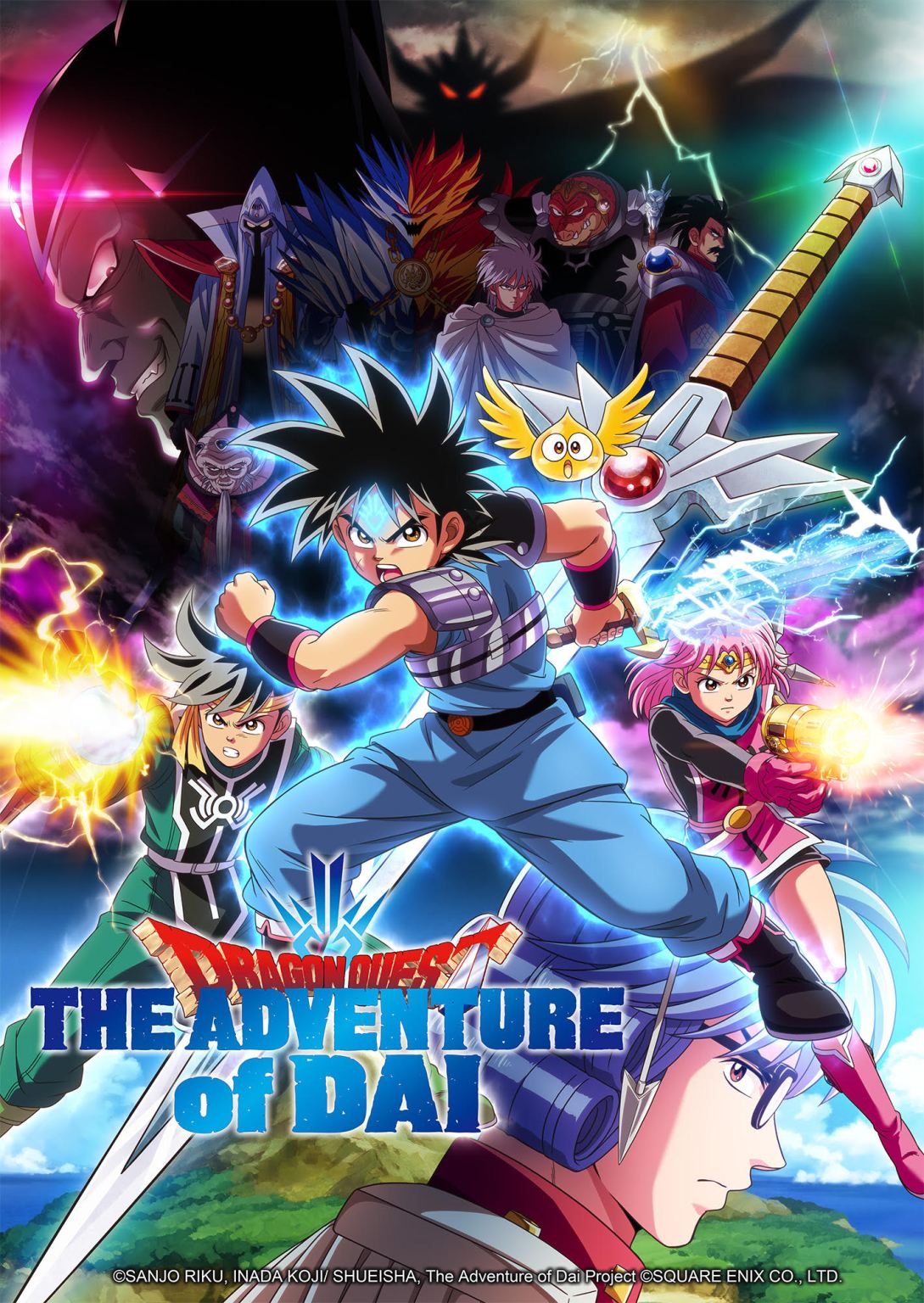 The next series I want to take a quick look at is Dragon Quest: The Adventure of Dai, which I didn't actually preview in the previous article, due to wanting to look at the Burn The Witch OVA instead. I was interested in this series because I knew there was a Dragon Quest manga in the pages of Jump! and that (unsurprisingly) it was one of the highest selling in the publication's history, but it wasn't until Dai himself appeared in the recent, admittedly disappointing, cross-over game Jump Force that I became more interested. The Adventure of Dai actually already had an anime adaptation back in the early 90s, but it was abruptly cancelled when the station it aired on changed the schedule around, leading to a rushed ending after only covering the first 10 volumes of the 37-volume series (though admittedly only 14 had been released at the time the series was cancelled)
So this new DQ: Adventure of Dai series is presumably going to follow the manga closely with a proper ending, though whether they can manage that is depending on how popular it is, given at Episode 13 we're only at roughly the end of Volume 5, by the looks of it (the manga, as far as I'm aware, never received an English translation or release, which was probably more due to the Dragon Quest license than anything else) So what's it about? Well, unsurprisingly, it's set in a world familiar to those who follow the Dragon Quest games as it uses the art style and creature designs from the game series (which come from the unmistakable pen of Akira Toriyama), and also, unsurprisingly, given the title, its main character is Dai. He grew up on an island of monsters, but the creatures in question were actually docile, as the one who led them, Hadlar, had been killed by the hero Avan several years ago.
The set-up is pretty simple. Naïve Dai is actually hiding a power underneath his playful exterior and begins to train under Avan himself, alongside the hero's other student Popp, but wouldn't you know it, Hadlar returns, raises an even more frightening and immense army than before, and takes out Avan before having to retreat from an enraged Dai. This leads Dai and Popp to go across the world on an adventure to gather allies and defeat Hadlar, which they do as they gain a new ally in Maam, a female magic (gun) user who is also a student of Avan, and fight some of Hadlar's top generals. It's all kept pretty tame, for the most part; any use of blood that appeared in the manga is either replaced with black scratch marks or the blood is turned into green or black "monster blood", and generally the stories revolve around friendship and standing up to evil… which does make me wonder quite how the story is stretched for 37 volumes, but hey-ho…
The show is well animated, even when it occasionally switches to slightly dodgy CG for some fancy camera movements, and I do enjoy the Toriyama art style on show. I normally watch it first before moving onto the other new anime from that week, like a little appetiser before a main course, as it certainly isn't the kind of show you could really binge watch. A fun little distraction, I guess is the best way to put it, not necessarily a highlight of the Autumn season, but it's perfectly fine in its own little bubble…
Both Jujutsu Kaisen and Dragon Quest: The Adventure of Dai are available to stream on Crunchyroll
Josh A. Stevens
Back when we first offered our impressions of this season of anime, I had some very critical words for Funimation and their delayed response to resolving issues that prevented me from covering Adachi and Shimamura to a standard that I felt you readers deserved. Since then, I have watched all episodes of this fluffy, heart-tickling romance series (and even added the first light novel to my reading pile), so I can now wholeheartedly recommend this series for anyone who loves watching a pair of idiots trying to figure out that they're in love.
My friend touched on the series earlier, but in a nutshell it's about two high school girls: the shy Sakura Adachi, and the more sociable Hougetsu Shimamura. The two meet by chance when skipping class one day, and as they continue to hang out, their relationship deepens. On paper there's not a lot to this series, yet I found myself absorbed by their daily nothings – which is a testimony to the two as characters. Adachi is an adorable mess, confused by her growing feelings of excitement and comfort whenever she's around Shimamura, who herself is seemingly oblivious to her clingy friend. Onosume's description of the series as a "slow burn" couldn't be more correct, and that will be frustrating for those expecting a more conventional love story, but in a sense Adachi and Shimamura is also a coming of age story not just about two young women (very) gradually falling in love, but figuring out who they really are, and what their feelings really mean.
That doesn't mean that the slow pacing isn't without fault, though, as there were definitely moments where I felt like the series used Adachi's self-doubt and hesitation to artificially extend. The side characters also really don't add much, at least as far as this anime adaptation went, which is odd because you'd think a girl with glowing hair who claims to be an alien might be a big deal? Or, just scrapped entirely if she wasn't going to be (although as Onosume mentioned, maybe she was just a reference to author's previous work that just hangs around for a bit too long). Still, even my jaded heart was melted by many of Adachi and Shimamura's little interactions that can convincingly make touching moments out of the things other romance anime would take for granted. Which is probably a good thing, because anyone wanting anything more immediate from these loveable idiots, is likely in for a long ride!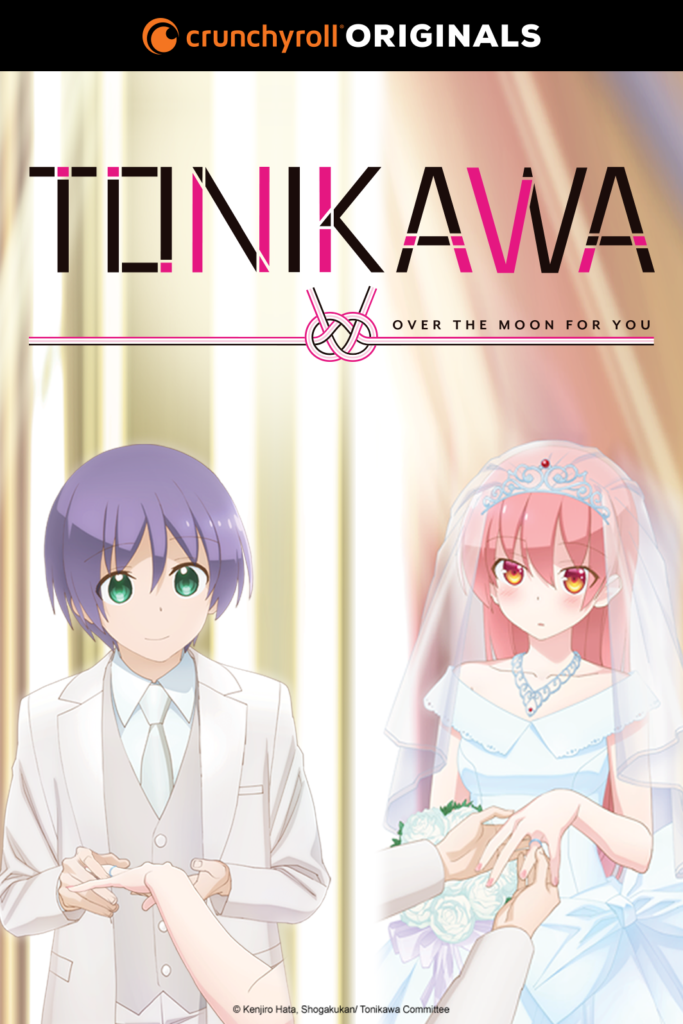 My experience of anime this season was pretty much ending each week with a double bill of romantic comedies, rounded off by TONIKAWA: Over the Moon For You. If you missed our Autumn Preview or just don't know what the series is about, TONIKAWA is a romantic comedy about Nasa Yuzaki and Tsukasa Tsukuyomi, two teenagers who start a relationship by doing what most people do months or years later: get married. So, stripping away the "will they? won't they?" of pretty much every other series means that we can just focus on their shy embarrassment and cute misunderstandings as the newly weds get to know each other like they're on a first date.
When writing my initial preview back in October, I had reservations about Tsukasa – the wife who proposed the whole "marriage first" gimmick the series relies on. However, in the ensuing episodes, she was able to charm me with a devotion to Nasa that's undeniably sweet but also blind – such as when she insists on giving him a sponge bath, only to get flustered when Nasa has her imagine the situation with them reversed! With Nasa being a hapless romantic and Tsukasa being the more caring realist, they really do make a great match that leads to some sweet moments. I may have to pick up the manga to see if anything comes of the constant comparisons to The Tale of the Bamboo Cutter though.
Maybe it's the rough animation or the exaggerated reactions of its colourful characters, but TONIKAWA really reminds me of romantic comedies from the mid-2000s, just without the fanservice that they were often bundled with. Although, I guess we get a taste of that with Kaname, the dirty-minded manager of the bathhouse that Nasa and Tsukasa frequent. On the one hand, she's presented as wise  beyond her years and offers valuable advice to the hapless Nasa, but on the other… she has no qualms strolling into the baths and commenting on his junk. She's as crass as she is wise, and I found this little gremlin absolutely hilarious.
The rest of the supporting cast though, quickly outstayed their welcome for me. This is especially true of Chitose, a relative of Tsukasa who refuses to accept the main couple's marriage, and tries to find ways to discredit Nasa. It was amusing the first time, but frequent reappearances made me realise just how much her hyperactive negativity bugged me. Chitose isn't a tsundere, she's just a brat. At least Aya, Kaname's ditzy older sister, had her storyline resolved well before it started to drag. I also wonder whether the series really needed to dedicate an episode to what was essentially a Street Fighter V advert (including actual footage from the game, which I actually found to break my immersion).
TONIKAWA: Over the Moon For You is at its best when it focuses on its core: two newlyweds being utterly adorkable as they try and navigate their new relationship, bringing joy to even going shopping for a futon together, and highlighting the man's perils of escorting a woman buying underwear (Nasa is right though – it does feel like you'll get arrested if caught in those aisles!). Where it falters, though, is when it tries to add dimensions to supporting characters that simply don't have or need them. In the end, it was a cute romantic comedy that's worth it if you need a distraction that'll make your heart feel fluffy, but I do wonder if it'll be remembered a few years from now.
Adachi and Shimamura is available to stream on Funimation, while TONIKAWA: Over the Moon for You is on Crunchyroll.