A Sister's All You Need Volumes 9 & 10 Review
Demelza
•
What could be better than a brand-new volume of A Sister's All You Need? Well, the only answer to that is two new instalments of this whacky series! Let's dive in and find out what kind of madness awaits us in these entries. 
In Volume 9 of A Sister's All You Need we see the winners of the 15th New Writers Contest finally make their long-awaited debut, but for Aoba Kasamatsu this brings nothing but pain. Having pushed her editor to let her publish the book before it was truly ready, Aoba's novel is hit by a string of bad reviews leaving her depressed. 
With no one else to turn to, Aoba seeks out Itsuki's advice and he manages to convince her to keep writing. Itsuki remembers his debut work being similarly torn apart in reviews, but instead of quitting, he used this criticism to empower him and give his all on the next book. 
Elsewhere in the book, Chihiro begins to struggle with her feelings toward Itsuki when Aoba begins to refer to him as 'big brother'. Itsuki makes such a fuss about little sisters that Chihiro is feeling more and more jealous, as well as frustrated that she's hidden her real gender from Itsuki for so long. 
This all finally comes to a head and during a session of their tabletop RPG, Chihiro blurts out in front of everyone that she actually is Itsuki's little sister. This ends up being the central plot of Volume 10, with the cast coming to grips with Chihiro's new identity. It has to be said that no one reacts badly to this reveal (in fact many of our characters already suspected or knew Chihiro wasn't male), but this is a huge change in Itsuki's life and as much as he's happy to know the truth, he also struggles with the reality of it. 
Even Chihiro's news aside, these two books are stuffed with the storylines and comedic moments we've come to love and expect from the series. Itsuki's anime adaptation is finally on the air (and better than anyone could have expected!), we also get a glimpse into how his father and Chihiro's mother met and Miyako is busy hunting for a job. And if that wasn't enough, Itsuki gets to take part in a Taiwan convention that shows him how beloved his series has become overseas!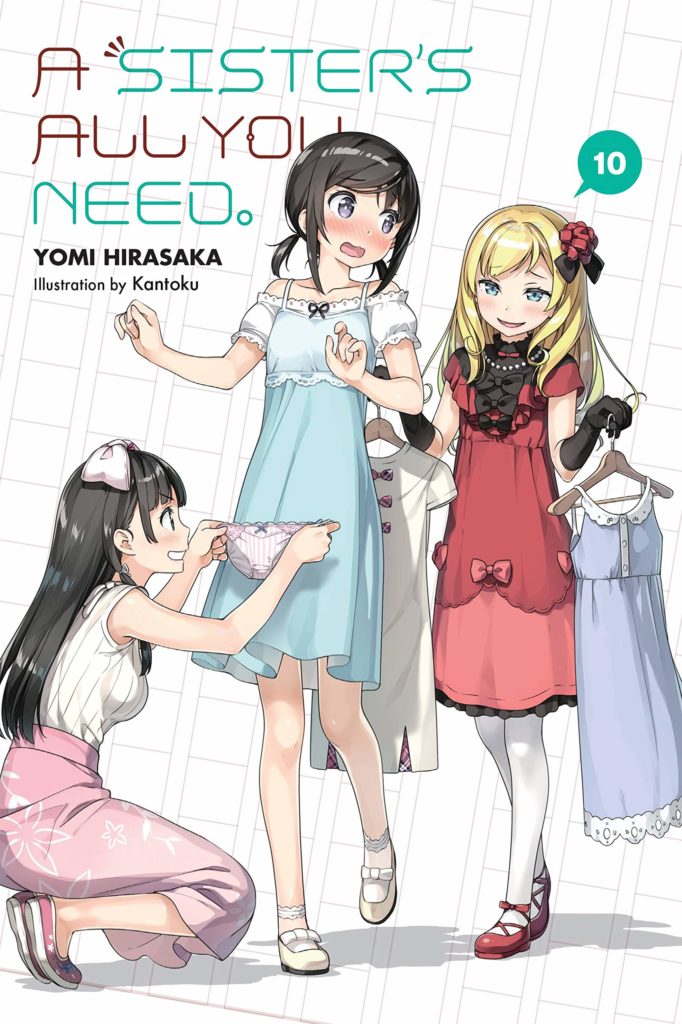 Of course, Chihiro's problems are the biggest storyline running through these two volumes. Since this is a plot that author Yomi Hirasaka has been working on since the very first book, I'm glad to see it finally conclude in Volume 10. It has been a long time coming but the build-up to this reveal was certainly worth it. And the ripple effects it will have on the future of the series are not to be underestimated, as we see toward the end of Volume 10.
Itsuki has always wanted nothing more than to have a little sister to dote on and all of his novels feature little sister characters. His editor and friends find his fascination with the concept somewhat creepy, but they trust he wouldn't be as perverted toward an actual little sister as his protagonists often can be. To Itsuki, the idea of a little sister is sacred and he would never do anything to harm them but now he has one, how has that changed his view of the world? What about the works he writes? These are all questions that begin to creep into his mind and something he must grapple with going forward. 
The thing I've always loved about the series is how the author straddles the line between drama and comedy and that's evident in these two books. There are plenty of light-hearted moments coupled with a focus on the industry side that I always appreciate in these stories. It's not just Itsuki and co. I value, but seeing the different sides of the publishing world through the eyes of the cast. 
It's also always satisfying when a big secret that readers have been aware of for a while finally gets revealed to the cast and in this case, it also comes accompanied with the sense of wrapping up A SIster's All You Need. We're only four volumes from the end of the whole series now and between Chihiro's secret coming to life and the rest of the cast finding their feet on their respective paths in life, it does feel like the cast are moving toward a comfortable ending point. I'm always sad when the end of a story is in sight, but this time I'm also filled with faith in Hirasaka's ability to deliver a thrilling final arc. 
A Sister's All You Need Volumes 9 & 10 come to the West thanks to Yen Press and the series continues to be translated by Kevin Gifford. The translation reads well with no issues to note. Volume 11 of the series is currently scheduled for release in October. 
Overall, these two instalments of A Sister's All You Need bring an end to a long-kept secret and work toward introducing a whole new load of drama for our cast to contend with! These are some of the more emotional entries we've had in the series of late, that's for sure.