INTERVIEW: Life, Death, and the Creative Desires of loundraw's Summer Ghost
When we think of the most celebrated anime directors of our time, they tend to have one thing in common: they're either over 50, or nearing it. For a medium with a primary demographic of 13-30 year olds, they may as well be from a whole other world – of influences, and maybe even ways of life. However, with all things, the younger generations are now starting to enter the industry and mark the beginning of their own legacies. One such example is undoubtedly loundraw. Known only by the online handle under which they started out as an illustrator online, loundraw may very well be the first 'Gen Z' anime director.
loundraw's debut feature Summer Ghost is a poignant one. The story of three high schoolers who investigate rumours of a ghost who is believed to have died by suicide, and are each confronted with a more chilling fact: the spirit of Ayane Sato can only be seen by those who are already meddling with the idea of death. Far from the typical light-hearted teen romances that have flooded anime films lately, Summer Ghost is a coming-of-age contemplation on life, and what we can learn about it from someone who has experienced death. It's also a striking debut from a new age of anime directors, which is why I jumped at the opportunity to talk with loundraw about their debut film.
Despite its run-time scarcely classifying as a feature at 40 minutes, Summer Ghost impressed enough for it to be included as part of the British Film Institute's anime season last month, with loundraw being flown over from Japan to treat audiences to an in-person Q&A session. The morning of that screening, however, I sat opposite loundraw by a hotel room window that overlooked the hustle and bustle of King's Cross below. Going in, I didn't know what to expect from a director who is famously so young, but loundraw wore his professionalism with a fitted open suit. On the other side of the table, I wore a jacket bearing designs from The Batman. It was comfortable, okay?
loundraw had come a long way, both physically and creatively. "I'd always loved drawing" he told me. Before stepping into the world of film, loundraw started out as an illustrator while still at school. "I was posting a lot of art online on DeviantArt, and then an editor asked if I would be interested in illustrating a book cover."  That was just the start for loundraw, who continued to be poached online for everything including the cover for Yoru Sumino's novel I want to eat your pancreas, image boards for two Detective Conan movies, and even the character designs for the 2017 TV anime Tsuki ga Kirei. This versatility was "for good or bad" according to loundraw, who realised that although being an illustrator meant that he could technically do a lot of things, there were specialists who could do better. loundraw came to a realisation that he "needed to pull my [his] socks up" – and he did that with his graduation piece.
Yume ga Sameru Made (lit. "Before I Wake Up") is an anime film that may never exist, but loundraw created a conceptual trailer as his graduation piece back in 2017. The progression from still illustration to animated film came from a realisation, and the desire it ignited: "I realised that every picture had a story, and I wanted to be able to tell that story."
When loundraw posted the trailer online, it quickly spread around the world. "First, I was really happy to see that reaction," he confessed "but secondly, I did wonder how to meet the expectations that I now felt." With the weight of those expectations also came doubts about whether he had actually succeeded in adapting his illustrative art style into animation. "It kind of lost its identity a bit," he reflected. "I realised that I needed to rethink that a bit, to figure out how to make my own style work in animation." However, in order to have the freedom to do that, loundraw had to take another big step.
While many illustrators or animators would be content working as a for-hire animator (infamous working conditions notwithstanding) or as an employee at their favourite studio, loundraw took a different path, and remarkably, founded Flat Studio three years ago at the tender age of 24. When I asked why he chose the more difficult route, the answer was an ambitious yet simple one: "to create what I wanted to create." After working on several for-hire projects like adverts, he realised that the existing workflow just wasn't suitable, and "rather than work for someone else and trying to do it within their format, it would be quicker to find people that I wanted to work with, and to nurture them."
When it comes to finding that talent, we've heard more stories lately of animators from across the world being hired to work on anime via platforms like Twitter. Given that social media led to his own discovery, I asked loundraw how important it is for an illustrator or animator to have a social media presence. "I think it's essential. I wouldn't be here without social media," he answered with zero hesitation. However, he also warned that the nature of online artists can lead to things being more "fleetingly popular" – catchy in the moment, rather than looking towards the long-term. loundraw explained that this can lead to situations where an online artist might struggle to keep up in a professional environment. "I've found that with some of my animators in the studio, that I need to teach them the technical side of things, because their colours might have been great, but their perspective might have been off, for example."
loundraw's desire to create what he wanted also directly inspired the story of Summer Ghost, his and Flat Studio's first narrative work. Tomoya can't follow the more creative path that he wants, Aoi is a victim of bullying, and Ryō has a terminal illness. Death hangs over Summer Ghost and its three young protagonists all have their reasons to think about it. loundraw admitted that it might have made for a dark debut, but it was precisely because it was his first film that loundraw wanted to reveal the whole of himself: the study, the hard times that I'd been through… my thoughts on around why I'm here… the reasons that I'm doing what I'm doing… I didn't want to hide any of that."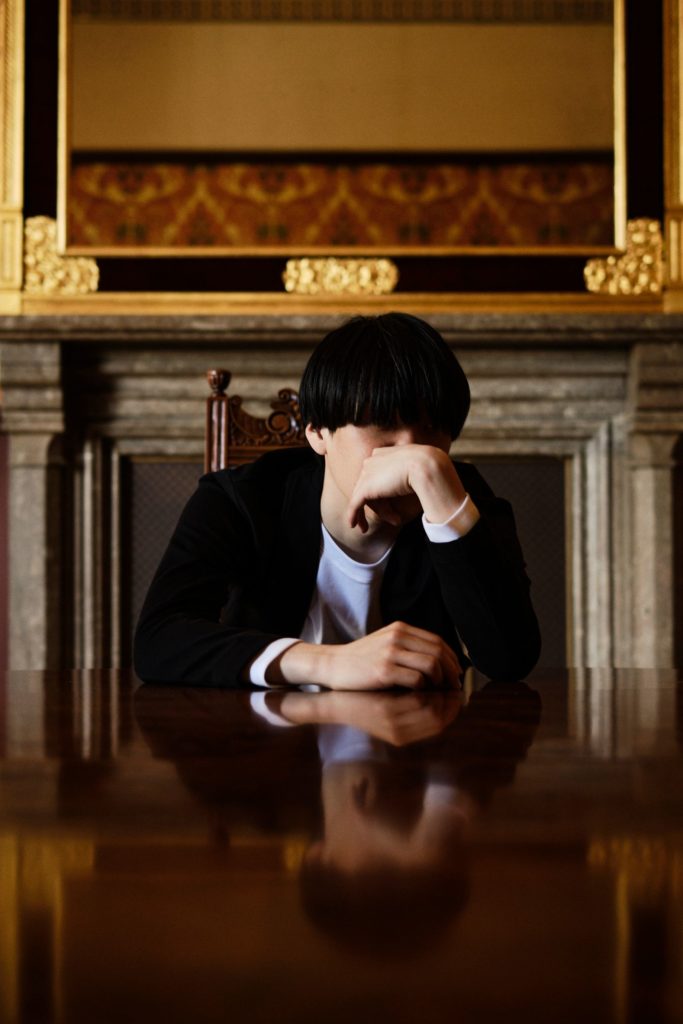 Summer Ghost is certainly a poignant reflection on life, and especially with its story involving suicide, it's no small feat to handle those themes with the sensitivity they deserve in only 40 minutes. However, loundraw balanced Summer Ghost's themes and character arcs better than some two-hour movies. When I put this to loundraw, he reasoned that it might be because he stayed true to the old adage of 'show, don't tell'. "In the script, initially there was a lot more action and feelings expressed, but I tried to cut all that down so that what needed to be said could be expressed with a single shot." This meant that even though the final version of Summer Ghost contained approximately 600 shots, another 200 were left on the cutting room floor. Of those that remained, loundraw pointed out one in particular: of a painting stashed away in Tomoya's closet. "I think just seeing that tells you everything you need to know about the situation and about his feelings."
You might be wondering, given its sensitive subject matter and the characters' unique positions of being able to learn about life from the dead, if loundraw had any moral or message that he wished audiences would take away from Summer Ghost. loundraw took a moment to consider my question, before responding with a wisdom that defied his youthful appearance. There wasn't, because as he explained, "we all think about death differently, so I didn't want to say that this is what you should do." If there was anything that loundraw wanted audiences to take away from Summer Ghost, however, it would be courage – and that we should accept these differences, take that, and move forward.
Summer Ghost may have only received a limited release in the United Kingdom thus far, first as part of last year's We Love Anime touring festival and then BFI's anime season last month, but I doubt that this will be the last we hear of loundraw. We laughed as I tried to ease his nerves about the film's potential overseas reaction by expressing just how much I appreciated Summer Ghost, but I'm confident that his talent, professionalism, and creative passion will make loundraw a name to remember.
Credit to Anime News Network for the Yume ga Sameru Made title translation.