Anime Limited Revealed July 2022 Pre-orders with Mobile Suit Gundam SEED Destiny Ultimate Edition & Katsuhiro Otomo's Memories on Blu-ray
Anime Limited have revealed their latest news and updates for the month of July, with another batch of new licenses and more that will be available to pre-order.
---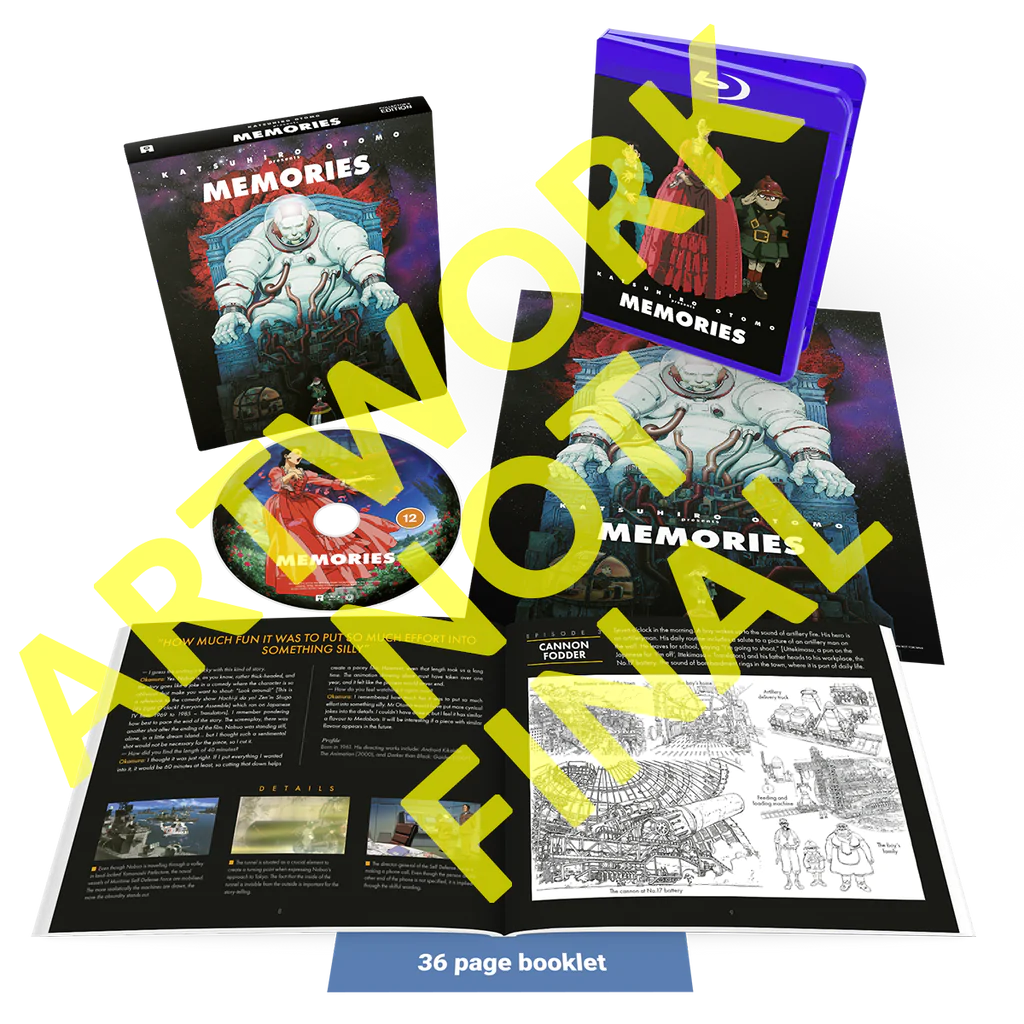 Release Date: 29th August 2022
A new license and a title that was once previously released in the UK (by Sony Pictures almost two decades ago)! Memories is coming to Blu-ray in a collector's edition package.
The early bird offer begins Thursday 7th July 5pm UK time for £24.99 (£22.50 for Anime Unlimited members).
Retailing for £39.99 SRP, the set includes a rigid box, Blu-ray case, 36-page booklet and a poster. The disc will be the same as the Discotek release, who handled the HD remaster of the anthology film. The set will include Japanese audio with English subtitles and Discotek's English dub.
The film released in 1995 by Akira's Katsuhiro Otomo and features three different stories – Magnetic Rose (directed by Kōji Morimoto & written by Satoshi Kon), Stink Bomb (directed by Tensai Okamura & written by Katsuhiro Otomo), and Cannon Fodder (directed & written by Katsuhiro Otomo). Studio 4°C animated Magnetic Rose and Cannon Fodder, while Madhouse animated Stick Bomb.
"Episode 1: Magnetic Rose

Alone on a mysterious ship in deepest space, she waits. Once a beloved diva, she is now nothing more than memories. And for unsuspecting travelers that respond to her beacon, she will be their undoing.

Episode 2: Stink Bomb

A junior scientist gets the flu, and decides to try out some newly developed pills. But he takes the wrong ones, turning him into a walking, talking, and exceptionally clueless weapon of mass destruction.

Episode 3: Cannon Fodder

A day in the life of a small family in a big city. In this city, there is only war. There are no dreams, there is only labor. And there is no god, only a gigantic cannon."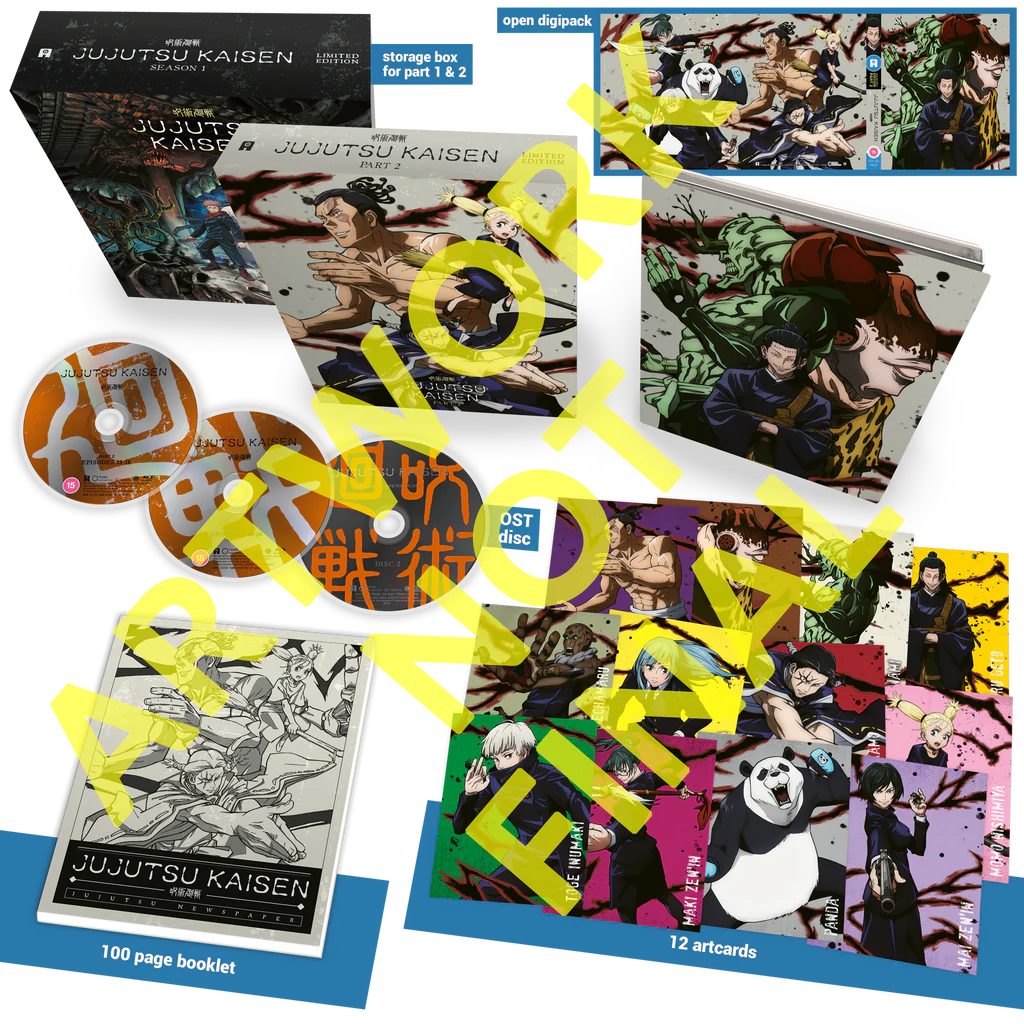 Release Date: TBC 2022 (Previously Listed for 29th August 2022)
The second half of Jujutsu Kaisen Season 1 is also coming soon, though the blog did eventually remove the listing but we were able to make notes before it had disappeared! Regardless, the UK will get it sooner than the North American fans who have to wait until Viz Media's release in 2023.
Before the listing disappeared, Part 2 (episodes 13-24) would be available in both collector's and standard edition Blu-ray packaging.
Retailing for £69.99 SRP, the delisted specs for the Collector's Edition Blu-ray set includes a rigid box, digipack packaging, 100-page booklet, original soundtrack CD, 12 artcards and a poster, with a Shop exclusive outer rigid box to house both parts of the collector's edition sets.
The standard edition Blu-ray will retail for £34.99 SRP. The discs will include Japanese audio with English subtitles and Crunchyroll's English dub.
Based on Gege Akutami's manga series, the anime adaptation by studio MAPPA aired in October 2020. The staff credits also include director Sunghoo Park and writer Hiroshi Seko.
"A boy fights… for "the right death."

Hardship, regret, shame: the negative feelings that humans feel become Curses that lurk in our everyday lives. The Curses run rampant throughout the world, capable of leading people to terrible misfortune and even death. What's more, the Curses can only be exorcised by another Curse.

After escaping from Itadori and Nanami, Mojito reunites with Geto and the others to try and move their plan forward. Meanwhile, Jujutsu High is about to host its Kyoto Sister School Exchange Event. Fushiguro, Kugisaki and the second years Maki, Toge, and Panda all meet up to greet Todo and the other Kyoto students on arrival. Sparks immediately start to fly when Gojo rushes in late to the meetup and presents his surprise…"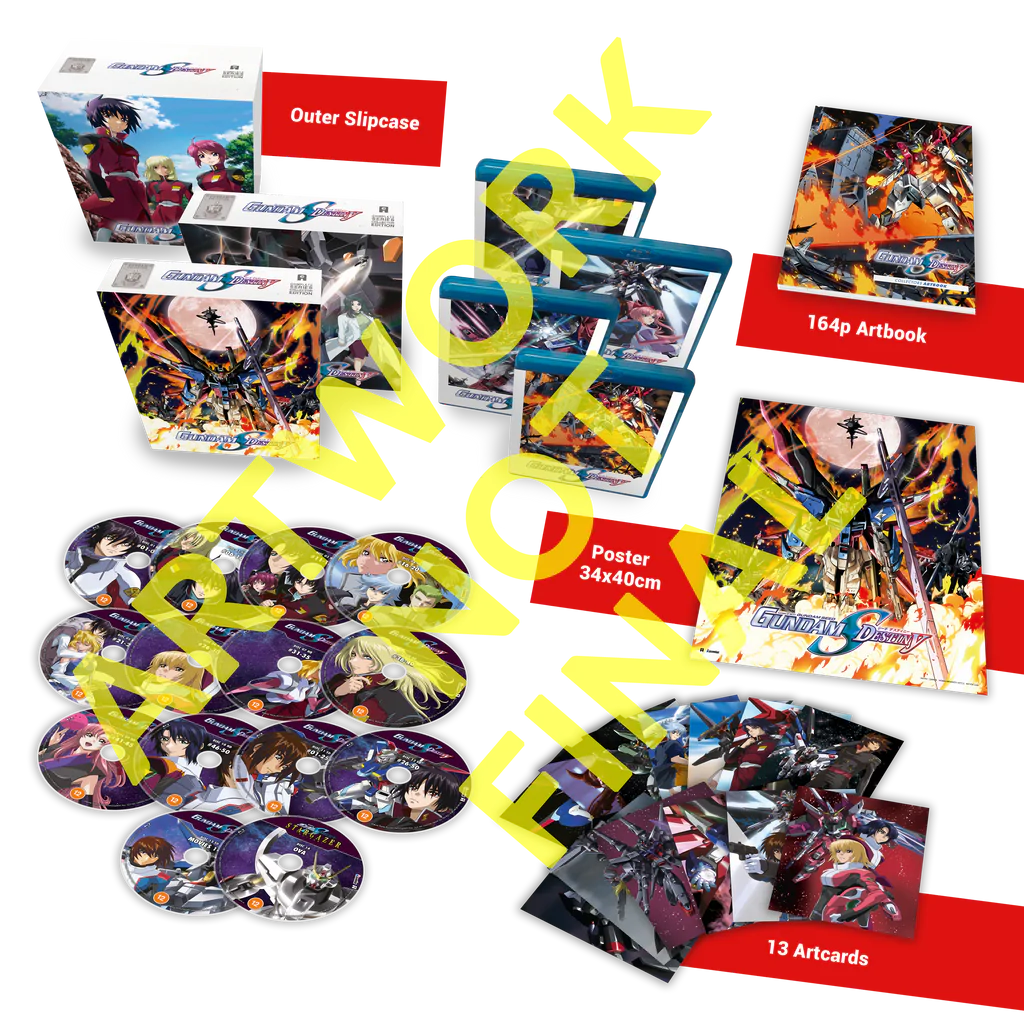 Release Date: 19th September 2022
After a long wait, Mobile Suit Gundam SEED Destiny is now finally scheduled for the UK and will first be released in an Ultimate Edition Blu-ray package.
The early bird offer begins Thursday 28th July 5pm UK time for £119.99 (£108 for Anime Unlimited members).
Retailing for £199.99 SRP, the set includes a rigid outer box with two more boxes inside, each including two Blu-ray cases. There's a lot of content in this release – first, we have all 50 episodes of the HD Remaster across 10 discs, then we also have the original version of the series presented in SD Blu-ray format across 2 discs, followed by the Special Edition films (also in SD-BD) on a single Blu-ray disc, and the OVA series SEED C.E. 73: Stargazer on a single Blu-ray disc. In other words, we have 14 Blu-ray discs in this set.
Just like the previous season, the original version of the series (which does include the original Bandai Entertainment English dub) and the Special Edition films are exclusive to this set.
Also included in this box set is a 164-page Artbook, 13 artcards and a poster. The discs will include Japanese audio with English subtitles with Sunrise's English dub for the HD Remaster and Bandai's English dub for the original version of the series.
Sunrise aired the series in 2004 with director Mitsuo Fukuda, writer Chiaki Morosawa and music composer Toshihiko Sahashi. The HD Remaster was announced in 2012.
"The year is Cosmic Era 73. The Bloody Valentine War, fought between the PLANTS space colonies and the nations of the Atlantic Federation, has ended and an uneasy truce has settled upon the Earth sphere. With the signing of the Junius Seven Treaty, the world's soldiers have left the battlefield and the grizzly sights of war behind. Many who fought now seek peace and refuge in the shelter of civilian life.

But one boy, Shin Asuka, is finding that incredibly hard. A coordinator who lost his entire family during the Battle of Orb, he now fights with ZAFT in one of their newest machines, the Impulse Gundam. Of course, ZAFT is only developing these machines for defensive applications – or so they claim – but when a group of Federation operatives steal some of these prototype machines, the world is once again plunged towards war."
---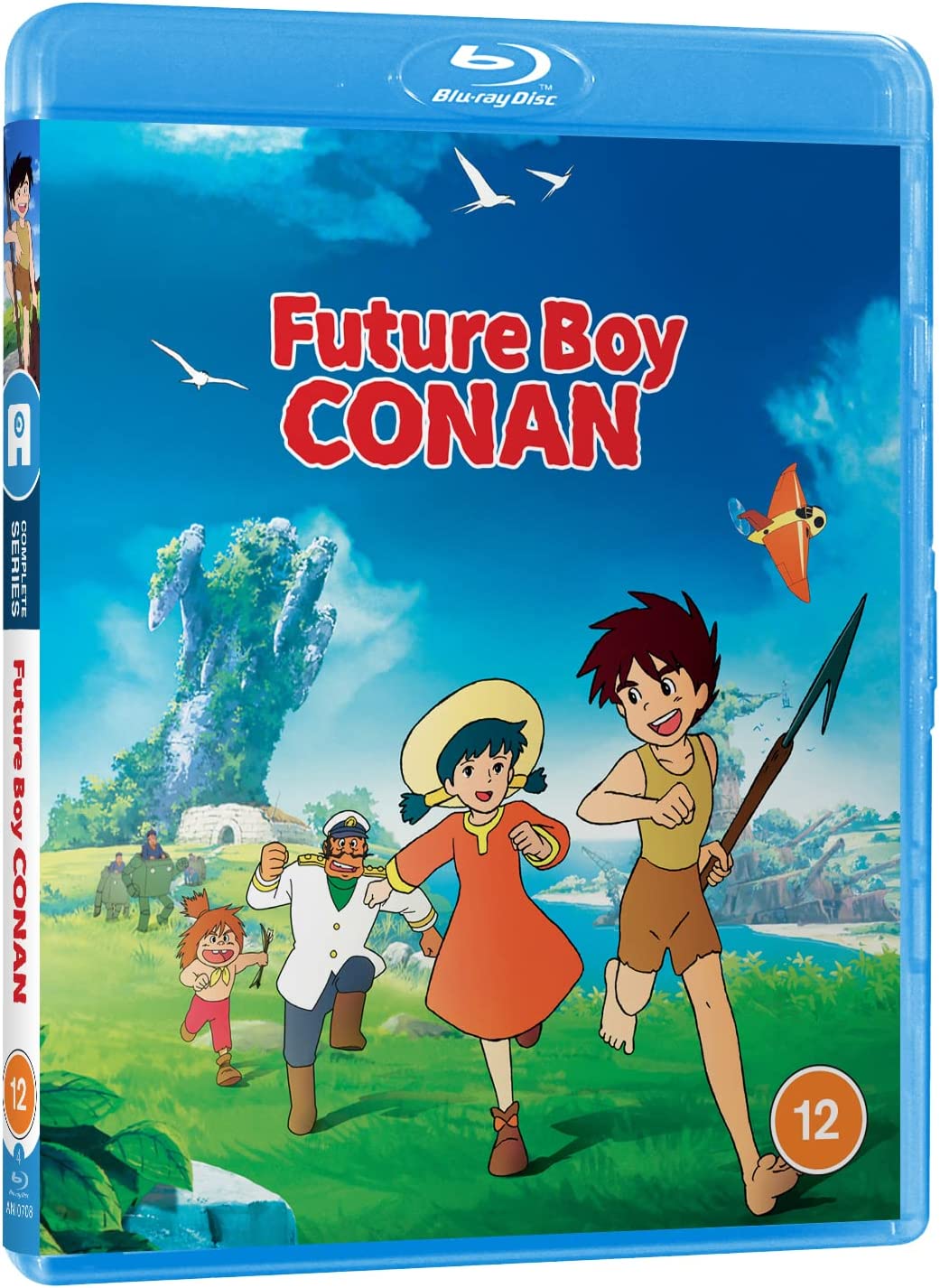 In addition to these new titles, we have a standard edition Blu-ray collection for Hayao Miyazaki's Future Boy Conan scheduled for 25th July 2022 which will also be available to pre-order on Thursday 21st July 2022 for £24.99.
---
And while we didn't provide a news report when it first happened, Anime Limited did announce two more anime titles during the Anime Expo 2022 weekend.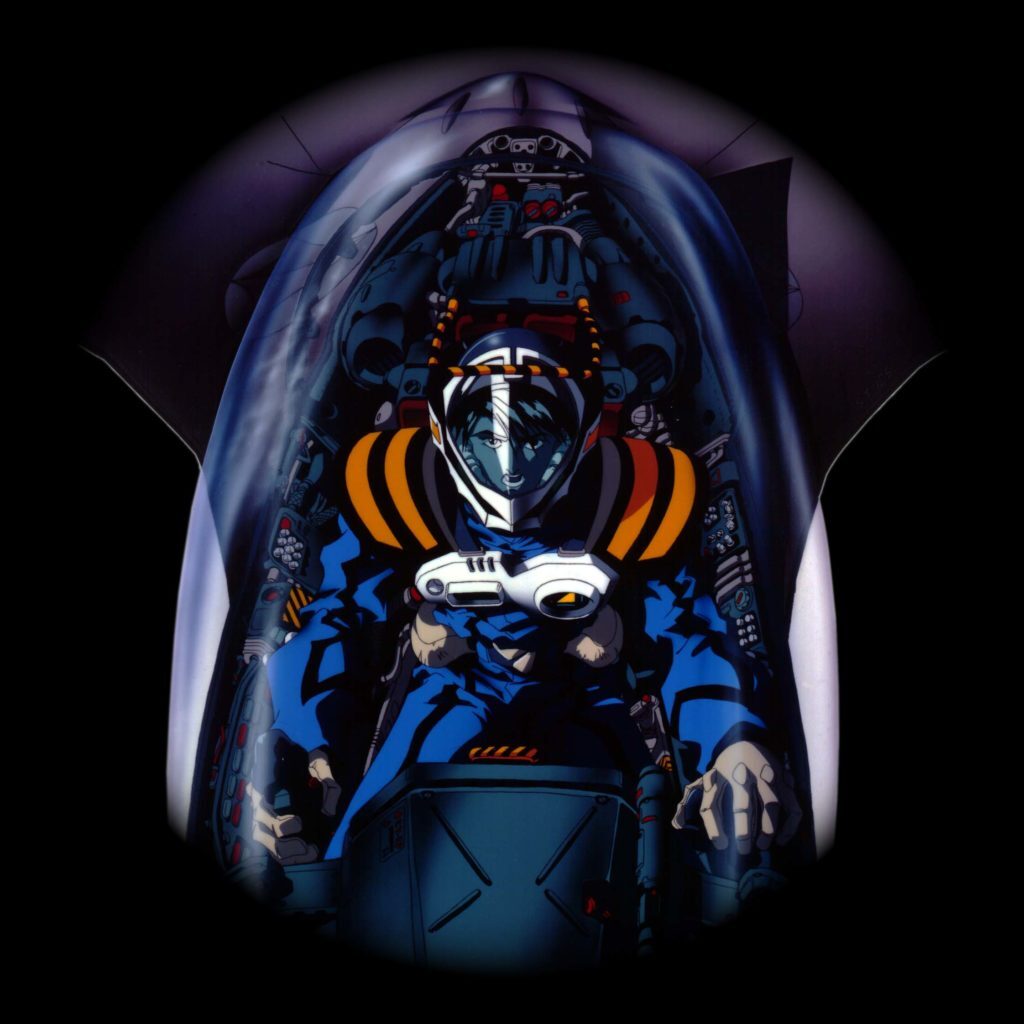 First they have acquired the home video rights for Macross Plus which will be released on Blu-ray in the UK, Ireland as well as US, Canada, France, Italy, Germany, Spain, Portugal, The Netherlands, and Scandinavia territories (Finland, Denmark, Sweden, Norway, and Iceland).
While the Macross Plus official UK site specifics just the Movie Edition, the Anime Limited blog mentioned both the four episode OVA series and the film version. For context, the series was released first as an Original Video Animation series which was dubbed in English, followed by a theatrical film compilation.
"The year is 2040 and the galaxy is flourishing with several colonies and advanced technology. AI is near perfection and the current top idol is the near-completed Virturoid Idol Sharon Apple. All that is missing are her actual feelings, which instead are supplied by Myung Fang Lone. Sharon's debut concert is on planet Eden, where at the same time, fighter pilots Isamu Dyson and Guld Bowman battle over air superiority for the "Supernova Project." Isamu, Guld and Myung were once childhood friends, but after an accident seven years ago, they went their own separate ways.

With Myung back in the picture, the old disputes are once again awakened. And when an unstable and illegal AI technique is installed in Sharon, the situation is worsened."
Anime Limited currently can't say if they will be able to acquire the UK rights to other Macross properties that were announced for home video in North America (to recap Nozomi Entertainment & Rightstuf will release Macross 7, Macross Delta and Macross Frontier for Ultra Edition Blu-ray box sets, while AnimEigo will release Macross II on Blu-ray).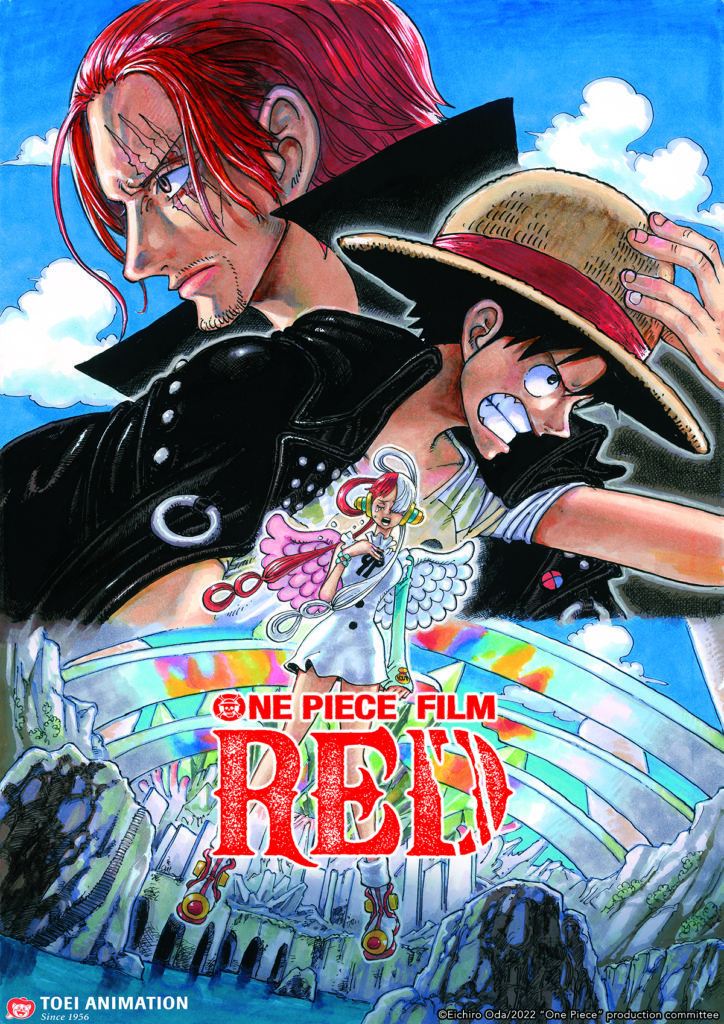 Also announced during the weekend was One Piece Film: Red, which will be heading to UK cinemas as part of Anime Limited's Cine Matsuri season. An official website is available to keep an eye on any news and updates for when the screens will be available.
"Uta: the most beloved singer in the world. Renowned for concealing her own identity when performing, her voice has come to be described as "otherworldly." Now, for the first time ever, Uta will reveal herself to the world at a live concert. As the venue fills with all kinds of Uta fans – excited pirates, the Navy watching closely, and the Straw Hats led by Luffy who simply came to enjoy her sonorous performance – the voice that the whole world has been waiting for is about to resound. The story begins with the shocking fact that she is Shanks' daughter."
Film: Red is the 15th feature film in the One Piece franchise and directed by Goro Taniguchi (Code Geass) with a screenplay written by Tsutomu Kuroiwa (One Piece Film: Gold). Anime Limited will release the film across cinemas in the United Kingdom and Ireland this Autumn.
Currently Crunchyroll UK are releasing One Piece's television series on DVD (with up to 29 collections have been released or scheduled) as well as most of the films for home video release.
---
If this news wasn't enough, there's also some release date pushbacks.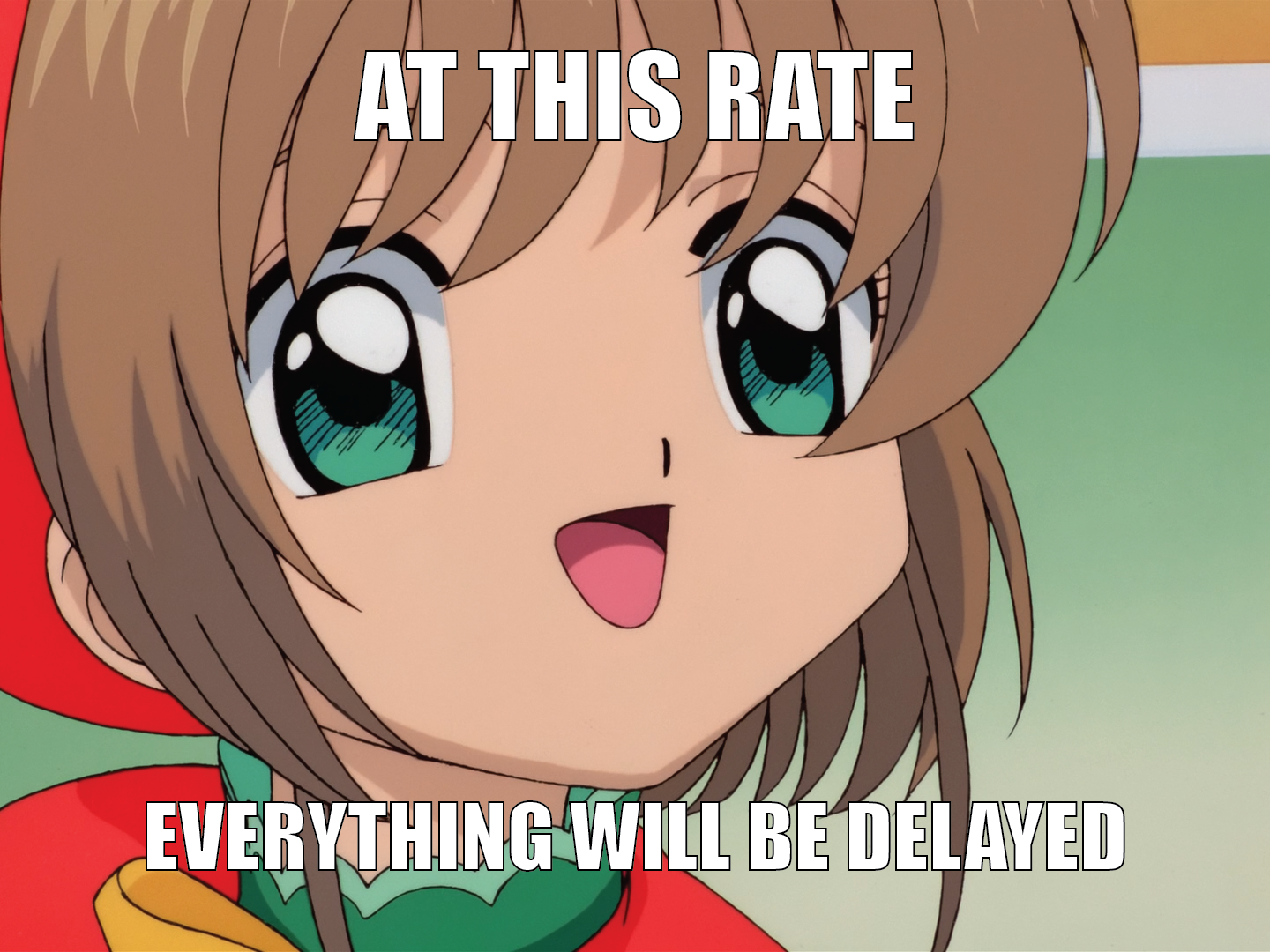 Cardcaptor Sakura collector's edition Blu-ray is now scheduled for 25th July 2022. The first release date for the series was 14th February before being pushed back to 28th March, then 23rd May, followed by 4th July.
Also received a release date adjustment was El-Hazard: The Alternative World collector's edition Blu-ray, which is conflicting considering their latest news specifics 8th August despite previously dated for 26th September.
Blood-C ultimate edition Blu-ray was also delayed to 29th August 2022. The first release date was 28th February, then 25th April, followed by 18th July.
---
Source: Anime Limited Blog