ARIA The Natural Parts 1 and 2 Blu-ray Review

HWR
•
Please note that this review contains some spoilers for ARIA the Natural! Also note that the series has been released in two parts but will be reviewed as one here.
ARIA the Natural is a 26-episode 2006 anime series based on the manga series of the same name from mangaka Kozue Amano. It is a continuation from the first series ARIA the Animation, and tells the story of Akari Mizunashi, a young woman who is training as an apprentice gondolier (referred to as Undines) in the city of Neo-Venezia, which is covered in vast oceans.
Neo-Venezia is a city on the Planet Aqua, formerly known as Mars. Though the story takes place in the 24th Century, the city is based on Venice, taking key inspiration from the architectural stylings and being a harbour city with narrow canals aplenty and a reliance on gondolas for travel. Natural maintains the atmosphere and visuals of its predecessor, providing an almost ethereal air to the proceedings, whether the scenarios presented are simple day-to-day insights into the cast and their lives, or more fantastical offerings that peel back the veneer of Aqua.
For those who enjoyed the character-driven storylines of the first anime, this very much continues in the same vein, following Akari and her friends as they grow both as apprentice gondoliers but also as young adults. Whereas the first season worked to introduce the fairly expansive cast of characters and their respective water-guide companies, this season instead sets the viewer off with these characters as they explore more of Neo-Venezia's traditions and also its supernatural underbelly.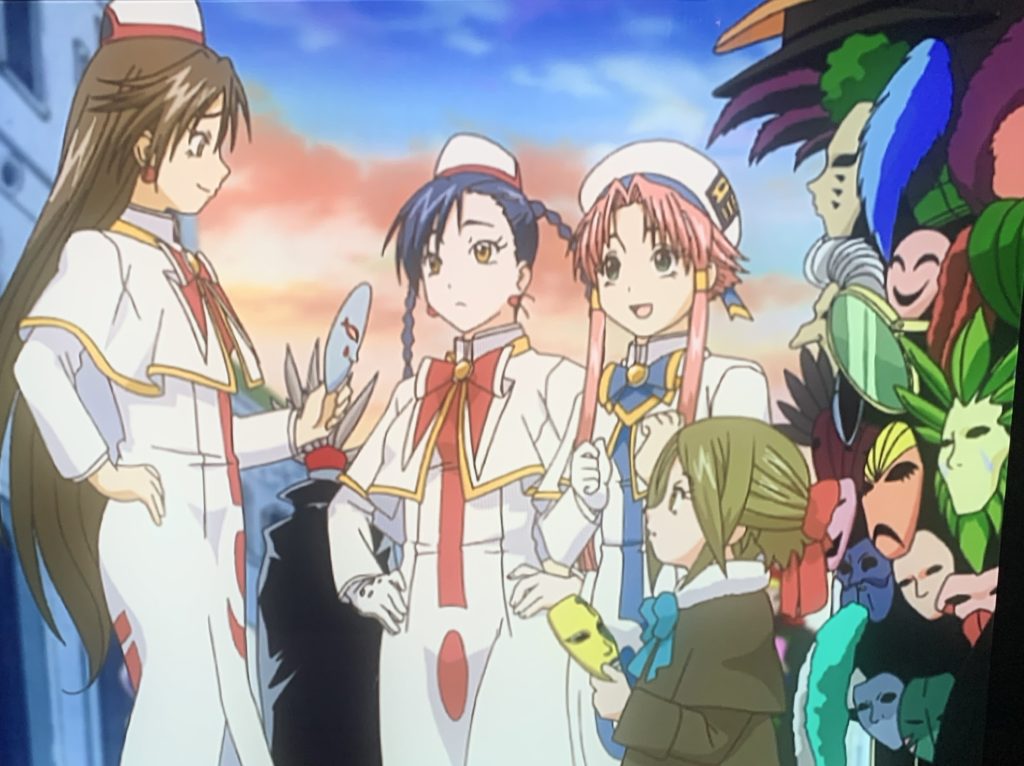 The initial episodes cover Neo-Venezia's Carnevale, which sees President Aria mysteriously disappear and a mysterious masked man known as Casanova is introduced and later revealed as an important figure. There's also a fun excursion involving Akari, Alice and Ai (whom Akari met in the very first episode and is staying at Aria Company for the Carnevale) being sent on a treasure hunt after coming across a box inside a statue. Though the hunt doesn't result in a physical reward, it instead takes on a more philosophical meaning for the trio as they rediscover the wonder of what Neo-Venezia has to offer.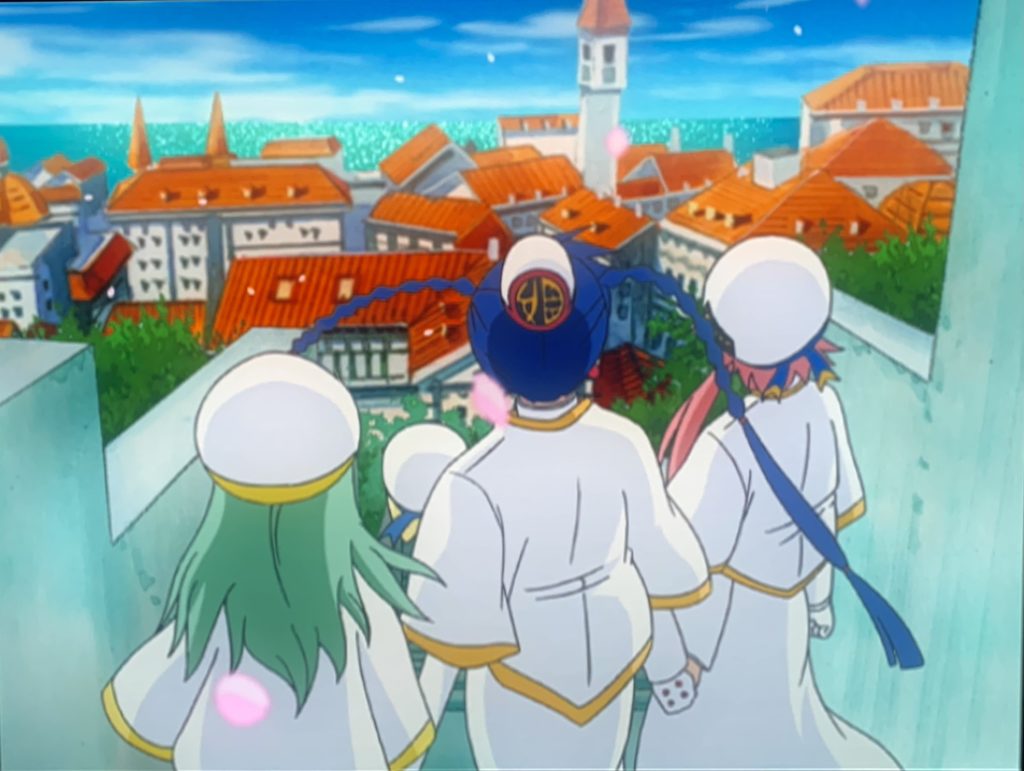 Another early highlight from the season comes from an episode focused on a meteor shower, with Akari, Aika and Alice inviting new character Al, a senior but youthful looking Gnome (a term referring to those who work underground regulating Aqua's gravity so that it is the same as Manhome's) after having lunch with him. The result is that Aika develops a crush and we get some lovely spectacle as the group find a great spot on the roof of the Himeya Company building.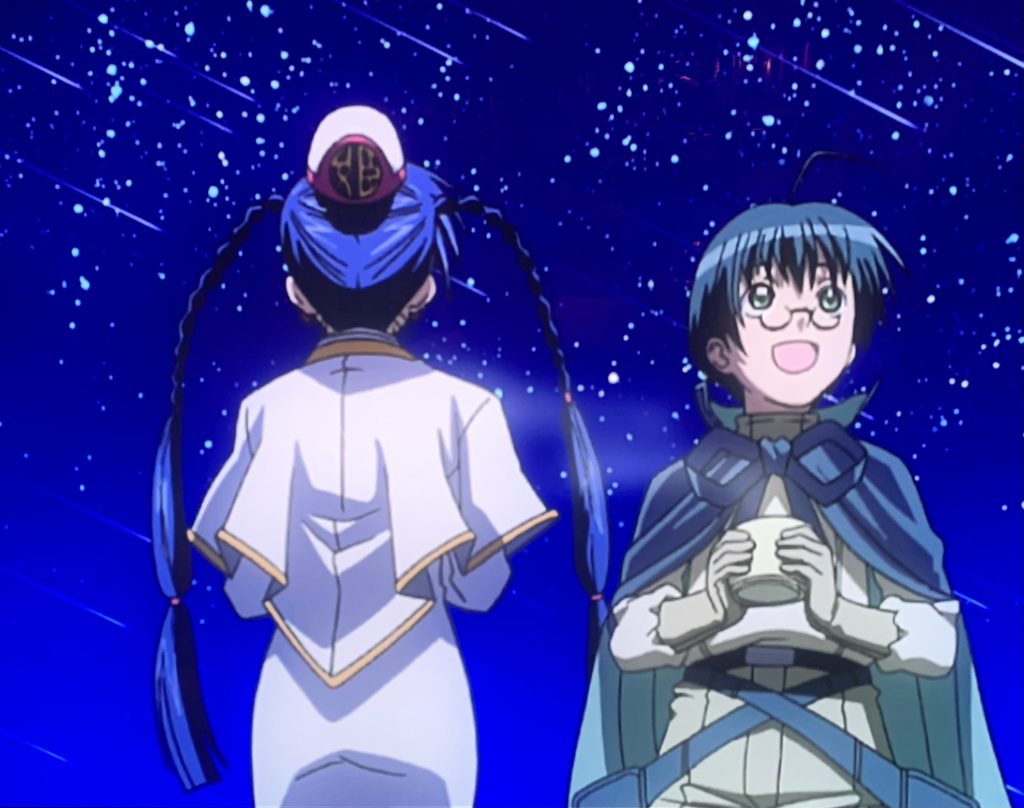 ARIA the Natural continues to drive key narrative themes throughout its segments including the bond between mentor and pupil and Akari's seeming ties to Neo-Venezia's fantastical foundations. A great example from this season comes from a two-part episode in which the first segment has Akari and Alicia visit a shrine island to pay tribute to its fox deity. The attendant there warns the two not to follow any fox spirits if they are encountered – though this scenario plays out after an accidental separation and Akari almost ends up joining an unending procession.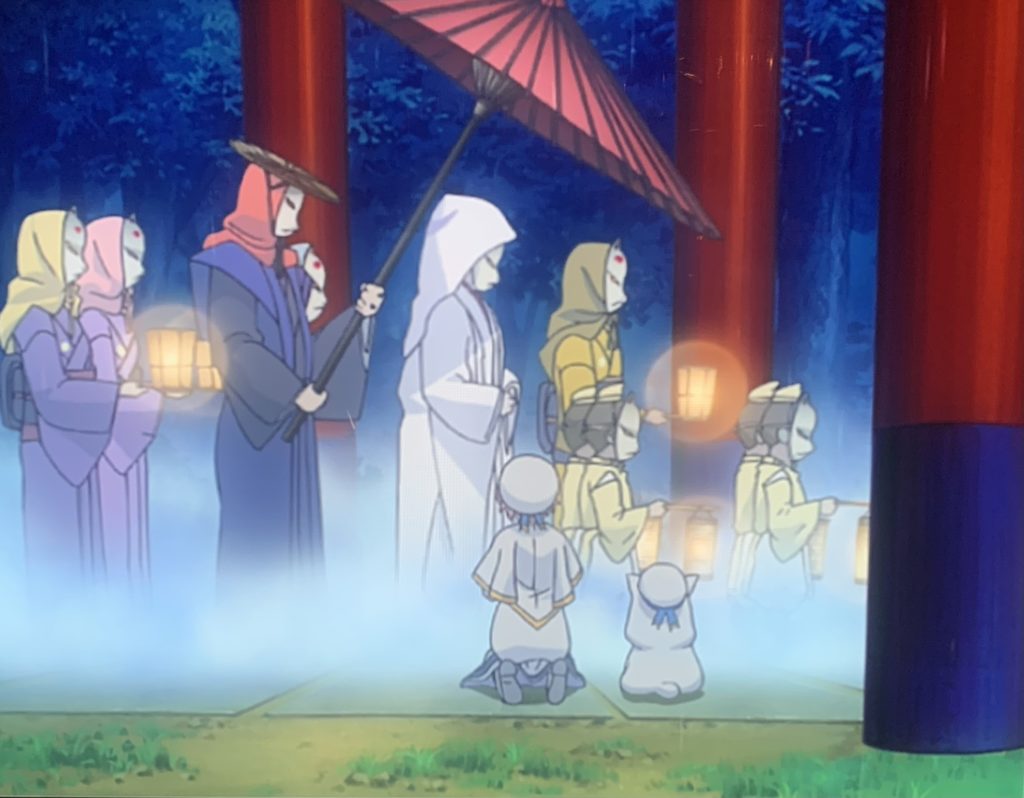 The second segment focuses more on Akari and Alicia's mentor-pupil bond, as they venture out on a getaway to "find Spring", which leads the pair to an abandoned freight station and then along its derelict tracks, long since overrun by nature. The imagery here is fantastic, building upon an idea of nature taking back from technology, further exemplified through the striking imagery of a cherry blossom tree growing within an abandoned train car, bursting and blooming to life when President Aria climbs an adjacent power line. 
It's a wonderful moment that brings the two together as Alicia discusses the importance of making mistakes in serendipity (unplanned fortunate discoveries), which happens often throughout ARIA's storylines.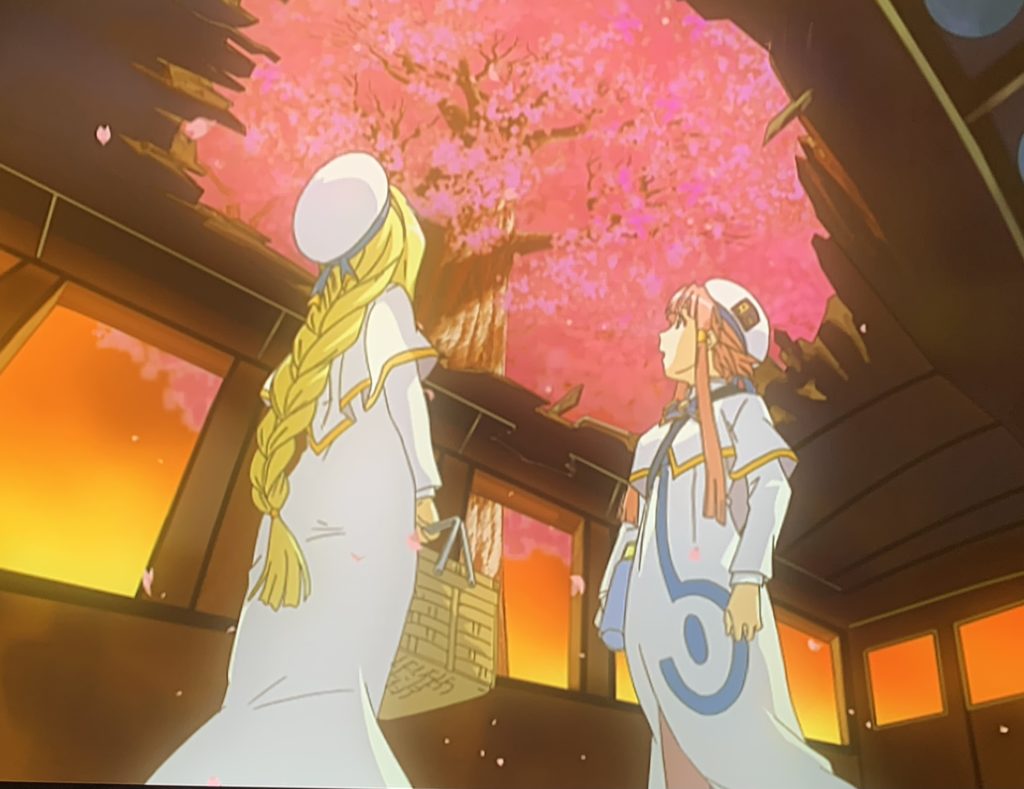 I've always had a lot of time as a viewer for the customs and traditions on Neo-Venezia, which the series does a wonderful job of conveying. A highlight here is a day known as Festa Del Bocolo, which sports a tradition wherein a man gives a single rose to his beloved lady, hence the translation of "Red rose bloom". This episode also fleshes out Akatsuki, an apprentice Salamander (those who help maintain Aqua's climate via floating buildings tethered above Neo-Venezia) who often teases Akari with the nickname "sideburns" and is often paired with her in these segments, even being her very first customer as a pair in the previous season.
He spends the episode looking for the perfect rose to give his crush Alicia, with Akari tagging along to help, learning alongside the viewer about Festa Del Bocolo, and whilst hijinks ensue in humorous failure for Akatsuki, he decides to give a rose to Akari instead, with her appreciating the solitary rose more than Alicia, who ends up with a whole gondola of them.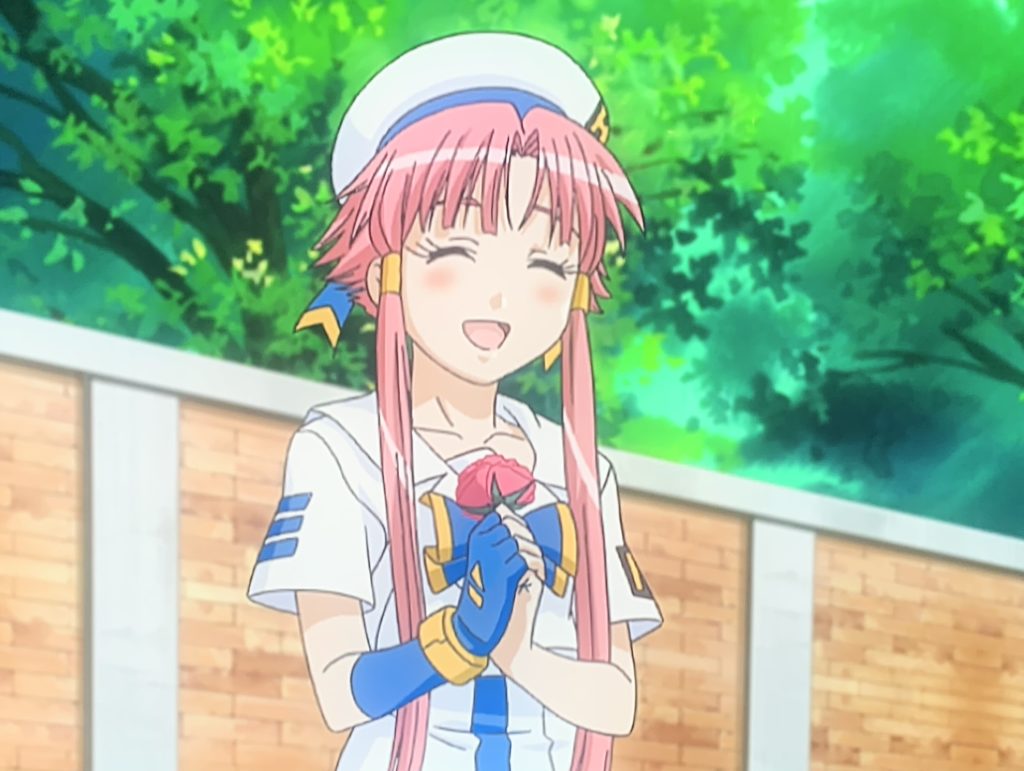 The supporting cast also get some segments to shine, including an episode focusing on the aftermath of a barbecue accident that leaves Aika to need to change hairstyles (which remains for the rest of the season). The significance of said hairstyle came from a desire to emulate her idol Alicia and it leads to her mentor Akira laying down the hard truth that she'll never be Alicia but must forge her own path as the best Undine she can be.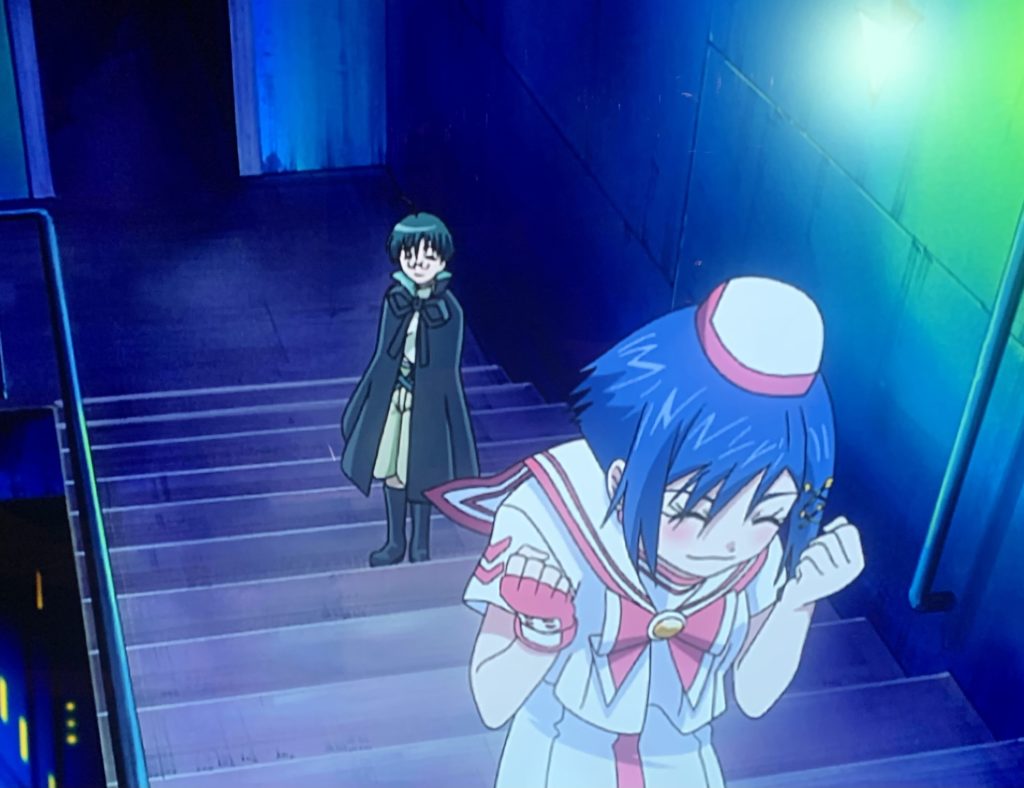 The following episode sees Aika come to terms with new appearance, reluctant to see anyone at first thought with encouragement she accepts both her new appearance and attitude to becoming an Undine on her own terms. It's a straightforward character arc but is handled very nicely thanks to the strengths of Aria's characters and their respective relationships.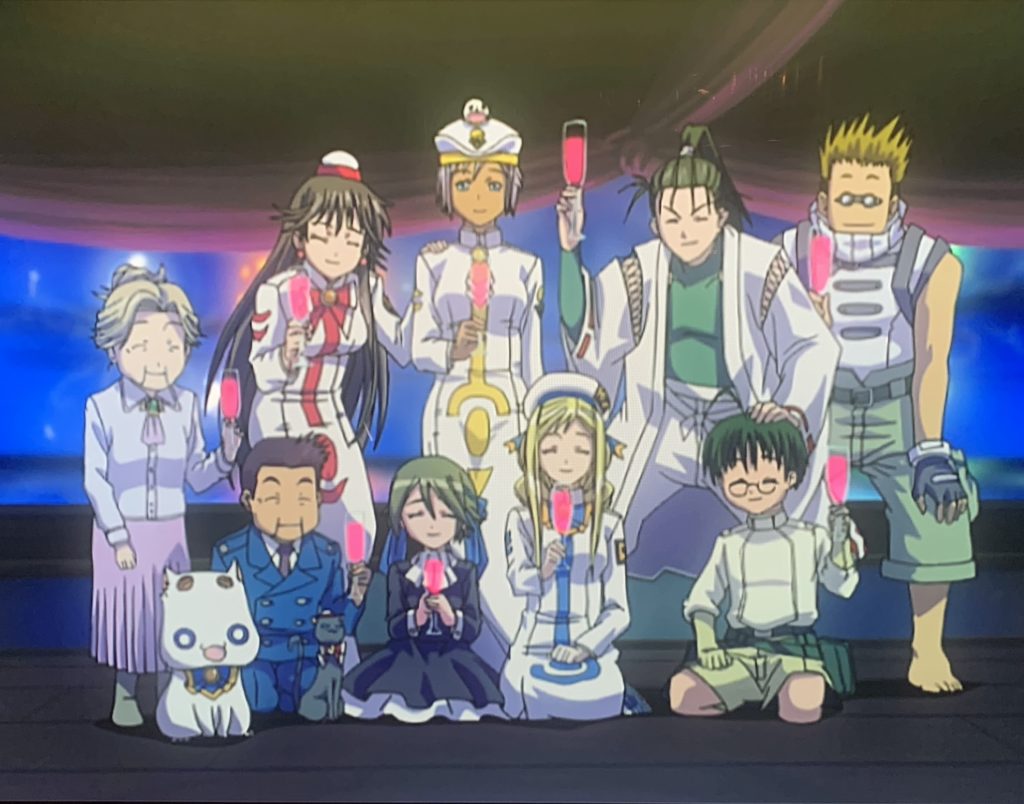 Towards the end of the season, we see the three Water Fairies Akira, Alicia, and Athena give an important task to their trainees, to host a Redentore houseboat for the Festa del Redentore (a real Venetian event in which fireworks play an important role), which in-universe marks the start of Autumn on Neo-Venezia.
The episode also provides the viewer with a callback to the first episode of the season, as Akari worries that she hasn't heard from Ai for a while but invites her to Aqua for Redentore, whilst she, Alice and Aika get to work planning and decorating the houseboat, putting invitations together and sending them out to the friends they've made up to this point in the story, including Woody (a Sylph who uses a bike to fly supplies all over the city), Mr. Mailman, whom Akari assisted early in the season when his gondola was being repaired, Akatsuki, Al, the Three Water Fairies and also Grandma (the now-retired legendary Water Fairy and founder of the Aria Company). It's a nice episode that rounds up a lot of the characters that Akari, Aika, and Alice have helped so far on their path to becoming Undines.
In terms of animation, the series features a lot of aesthetically pleasing backdrops; there's also some nice attention to detail with uniforms and designs. The cast feature an array of expressions and Aria the cat's distinctive design all work quite well here also.

The series was again directed by Junichi Satō, a director with a great body of work including underrated series' like Kaleido Star, the comedic Sgt. Frog franchise and also both seasons of Amanchu!, a series based on a manga also by Kozue Amano. Satō and his team at Hal Film Maker have again conveyed the atmosphere of the Neo-Venezia setting well, alongside the more fantastical segments which have a backbone in Japanese mythology. It is worth noting that the series isn't 1:1 with the manga in terms of chronology, with the series instead opting to flow by its own means, and being based on the mostly segmented nature of the source material, it comes together nicely.
ARIA the Natural features a similarly varied and pleasant score composed once again by acoustic group Choro Club and Takeshi Senoo which fits the anime effectively, and is a real part of the series' identity. The OPs this time around are "Euforia" by Yui Makino (Episodes 1–15, 18–26) and returning from the first season, "Undine" by Yui Makino (eps. 16–17).
The EDs, meanwhile, are "Natsumachi" by Round Table feat. Nino (Episodes 1–15), "Smile Again" by Erino Hazuki (Episodes 16–25), and, also returning from the first season, "Rainbow" by Round Table feat. Nino (Episode 26). The new offerings are nice listens and the callbacks to the first season's also work thematically.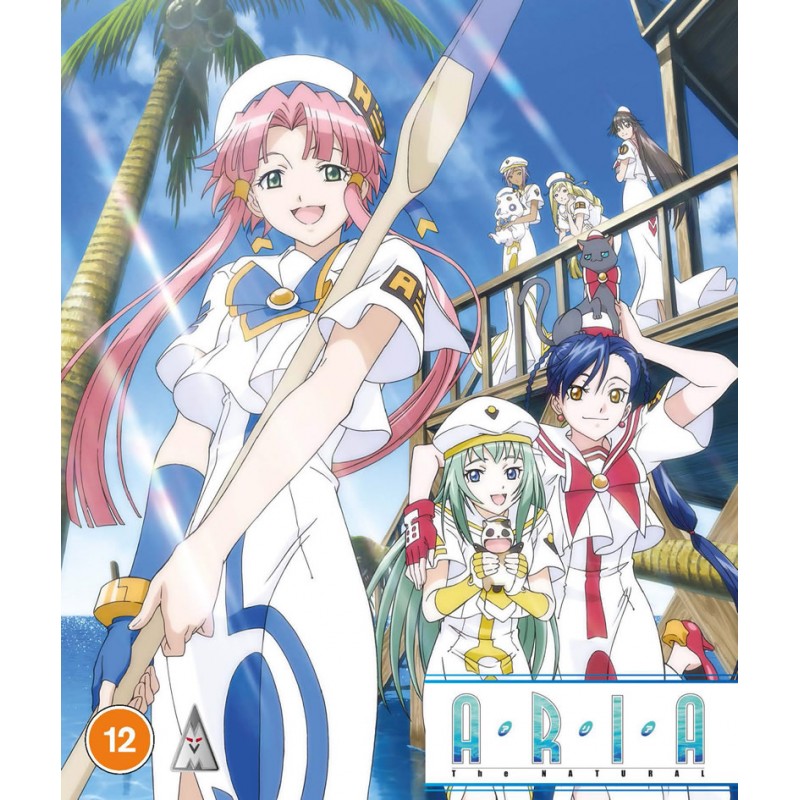 MVM Entertainment have released the season across two parts in the UK, replicating Nozomi Entertainment's release in the US, with the first part  containing Episodes 1-13, and the second containing Episodes 14-26.
The series is presented in its original 4:3 presentation and includes both the original Japanese language and English dub as options with both 5.1 and 2.0 available for English. I once again stuck with the original Japanese audio as my preferred listening choice and the discs offering both yellow and white subtitles as options. Like with the first season a selection of extras is also included here with Part 1 featuring interviews with Junichi Satō and Yui Makino, a feature on the soundtrack in ARIA and the World of Sound, and Cast Reflections on ARIA the ANIMATION. Part 2 features Roundtable Discussions, an English Cast Commentary, more cast reflections on ARIA the NATURAL, and another discussion with director Junichi Satō. It's a nice selection of content, far exceeding the usual limited selection anime home media tends to get nowadays, 
Looking at the picture quality, ARIA the Natural maintains the style established in the first season, featuring a lot of visually pleasing backdrops, combined with a softer overall finish that still allows the colours and imagery to pop. A technical note for the release is that both sets of episodes are spread across three discs, making for six overall this season.
To conclude, ARIA the Natural continues to delivers a wonderful series overall that builds upon its characters, settings, and thematic qualities. The longer season provides some real highlights that enhance the quiet yet endearing atmosphere that no other anime I've seen to date has replicated in quite this way.