Barbarities Volume 1 Review

Sarah
•
"I'm like the latest fashion. Everybody wants to try me on!" Adam, Viscount Canning
Viscount Adam Canning has quite a reputation as a ladykiller (he's very handsome and he knows it). So when the opportunity arises to act as bodyguard to Lord Montague, the Minister of Justice in the neighbouring kingdom of Lorraine (and make more conquests) he readily accepts. His new employer Lord Montague (whose life has been threatened) conceals his face behind a white wig and false beard. But when Adam meets Lord Montague's nephew, Joel, he's instantly smitten and proceeds to employ all his considerable charms to try to seduce him. But Joel is not so easily won over – quite the opposite, and the more Adam pursues him, the more adamant his rejections become. Could it be that Joel and Lord Montague are one and the same person? Poor Adam is not used to being rejected and this only increases his desire to conquer the reluctant Joel.
However, life is not as peaceful as it should be in the kingdom of Lorraine. Lord Montague's coach is attacked. The king (Christopher) is still a child, his mother Queen Elenora is originally from Xehena – and there are growing protests against the church of the goddess. Lord Montague suspects that the trouble is being stirred up by outsiders but as Xehena, Adam's country, also worships the goddess, who else would be interested in fomenting dissent in Lorraine?
The heir to Tance, the other neighbouring kingdom, is Lord Luis Fredel, the nephew of the ailing king. The king has a son of his own, Luka, but the little boy has inherited his father's weak constitution and to ensure a secure succession, the king chooses his late older brother's son in his stead. Luis is a strong-willed, self-confident and ambitious young man, well aware of the dissent at court caused by his uncle's decision. Since that day, he's amused himself travelling abroad, with his servant (and lover) Gil for company, waiting for the summons back to Tance that will inevitably come one day. He's stirring the political pot, of course, setting up trouble to come.
The first volume of Barbarities is mostly concerned with introducing readers to Adam, Joel and Luis, establishing them and the world in which they live, gradually introducing the issues that concern them. Tsuta Suzuki is an experienced mangaka and storyteller (A Strange and Unexpected Story and Heaven's Design Team) and knows what she's doing. There's a lot of world-building to absorb here but she feeds it in to the narrative as the story develops so there's never a feeling of info being dumped on the reader. Joel clashes with Adam almost as soon as they meet and as Adam's seduction techniques fail to impress Joel (at one point Joel is so annoyed, he has Adam sent to prison to cool off) they spend more time in conversation together and – perhaps – begin to learn more about each other. In many ways, this is closer to a novel (the other Boys' Love manga that goes into such depth of characterization that comes to mind is Shoko Hidaka's Blue Morning). However, where Blue Morning is an historical graphic novel, Barbarities falls into the 'fantasy of manners' category of fiction and will definitely appeal to fans of Ellen Kushner's Swordspoint world or Ursula LeGuin's Malafrena; it's a European-style Renaissance-style imaginary setting, but without magic (or none has appeared so far). The comedy and intrigue arise from the political machinations and character interactions – and, this being Tsuta Suzuki, there's much playful wit to enjoy in the dialogue – as well as hints of a greater danger looming in the future.
Adam is an intriguing creation, unused to being rejected in matters of the heart and, in spite of being an illegitimate son, cherished by his adoptive father. So it's not surprising that the more Joel rejects Adam, the more he wants to win over Joel's heart. He insists that he's in love with Joel and he's never been in love before. But Joel is sceptical and wary of Adam's flattering words. "I do want you here by my side," he says to Adam when they're in private, "but only as a treasured friend." Does Adam hear what he's saying? Of course not! And so the misunderstandings continue…
The other main attraction is the art. Tsuta Suzuki has always had a distinctive graphic style and this is her most striking and beautiful manga so far. Seven Seas's handsome trade paperback edition showcases her art to perfection and there are four colour pages at the beginning, including a double-spread. The lavish costumes (which are Renaissance-influenced) are drawn with great attention to detail but it's the care taken with the characters' facial expressions and body language that really impresses.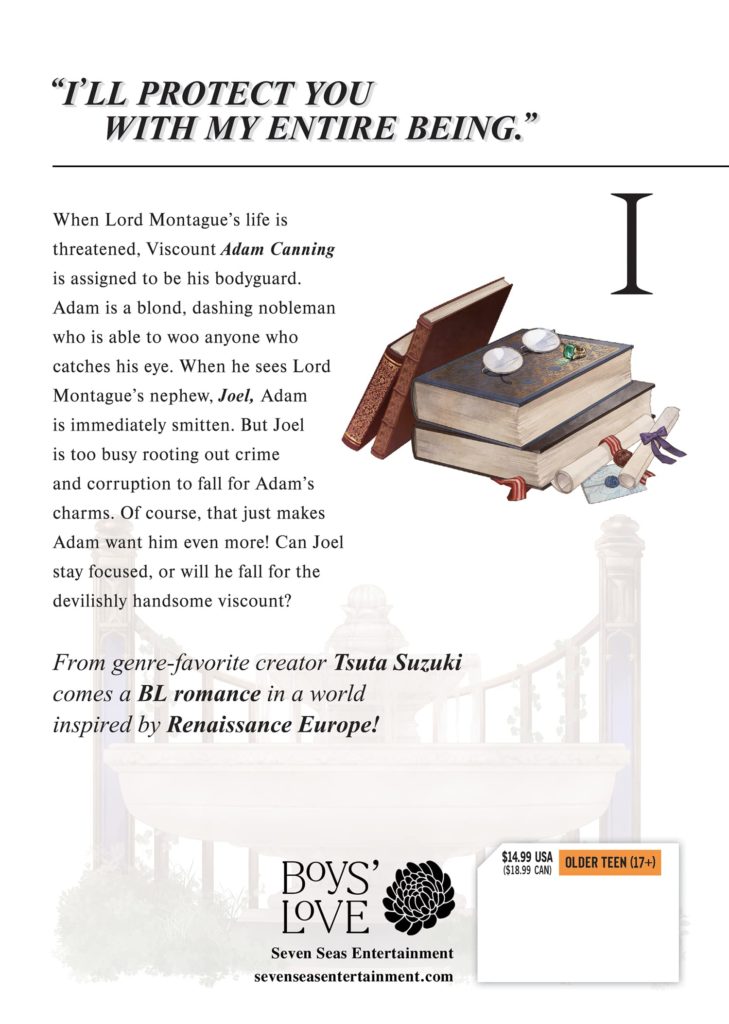 Tsuta Suzuki tends to be generous with extras/afterwords and here she doesn't disappoint with three pages about what went on behind the scenes of Barbarities. We learn that this was originally intended to be a one-shot – but, luckily for us readers, the mangaka was given more time and volumes to explore the story (four in total).
Jacqueline Fung has delivered an enjoyable translation for Seven Seas and conveys the formality of some of the dialogue (kings, queens, ministers) as well as the more intimate conversations that take place in everyday life.
This first volume of Barbarities is all about setting the scene and establishing some fascinating characters in their world. The second volume (due out in April 2023) promises to hike up the tension and the political intrigue – and then some!