Noragami Aragoto Review (Episodes 1-13)

Sarah
•
Bishamon, the blonde-haired, beautiful warlike god (one of the Seven Gods of Fortune) bears Yato, the shrine-less minor god, a terrible grudge; centuries ago, he slaughtered all her regalia (shinki), save one, the faithful Kazuma. Yato, now penniless and a changed character, haunts the streets of present-day Tokyo, granting mortals' wishes for five yen, supported by his new regalia, Yukine (who transforms into a sword) and Hiyori, a kind-natured schoolgirl. So when Bishamon's household regalia (whom she dotes on as family) come under attack, it's Yato that she blames for her misfortunes, vowing to destroy him once and for all. But as sinister and terrible events unfold, it becomes clear that there's someone else stirring up trouble – could there be a traitor in her household? Determined to protect Yato, Yukine and Hiyori are drawn into the fray and Hiyori, more vulnerable than the gods and spirits, finds herself in genuine danger.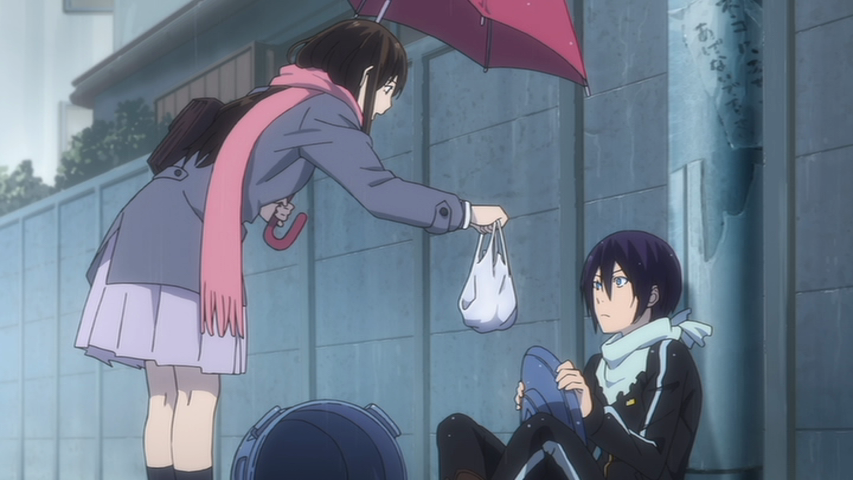 The havoc and destruction in Bishamon's household results in the Gods of Fortune being summoned to explain themselves at a heavenly colloquy. A powerful spirit, the Conjurer (or the Crafter in the manga translation) has been stirring up trouble by naming and using phantoms. Once again, Yato is the one under suspicion. He vanishes…and Hiyori begins to forget all about him. What she is unaware of is that he's been compelled to work again with his first regalia, the one she only knows of as 'Nora' (stray), the generic name for a wandering spirit, the possessive girl she's encountered before, garbed in white burial clothes. Yato's latest mission sends him into the depths of Yomi (hell) to find one of the Gods of Fortune, Ebisu – but his friends are unaware of his whereabouts. And now the powers of heaven suspect Ebisu of being the Conjurer and are on his trail, determined to punish him. Can Hiyori and Yukine  rescue Yato from this most dangerous undertaking as he's caught between the crazed illusions of Izanami, the eternal guardian of Yomi – and the vengeful wrath of the heavens?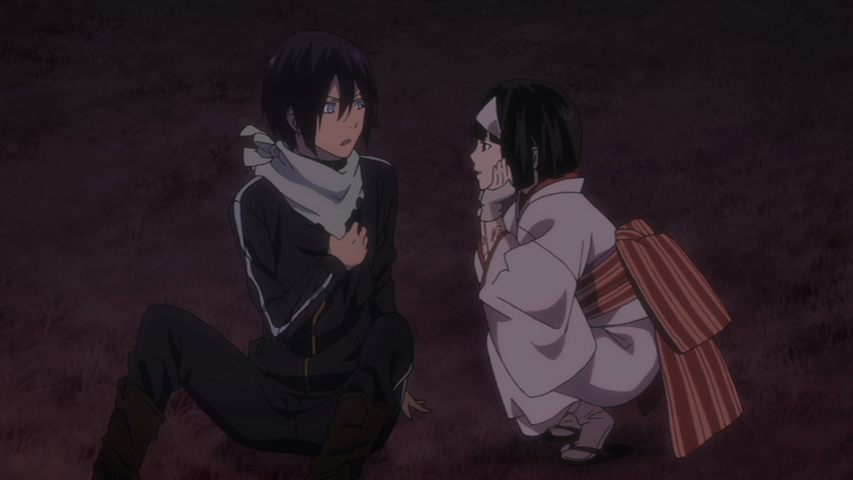 What's in a name? The difference between extinction and survival, it seems, if you're an obscure Japanese god who doesn't even have a shrine and has lost all his followers – if he ever had any. And Yato, the likable minor god at the heart of this anime, who's been eking out a hand-to-mouth existence granting wishes (doing 5-yen odd jobs) in modern-day Japan, is in danger of disappearing. In Noragami Aragoto, we catch up with the unlikely trio of obscure gods, his teenaged regalia/sword Yukine and schoolgirl Hiyori whose carefree soul has a tendency to leave her body and commune with her friends in the spirit world (ever since she almost died saving Yato from being knocked down). Talented two-mangaka team Adachitoka have created their own engaging urban fantasy mythology in which the traditional gods and goddesses, worshipped throughout the centuries, are still very much in evidence in contemporary Japan – even if most people are not aware they're there.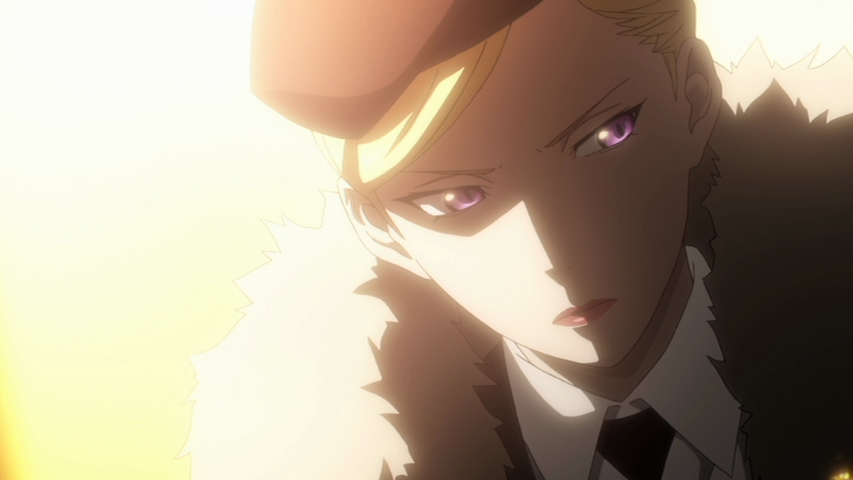 The handsome character designs from the manga are sympathetically brought to life in Noragami Aragoto, the second TV anime series to be drawn from this ongoing manga series (my review of  the excellent Season 1 can be found here). Even though there are still light-hearted moments, the tone of this series is much darker than the first and explores some painful memories and emotions. Its success is largely due, not just to a high standard of animation from BONES, but to the believable characterization and well-structured story arcs (the first leads very naturally into the second). Kudos to Director Kotaro Kamura and his team, who once again deliver a watchable and well-paced show. There's a reason that the BBFC have awarded Noragami Aragoto a 15 certificate and that's because it delves into some genuinely dark and painful territory. The feelings explored are often complex, as in the first arc where the relationship between Bishamon and her regalia, especially the loyal Kazuma, is cruelly put to the test.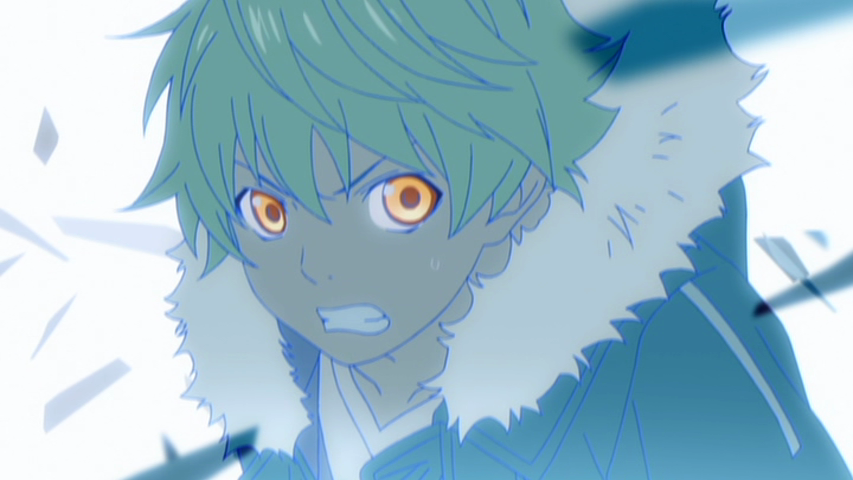 So, there's much at stake dramatically and the voice actors – in both the original Japanese and the US dub – have much to challenge them. There are some superb and moving performances from the Japanese cast, especially the wonderful Miyuki Sawashiro (Celty in Durarara!!) who is genuinely heart-breaking at certain key moments as Bishamon's tough-as-nails personality is severely tested – and Ryotaro Okiayu as the well-meaning but flawed Ebisu. There are excellent performances again in the well-written US dub script from Jason Liebrecht as Yato and Bryn Apprill (Christa in Attack on Titan) as Hiyori; Micah Solusod is once more especially good as Yukine, conveying the young regalia's vulnerability and growing maturity as he becomes a Blessed Vessel.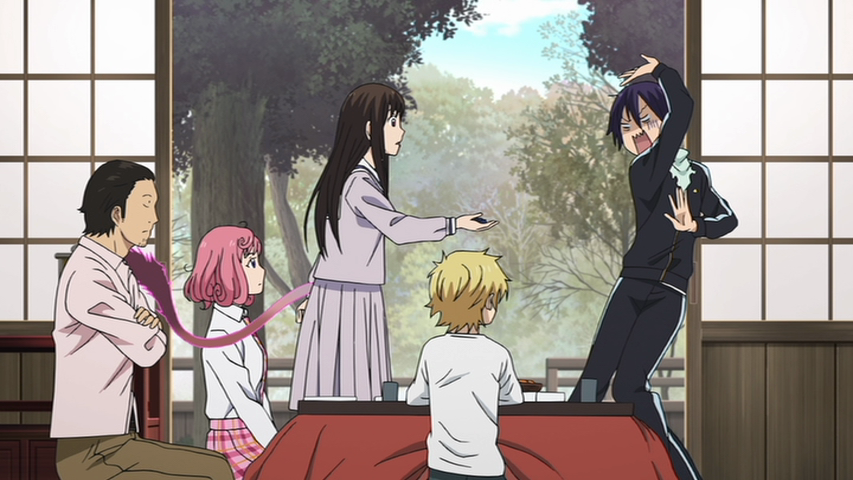 The soundtrack is by Taku Iwasaki (Soul Eater, Gatchaman Crowds) and, while re-using some of his material from Season One, there's some new and effectively unnerving tracks using ethnic chanting. "Kyōran Hey Kids!!" by THE ORAL CIGARETTES, makes an attention-grabbing Opening song while gentler Ending song "Nirvana" is by Tia; both provided the Opening and Ending of the first season of Noragami.
Extras on the Blu-rays include: Episode 6 Video Commentary, Episode 8 & 13 commentary, Textless Opening & Closing songs and  Promo Videos. The DVD version includes the all 13 episodes in English and Japanese with subtitles, and there's also the Textless Opening & Closing songs included as extras.
The following information is supplied by Anime Limited about the Collector's Edition:
'This is the follow-up season to the one released by Manga Entertainment previously.) The Collector's Edition Blu-ray set comes packed in a rigid box, with an amaray to hold the two Blu-ray discs that comprise Noragami Aragoto, and there are art cards inside too. But one other detail for you; the rigid box that comes with this has space to fit the Noragami Blu-ray that Manga Entertainment released. So you can display the entire series inside one box on your shelf!'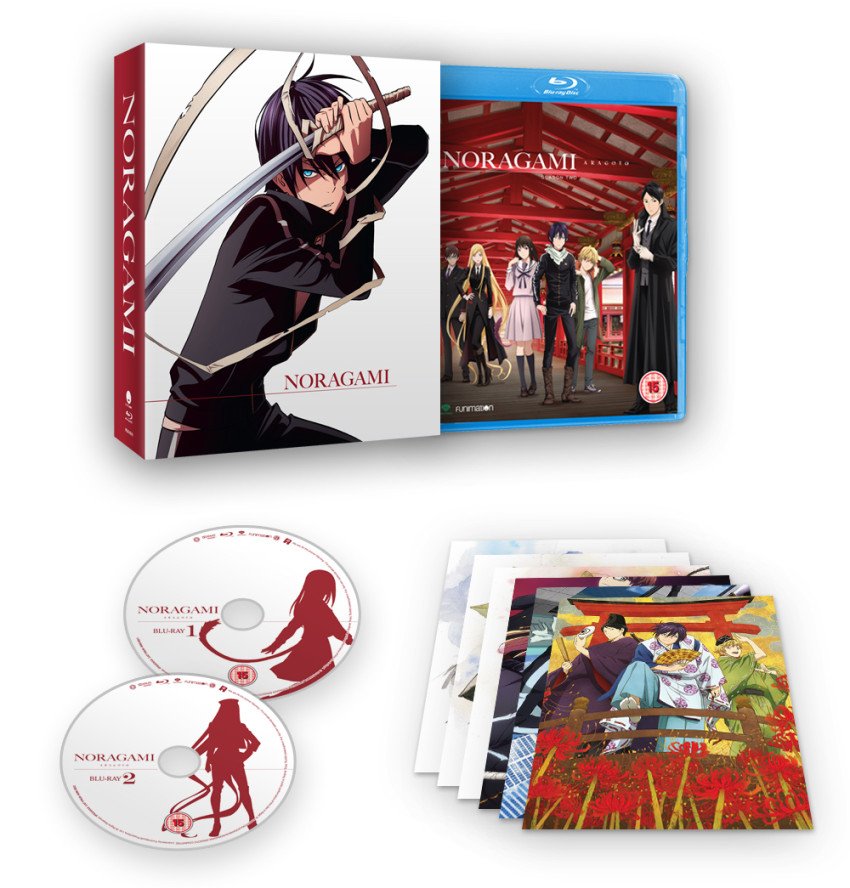 Noragami Aragoto delivers another season of gorgeously animated Japanese urban fantasy: sometimes dark, sometimes playfully amusing, but always compulsively watchable. Oh – and don't miss the last minute or so after the final credits have rolled…