HIDIVE Adds UQ Holder & Three Catalogue titles for UK Streaming

NormanicGrav
•
With the Autumn 2017 season now approaching, HIDIVE have added some new updates!
HIDIVE, for those who don't know, is the latest legal streaming service for anime since June 2017. It has currently provided over 200 titles with over half of them offering English dubs and also other content available for premium members. The service has continued to grow and while the planned PlayStation 4 app is still in development, they will continue the trend of offering more simulcasts for the United Kingdom.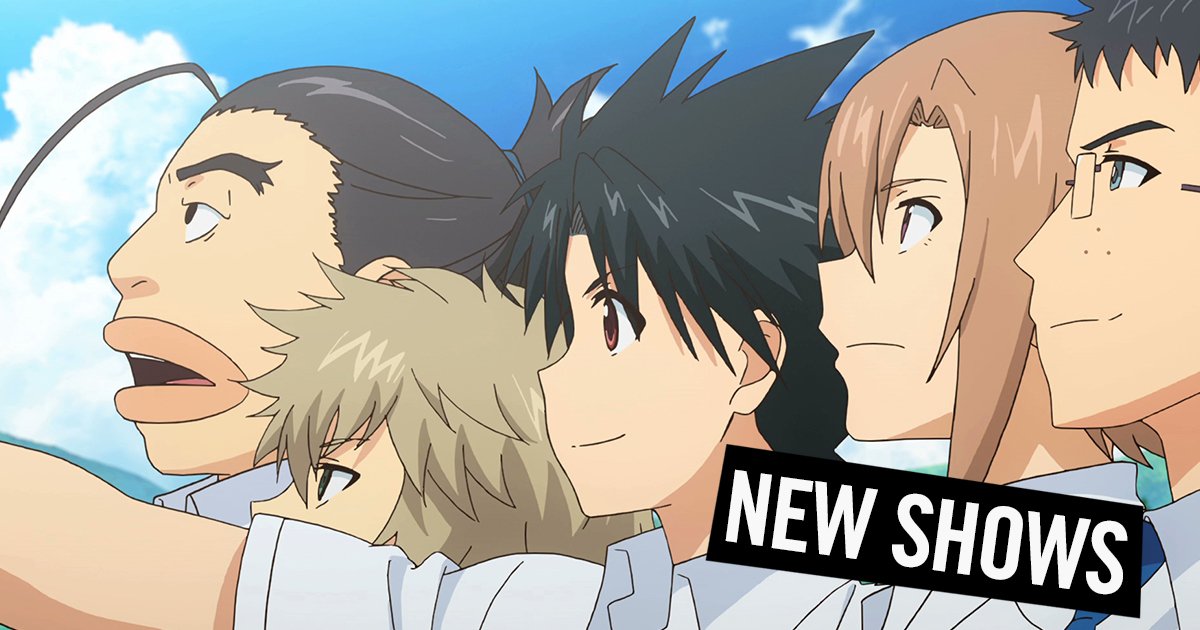 Sentai Filmworks had announced a number of new licenses, and while we expect them all to be available through HIDIVE we will double check the info before confirming each one. Fortunately we can confirm that the first announced title – UQ Holder – will be available for the United Kingdom alongside Ireland, South Africa, Australia, New Zealand, Netherlands, Central America, South America, Spain, and Portugal for the service. UQ Holder is set in the same universe as the Negima! franchise, but is a different series so it should be accessible for newcomers (if it isn't, the entire Negima! manga is available from Kodansha Comics).
The shounen action series begins when a young boy named Tōta is struck down while protecting his guardian, Yukihime, against a ruthless bounty hunter. Though his wounds should have been fatal, Tōta not only survives, he learns the reason behind his limited memories – Yukihime is actually a sorceress and 700-year-old vampire who saved his life two years ago by making him a vampire as well. With his powers awakened,Tōta's life will only get more interesting when he joins a secret society for outcasts and fellow immortals: UQ Holder.
Also expected to be available through HIDIVE for the United Kingdom (but regions are currently not final) are the following:
ClassicaLoid [Season 2]
Girl's Last Tour (Shoujo Shuumatsu Ryokou)
Himouto! Umaru-chan R
Hozuki's Coolheadedness (Hozuki no Reitetsu) [Season 2]
Just Because!
Land of the Lustrous (Houseki no Kuni)
My Girlfriend Is ShoBitch (Boku no Kanojo ga Majimesugiru Sho-bitch na Ken)
Meanwhile HIDIVE have been adding catalogue titles unannounced on the service. This was a common trend throughout the month of August 2017 but now it's back with three more catalog titles joining the service. Because it's unannounced we don't really know if they are supposed to be available for the UK region but the other titles currently are (with the exception of Magical Shopping Arcade Abenobashi which was removed a couple weeks ago) so it's best to assume that it is accurate.

The first title is for the Movie section with the continuation to the Bodacious Space Pirates anime series – Bodacious Space Pirates: Abyss of Hyperspace – a theatrical film now available in both English & Japanese audio with English subtitles.
In Bodacious Space Pirates: Abyss of Hyperspace, it's not easy being the captain of a space pirate ship. Especially when you're still in high school and aren't allowed to do normal pirate-stuff like rob and plunder.

However, despite those restrictions, Marika Kato has proven herself worthy of commanding the Bentenmaru. And if staging performances such as pretending to board and pillage space cruise ships doesn't pay as well as actually stealing stuff… well, at least no one gets hurt, right?

But things take a sinister turn when Marika and her crew are hired to raid the luxury liner Begin The Beguine. Because one of the passengers has a hidden secret and agenda of his own. And it begins with being kidnapped!

Suddenly the Bentenmaru and their new "hostage" are being pursued by other warships and the race is on for what could be the biggest prize of all! Batten your hatches and prepare to have your timbers shivered as Marika and her crew set sail for their highest adventure yet in BODACIOUS SPACE PIRATES – THE MOVIE!

The second title is for the Shows section with an older series that aired back in 2000 – Saiyuki – with all 50 episodes available in both English & Japanese audio with English subtitles.
Once demonkind and man lived together in harmony. But when a band of rogue demonic forces seeks to resurrect a diabolical monster, a dark spiritual energy begins to cover the land. Now, it's up to a renegade priest, a monkey king, a lecherous water sprite, and a sympathetic demon to stop the resurrection and return harmony to a dangerous land.

Enter the world of Saiyuki! A unique universe of beauty and betrayal. Where sacred scrolls battle enchanted weaponry and where dragons can transform into jeeps. A land where four reluctant heroes are just as concerned about having a good time, a stiff drink, and a beautiful woman as they are about saving the world.

And the third title is a recent series that aired during the Winter 2014 season – Tonari no Seki-kun: The Master of Killing Time – a short series with all 21 episodes available in Japanese audio with English subtitles.
He's a pest. A menace. And worst of all, he sits next to her in class. All Yokoi wants is to be able to pay attention to her teacher's lessons, but somehow her focus is always pulled away to what Seki is up to. Because he's always up to something, whether it's playing a game or building some mind-boggling creation on his desk. While their teacher is speaking! While Seki should be taking notes! And yet Yokoi is the only one who ever notices. She's the only one who sees disaster looming as Seki's nefarious plans slowly build to their evil fruition.

And worst of all, while Seki always seems to get away with it, the constant distractions and paranoia that he's inducing in Yokoi keep getting HER into trouble! It's just not fair! But despite the consequences, Yokoi finds herself unable to look away. To ignore him. So with every class, the tension and torture begin again in Tonari no Seki-kun!
Stay tuned for any more info on the latest simulcasts!