Your Name UK Deluxe Edition Details Fully Unveiled

NormanicGrav
•
A few weeks back details for the Your Name release began to appear, but there was one more edition that didn't get any info until today!
Anime Limited have announced plans for a special deluxe edition release for Makoto Shinkai's Your Name (Kimi no Na wa.) film to go alongside the standard Blu-ray & DVD sets as well as the collector's edition steelbook combo pack. This deluxe edition will be available a little later than the other sets due to late approvals but it offers a lot more content!
The deluxe edition matches the other collector's edition sets in terms of packaging design but this time offering a lot more at a larger SRP contrast to the usual SRP with films.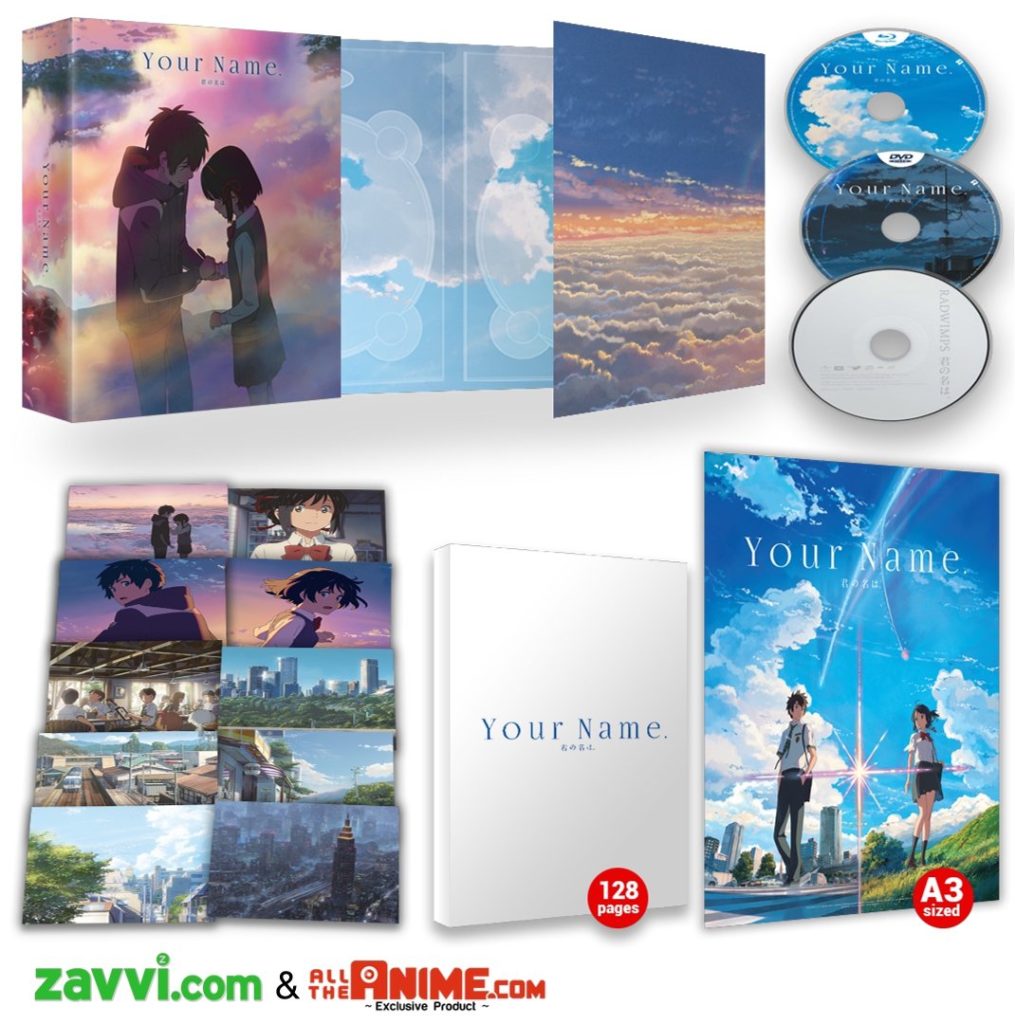 The deluxe edition contents are as follows:
Rigid Chipboard Artbox with clean art (only the Your Name logo will appear) and digipack for the discs
The film on Blu-ray & DVD using English & Japanese audio with English subtitles
Japanese-voiced Original Soundtrack CD from RADWIMPS
128 page Artbook
A3 sized Poster
10 Artcards, with one of them being uniquely numbered that will act as a certificate of authenticity
Potentially 1 more item that is currently under approvals
The SRP for this release is £59.99 and will be exclusive to both Anime Limited's Shop and Zavvi with only 2000 units available. The release date is currently set for 23rd November 2017. The product page link for Anime Limited's Shop and Zavvi are now available.
The Blu-ray discs will be the same masters as Madman's release unlike Funimation's. In terms of audio specs, the English dub will use the English-voiced & Japanese-voiced music soundtrack while the Japanese audio will use the Japanese-voiced music soundtrack. In addition the English-voiced Original Soundtrack CD will not be included with this release as it will result in increasing the SRP, however it is available standalone in Japan and digitally.
There will not be an Ultra HD Blu-ray release for this movie, due to high costs and not enough demand to release one for the UK. The Japanese and Hong Kong releases do offer English subtitles if you want to own that particular version.
The standard & collector's edition steelbook release of Your Name will be available on 6th November 2017 while the deluxe edition is set for 23rd November 2017.