Silver Spoon Season 1 Review
Demelza
•
Many will recognise the name Hiromu Arakawa as the creator behind Fullmetal Alchemist, but the mangaka also has another stellar series to her name: Silver Spoon. Adapted into anime in 2013, the series has now finally received a home video release in the UK, provided by Anime Limited. Does the show live up to the creator's legacy? Let's find out!
The story follows high-schooler Yuugo Hachiken, who has lost his way in life and enrolled at Ooezo Agricultural High School for a change of pace. Hachiken thinks he'll have an easy time at an agricultural school, but he's in for a shock! Students at Ooezo are expected to help out with the on-site animals and this involves being up at 5 a.m. every day and then going through a whole day of school afterwards! It's a lot to adjust to, but Hachiken rises to the challenge, not wanting to fall behind his classmates.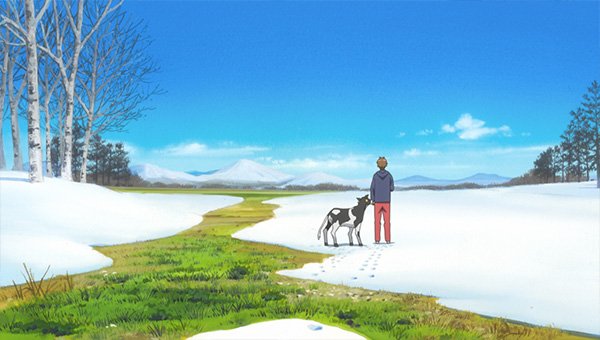 Hachiken doesn't have a dream or goal for the future, but he's surrounded by people who do. Those who attend Ooezo are either working toward taking over their family business or getting into agriculture in some other way, so their path in life is already set in stone. For someone like Hachiken, this causes feelings of jealousy, as he's spent his entire life studying and reaching no concrete answers for his own future.
Silver Spoon is a coming-of-age story the likes of which we've never seen before in anime. Hachiken's experiences at Ooezo slowly change him for the better, showing him that there is more to life than textbooks and exams. He lacks the sensibilities of those who have grown up in a farming family, but that means the way he approaches situations at Ooezo is different and brings about unexpected results.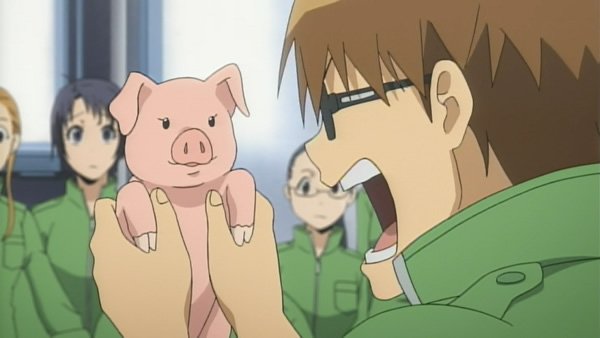 For example, early in the story, we're introduced to some piglets who are being raised for slaughter and while the other students know not to get attached, Hachiken instantly does. He names one Pork Bowl and for the rest of the season must come to terms with the piglet's fate. Is it right to eat these animals? Why do we put so much effort into raising them? Was it right for him to grow attached? Hachiken finds his own answers to these questions over the course of the season with meaningful development for his character.
One of the things I really appreciate about Silver Spoon is that it doesn't shy away from anything to do with farming. It would have been easy to have Hachiken live a carefree, cheerful life at Ooezo, but instead, he learns the harsh realities of everything to do with the industry. It's not all doom and gloom, of course, as there are plenty of fun experiences Hachiken has at the school too. A couple of episodes into the season, Hachiken decides to join the equestrian club and despite having to be up at 4 a.m. (!) every day for club chores, he learns the rewards of working with animals. As Hachiken learns to ride a horse, he begins to believe in the power of animals and people working together, something he'd never have known had he not gone to Ooezo.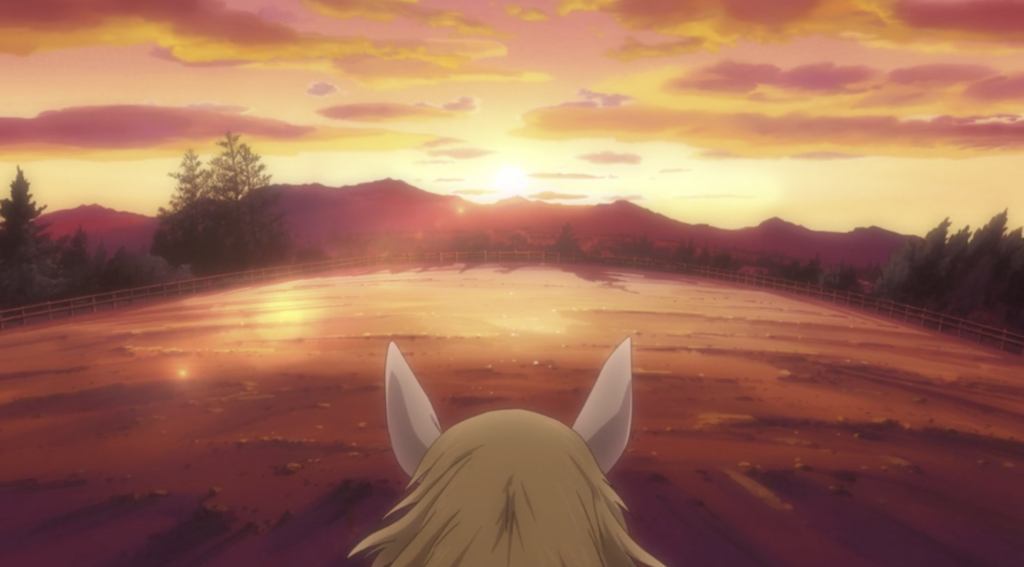 It probably goes without saying at this point, but I adore Silver Spoon. Be it for my own love of animals or just watching Hachiken grow through his experiences, there is a lot to like here. I truly believe the only reason someone wouldn't enjoy the show is if they were uninterested in animals as a whole because otherwise there are no problems. Hachiken is a likeable protagonist, the story is relatable, the animals are realistic and ultimately the whole thing is a fascinating watch from start to finish. The only downside is that it's not a complete piece, but with Season 2 on the way from Anime Limited in July, this isn't a concern either.  
Animation for Silver Spoon has been handled by studio A-1 Pictures and the team have adapted Hiromu Arakawa's manga faithfully, not straying from her story. The character designs will look very familiar to some, being similar to those of Fullmetal Alchemist, but that doesn't take away from the show (and in some ways adds to the fun!). The series is colourful and makes frequent use of wonderful watercolour backdrops. I'm especially fond of how the animals were animated, not being overly cutesy and instead looking fairly true to life.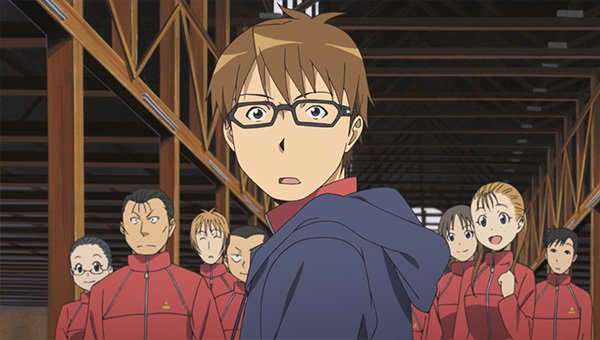 Music for the series has been handled by Shusei Murai (Mai Mai Miracle, Aiura) and on the whole blends in well with the anime. There isn't a great deal of variety in the music, but what is here works even if it's not particularly memorable. The opening for this season is "Kiss you" by Miwa, while the ending theme is "Hello Especially" by Sukima Switch. I became incredibly fond of the ending theme, but the opening doesn't quite fit the tone of the show and ended up being rather forgettable.
Where voice actors are concerned the cast do a great job at conveying the quirky, lovable humour that comes from an Arakawa work. Hachiken is played by Ryohei Kimura (Sorey in Tales of Zestiria the X, Hans Lee in Devils' Line, Kotaro Bokuto in Haikyu!!) and he does a great job filling Hachiken with a wide range of emotions.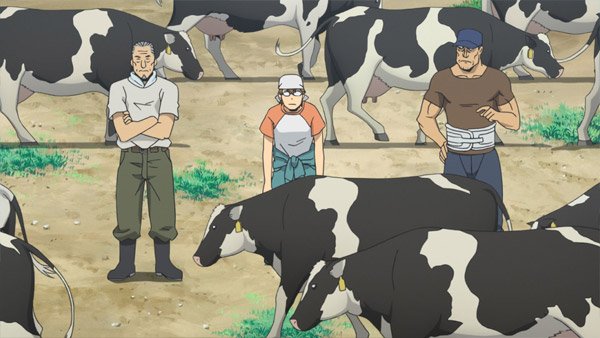 As previously mentioned, Silver Spoon comes to the UK thanks to Anime Limited and is available as a collector's edition Blu-ray set. The set includes 5 art cards and a poster, with on-disc extras being clean OP/ED videos and some trailers. The set is quite expensive given how little is included, especially as there isn't an English dub, but it is the only English Blu-ray set in existence so far and the high price is presumably down to Anime Limited having to create their own discs.
Overall Silver Spoon is a stunning slice-of-life series. It's a coming-of-age anime like no other with a story just as lovable as the piglet Hachiken finds himself attached to. With a second season to come, there are still plenty of stories to tell and I encourage everyone to come along for the ride.