Get Spooked For Cheap With Humble and Kodansha's Terrifying Tales Manga Bundle

Teapot
•
The bundle wizards at Humble have done it again, teaming up with Kodansha to offer a bundle of spooky manga for a discounted price  As always, these are available across a variety of tiers, starting as low as 78p, and offering more titles the more you pay – maxing out at £15.71 for 135 volumes of manga.
As always, a portion of the proceeds go to charity – this time, benefitting the American Civil Liberties Union (ACLU) and Doctors Without Borders/Médecins Sans Frontières. According to Humble, the bundle is valued as a $1500.MSRP, and as always, you're buying DRM-free, multi-format manga that's yours to read on any device you fancy.
This year's selection has got a great variety of titles, such as Junji Ito's Cat Diary: Yon & Mu and Dissolving Classroom from the horror great Junji Ito, and Happiness from the author of Flowers of Evil, and In/Spectre.
If you're interested, you can click here to grab the bundle, or see below for the full tier list!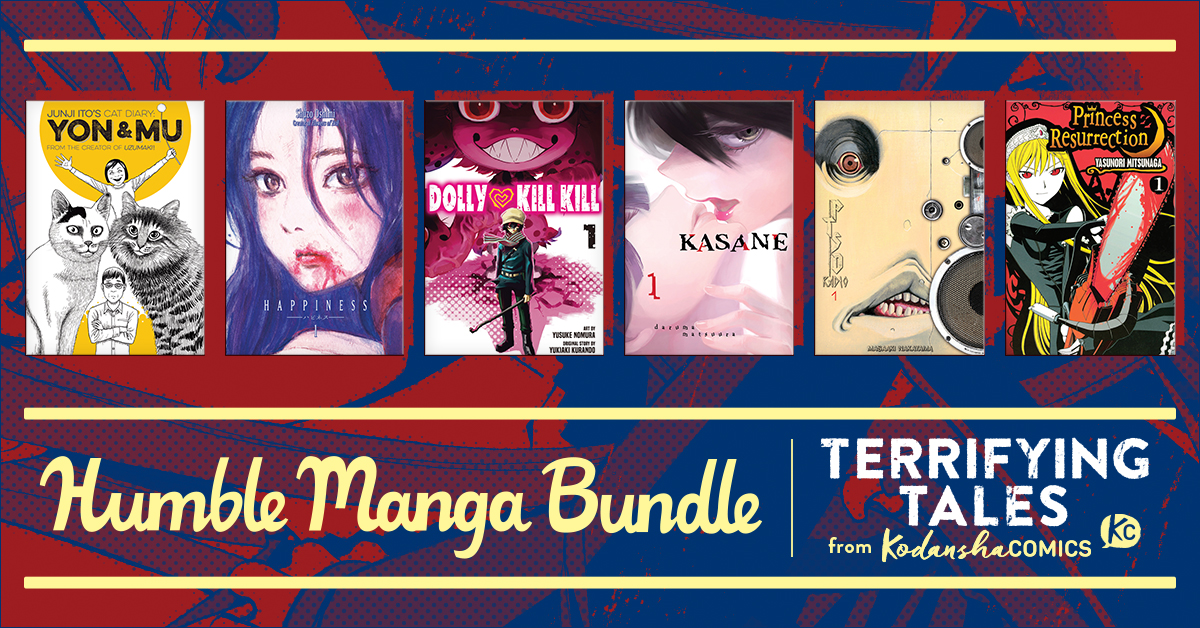 78p
PTSD Radio Volumes 1-5
Dragon Head Volumes 1-5
Kasane Volume 1-7
Gleipnir Volume 1
£6.28 or more
Kasane Volume 8-14
Dragon Head Volume 6-10
Until Your Bones Rot Volume 1-7
In/Spectre Volume 1
Princess Resurrection Volume 1-5
£7.85 or more
Inuyashiki Volumes 1-5
Starving Anonymous Volumes 1-7
Dolly Kill Kill Volume 1
In/Spectre Volumes 2-4
Princess Resurrection Volumes 6-10

Sankarea Volumes 1-5
£11.78 or more
Happiness Volumes 1-5
Inuyashiki Volumes 6-10
Fort

of Apocalypse Volumes 1-7

In/Spectre Volumes 5-8
Princess Resurrection Volumes 11-15

Sankarea Volume 6-11

To The Abandoned Sacred Beasts Volume 1-4
£15.71 or more
Happiness Volumes 6-10
Can You Just Die My Darling Volumes 1-7
Museum Volume 1-3
Princess Resurrection Volumes 16-20

To The Abandoned Sacred Beasts Volumes 5-7

NOISE
In/Spectre Volumes 9-11
Princess Resurrection Nightmare Volumes 1-3
Junji Ito's Cat Diary: Yon & Mu Volume 1
Dissolving Classroom
You can purchase the Humble Manga bundle to the tier of your choice here.
Note: Anime UK News is a Humble Partner, and receives a cut of any purchases made through our partner links, such as the ones in this article. Click here for more information on our editorial and affiliate policy.