Video Frame Flickering Issues Discovered on K-On! UK Blu-ray Release (UPDATED)
18th August 2021 UPDATE: Funimation UK responded to the issue and has asked those who purchased the set to return it to their respected retailer if they have encountered the playback issues.
Unfortunately, our release of K-ON! Complete Collection Blu-ray Limited Edition has playback issues across certain discs. As such, please contact the retailer that you purchased this from to arrange a return. We will update on re-issue plans as soon as we can.

— Funimation UK & IRE (@funimationUK) August 18, 2021
---
Original Write-up from 16th August 2021 below:
The 2009 Kyoto Animation series K-On! has finally been released on Blu-ray in the United Kingdom for the first time by distributor Funimation (formerly known as Manga Entertainment). While the distributor has offered a limited edition Blu-ray package that holds both seasons and the film altogether, reports have emerged from those who received their copies early with some concerning results.
---
The issue that has been spotted by many users is in regards to the video presentation flickering at specific scenes throughout K-On!, most notably during the first season presented across the first four discs.
The article has been updated on 17th August with an additional timestamp discovered.
The timestamps that users have discovered where the flickering has been spotted so far, are as follows:
Disc 2 – Episode 5 – 0:14:41
Disc 2 – Episode 6 – 0:32:31
Disc 3 – Episode 11 – 0:55:52
Disc 4 – Episode 14 – 1:04:09
The example presented below is a comparison for one scene using the same disc played between a Panasonic player (first clip) and a PlayStation 5 (second clip).
The flickering issue also seems to differ depending on each user's copy. For example, other users have experienced the exact same issue with varied results:
Was watching my new K-On blu-rays from @funimationUK and the discs are scratched. People complained about scratched discs in the DBZ 30th Anniversary box and the Godzilla Criterion Collection, both of those had card sleeves for the discs, same as the K-On collection. pic.twitter.com/TeT95SS5OG

— Law (@LawDraws) August 14, 2021
— VinceSM (@VinceSM95) August 15, 2021
The same user who made the video comparison for the scene above has also shown another for a different scene from a different episode below. Notice in the second clip, the bottom half of the screen flickers briefly:
If anyone else's K-On set is like this what will @funimationUK do? The packaging is designed in a way that discs will get scratched… pic.twitter.com/iQCxvLSoe4

— Law (@LawDraws) August 15, 2021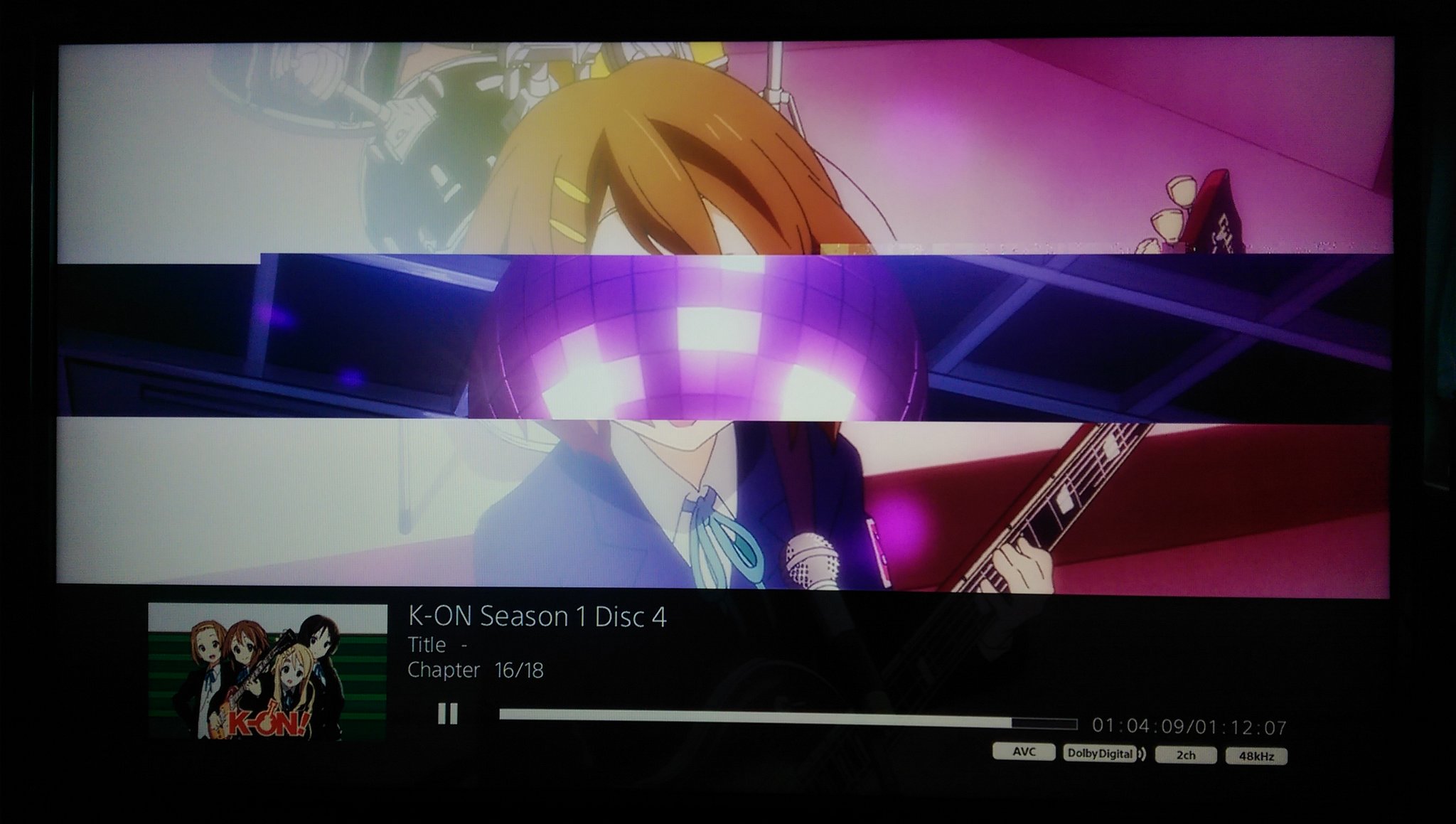 Another user has checked the files onto their PC and the same flickering issues are also present.
While the Panasonic player shown in the first example above doesn't display any signs of frame flickering, a different issue has also been discovered. For specific players tested so far, rather than displaying the corrupted frames, instead it slows down, speeds up, or skips the frame entirely for a split second before resuming the scene normally (the audio remains unaffected). An example shown below in one of the clips is when Mio randomly stops nodding where the flickering would be located.
This has been discovered by multiple individuals who own a Panasonic 4K player, a Panasonic Blu-ray player, and Samsung Blu-ray player thus far. While this could explain why these issues were not spotted during the quality control checks at Funimation, it is also worth mentioning that these discs were slotted in card sleeve packaging (than the usual Amaray Blu-ray case or digipack shown with other collector's releases) and thus could have been damaged/scratched in the process.
Regardless, this is an issue worth addressing especially for anyone who is a big fan of the K-On! franchise and waited 10 years to finally own the series on Blu-ray.
— Alex 🏴󠁧󠁢󠁷󠁬󠁳󠁿 (@Ajax_Ranger) August 16, 2021
So to recap, the following Blu-ray players have been tested and verified to display these flickering issues:
LG 4K Player
PlayStation 4
PlayStation 5
Xbox One X
Xbox Series X
And the following players that don't display the issues but instead adjusts the video to hide the corrupted frames:
Panasonic 4K Player
Panasonic Blu-ray Player
Sony 4K Player
Samsung Blu-ray Player
At the time of this write-up, Season 2 has yet to be verified as to whether the issue also affects those episodes. One user who owns the Season 1 Madman Blu-ray release, which uses the same masters, has confirmed that it does not have any flickering issues.
---
In addition to the video flickering, it is worth noting the distributor used the Blu-ray masters that Bandai Entertainment and Sentai Filmworks have authored from 2011 (2012 for Season 2 and 2013 for the film). As a result, there are a few other notes worth mentioning.
For starters, this does mean that the first season is in a lossy Dolby Digital audio format used for DVDs. For comparison, Sentai's release uses DTS-HD Master Audio 2.0 while the Japanese Blu-rays are in Linear PCM 2.0.
The second season also features larger than normal subtitles. This is because of Sentai's old layout from their earlier Blu-rays before they eventually amended it to use smaller, more commonly sized subtitles in later releases.
As a result of using the old discs, the UK release does include the English Cast Interviews and Music Videos. However, this does mean the Ura-On!! shorts from the Japanese Blu-ray and the 2019 Sentai release are not included.
---
K-On! was released on DVD by Manga Entertainment in 2011, and was once planned to be released on Blu-ray before it was cancelled. Therefore it took 10 years for UK consumers to be able to get access to a local UK Blu-ray copy.
Manga Entertainment also released K-On!! on DVD in 2012 followed by K-On! The Movie as a Blu-ray & DVD combo pack in 2013.
---
Special Thanks & Credit to Anime UK News members Law, Joe, MindGameCider, Just Passing Through, Onosume, Chronos121, Jaysgba, RaeDra, as well as Dai for the fourth disc timestamp discovery, and Twitter users Ajax Ranger, Morbiuslowe and VinceSM for testing and verifying the issues with their copies of the release.