Anime Limited Reveals Makoto Shinkai's Your Name 4K Ultra HD Release Details
Listings are now available for the 4K Ultra HD and Blu-ray combo pack of Makoto Shinkai's 2016 blockbuster hit film Your Name (Kimi no Na wa.) from distributor Anime Limited for the United Kingdom and Ireland territories.
---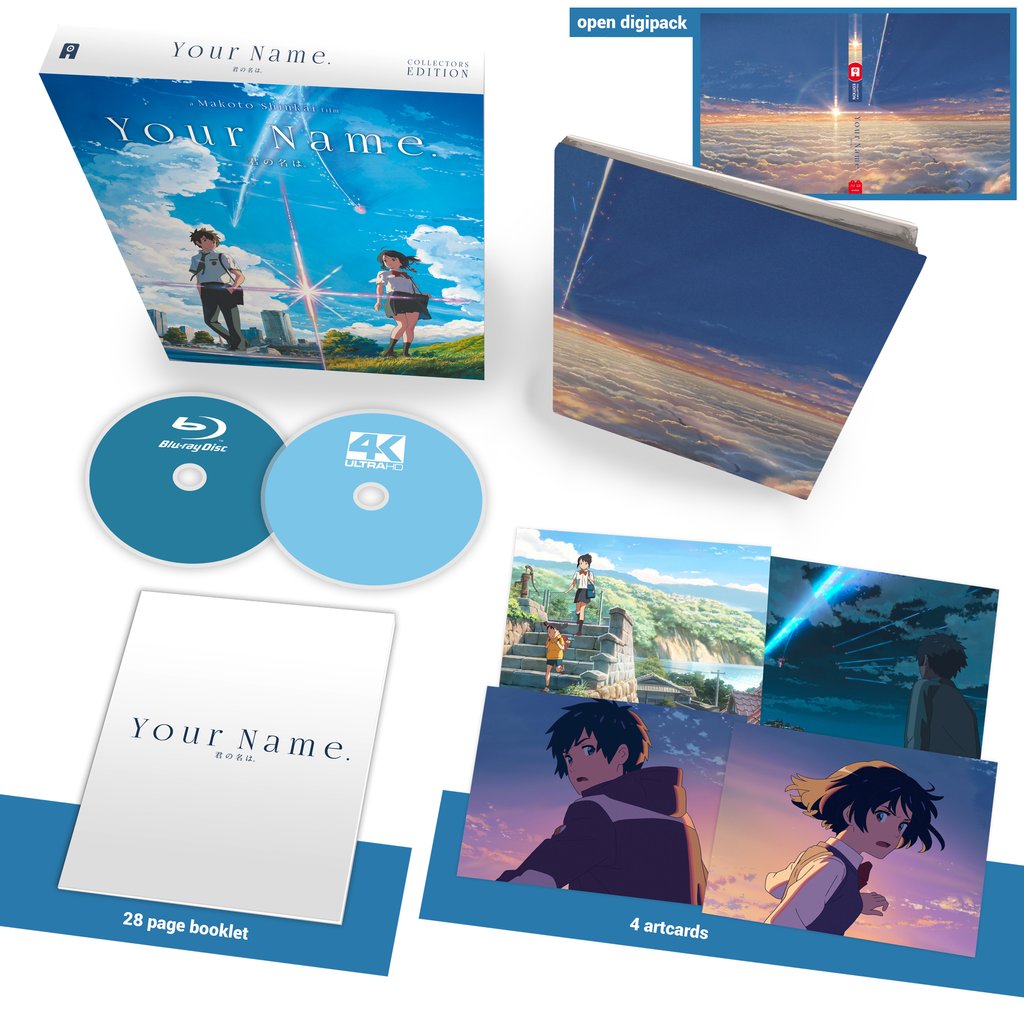 This 4K edition will be exclusive to Anime Limited's online store and retailer Zavvi with a current release date for 24th May 2021. The 4K format is expected to be encoded as an all region disc, much like a majority of the releases on that format as well as the distributor's earlier titles Millennium Actress and Weathering With You.
The set will retail for SRP £49.99 with both retailers pricing their sets at £34.99 (not including postage).
Audio and subtitle options for both formats includes both the Japanese audio with English subtitles and the NYAV Post English dub with the choice to view the film with either English or Japanese versions of the soundtrack from music composers/band RADWIMPS.
This slideshow requires JavaScript.
Like the Japanese release, Your Name will also include High Dynamic Range and Promotional videos as an extra. Also included in terms of physical items is a 28 page booklet and 4 art cards. Packaging will be presented in a rigid box with digipack to house the discs.
The Blu-ray disc in this set will be the same as before, so it will include on-disc extras like Makoto Shinkai Filmography, Japanese Promos, English Trailer, and TV Special.
While the first print of the 2017 Blu-ray had technical issues, this release will be using the amended version (for context on what happened in 2017, you can find our article here).
---
"Mitsuha and Taki are total strangers living completely different lives. But when Mitsuha makes a wish to leave her mountain town for the bustling city of Tokyo, they become connected in a bizarre way. She dreams she is a boy living in Tokyo while Taki dreams he is a girl from a rural town he's never visited.

What does their newfound connection mean? And how will it bring them together?"
Your Name was released in 2016 from studio CoMix Wave Films and is Makoto Shinkai's 6th major film, with Weathering With You eventually being his 7th. The film was given a UK theatrical release in November 2016 followed by a Blu-ray & DVD release in November 2017. Anime Limited confirmed plans to provide a 4K Ultra HD release in November 2020's Cloud Matsuri virtual event.
---
Source: Anime Limited Blog, Zavvi
(Disclaimer: our Zavvi link is affiliated, you can view more information here about our policy)